S.C.A.T.: Special Cybernetic Attack Team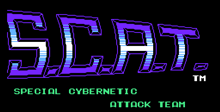 Click the "Install Game" button to initiate the file download and get compact download launcher. Locate the executable file in your local folder and begin the launcher to install your desired game.
a game by
Natsume
Genre:
Shooting Games
Platform:
NES
Editor Rating:

8.1

/

10

, based on

6

reviews
User Rating:

8.7

/

10

-

3

votes
Rate this game:
See also:
Shoot-Them-Up
An evil alien dude threatens the Earth with utter destruction, and we all know NES shoot-em-up fans hate it when it happens. To combat the spaced out hordes, you become a half-human, half-machine cyborg warrior in the Special Cybernetic Attack Team (S.K.A.T.).
S.C.A.T., the latest from Natsume, will whip NES sharpshooters into a thumb-blistering frenzy. It's the most intense autoscrolling shoot-em-up to ever blaze across a TV screen!
Cybernetics... Check!
In the tradition of Shadow of the Ninja, also by Natsume, one player or two players simultaneously (as Arnold and Sigourney) must overcome impossible odds to bring the extraterrestrial scum to its knees.
The S.C.A.T. team is equipped to handle any contingency. It packs a twin satellite attacking system (like Konami's Gradius), which revolves around the characters but can be locked in place.
The duo is also outfitted with ultraprotective body armor which can absorb six hits, and they get unlimited continues. Their main weapon is a pulse rifle, but Laser Gauns, Wide Beams and Bomb Launchers are also available. Energy Recover and Speed boosters round out the power-ups.
Stage a Victory
Arnold and Sigourney embark on a punishing five-stage campaign to save the civilized world, or what's left of it. They blast through the remains of downtown New York, a Subterranean Realm, the Astrotube (the Aliens' transportation device), the outer defenses of a dreadnought Battleship and Malmort's Orbiting Platform.
Only the Strong Survive
No doubt about it, S.C.A.T. looks, sounds and plays like winner from beginning to end. Although it isn't as long as some games, it will take hour of practice to finally flash Malmort and company back to the intergalactic cesspool. Even if you aren't into shooters, this game at least deserves a look-see as a rental.
Space monsters sneaking around your backyard? Just say "S.C.A.T.!"
Download S.C.A.T.: Special Cybernetic Attack Team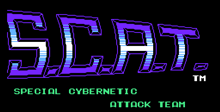 System requirements:
PC compatible
Operating systems: Windows 10/Windows 8/Windows 7/2000/Vista/WinXP
P-200, 32 MB RAM
Game Reviews
Manufacturer: Natsume
Machine: Nintendo Entertainment System
When I hear the word "scat", I think of shooing a dog out of my yard, not of a video game about half-human, half-robotic warriors defending 21st-century Earth. In this case, however, S.C.A.T. stands for the "Special Cybernetic Attack Team", whose job it are to repulse an alien horde from the skies above Earth. Supreme Commander Vile Malmort has parked his space station above the blasted remains of New York City and has troops scouring the area to crush any resistance.
Fortunately, the president was forewarned of the attack and has gathered the most knowledgeable scientists from around the globe, setting them to work finding a defense against the invaders. From their labs came an answer: the Special Cybernetic Attack Team, made up of part-human, part-mechanical warriors. Although somewhat small in size, they are very powerful. The S.C.A.T. is able to take advantage of the invaders' advanced technology by capturing and using their weapons against them.
There are five parts in the plan to repulse the invaders. The first task at hand is to clean up the skies around the ruined city. Then, the S.C.A.T. warriors must make their way into the lower depths within and below the city, where Malmort's drones are destroying the very foundations of the city in an attempt to ease their invasion efforts.
After cleaning the drones out from every last crevice below ground, the true mission begins. S.C.A.T. forces must travel up toward the mothership through an "Astrotube", the lifeline between the ground forces and the ships orbiting above. Success in this area involves both successfully defeating any drones in transit from the ship above, as well as avoiding defensive measures intent upon your destruction. Large falling pieces of twisted space junk will also rain downward and are just as deadly if you collide with them.
The top of the Astrotube is guarded by a huge starship bristling with weaponry. Laser cannons, missiles and even more drones cooperatively defend the ship against any attack.
If the starship is defeated, it's time to take on the big guy himself - Vile Malmort. His orbiting platform is heavily defended by indestructible laser emplacements and even more drones. Knock this guy out and, hey, not only have you saved Earth, you've earned a well-deserved vacation (if the former isn't reason enough!).
As a participant in this mission, you have two S.C.A.T. members to choose from. In a one-player game, either Arnold or Sigourney (no comment) may be chosen. There aren't any differences in ability between the two, just different names and different colored suits. In a two-player mission, both S.C.A.T members are active.
Each player has a stock weapon that they start with and the ability to use three other weapons that may be taken from the invaders' supplies. Laser, bomb and wide-beam weapons are scattered all along the battleground in special capsules. When shot open, the capsules reveal either one of the aforementioned three weapons, special speed-up pods or an energy-recovery module that restores some of your character's life force.
Both characters are also equipped with dual satellite weapons that shift from front to rear, and discharge whenever the main weapon is fired. These weapons may be frozen in a position as well, to concentrate maximum firepower in a single direction when needed.
Players start with six units of lifeforce, with one unit removed every time damage is incurred. Bonus units are awarded at certain scoring intervals, as well as by picking up the appropriate energy pods mentioned before.
S.C.A.T. obviously has some familiar features about it, but is nonetheless a well-crafted and enjoyable game. The graphics are interesting, with variable scrolling and little flicker. The soundtrack is equally good throughout - explosions, music and all. Unlimited continues are available that, when used, start you at the beginning of the round, but the game shouldn't be particularly difficult for the average player. All in all, it's a fun game that should be given a look.
Manufacturer: Natsume
Machine: Nintendo
Type: Action
No. of Levels: 8
Release: 1991
Difficulty: Average
S.C.A.T, the Special Cybernetic Attack Team. A huge comet is hurtling straight for our solar system. But this is no ordinary intergalactic object! In reality, it's a super secret alien command vessel on a mission of destruction. It's target: the planet Earth! The only hope of Terra is the military's elite corps of specially trained robotic-assisted heavy-weights known as S.C.A.T. Should they fail mankind will be lost!
People say:
7
S.C.A.T. takes the basic theme from Forgotten Worlds and throws it onto the NES! The action is intense, and the game only suffers from a lack of visual clarity caused by some flicker when too much is going on. Still, it's a nice addition to the library and a good example of a good NES game
8
Long, hard and intense shooters don't come along very often. This is one of the few that did and is for experts only. The graphics are exceptional and come off very well on the NES. Smooth scrolling and great game play help make this better than average. I like it!
8
Another great title from the guys at Natsume! S.C.A.T. has enough originality and new concepts to breathe life into the old shooter theme. Incredible graphics, sound, and game play. Sort of like a scaled down version of Forgotten Worlds. Very good for the NES.
7
Neat concept, good tunes, great control, and graphics that lack a little smoothness around the edges make a game call S.C.A.T. If the graphics had been better, it would have rated an eight for sure. Chock up another cool Natsume game for the makers of Shadow of Ninja.
The Future's A Blast!
A select group of warriors have been created to battle a new menace to humanity. Known as S.C.A.T., the Special Cybernetic Attack Team has one goal - the utter destruction of Vile Malmort and his alien invaders. The intensity is red hot in this new action/adventure thriller!
If this game looks familiar, as it should, you might remember it as Final Mission. While made by Natsume of Japan, a year ago they licensed it to Taito but it now is back as a Natsume game with a new name. Titled, Special Cybernetic Attack Team, this outstanding side view shooter, very similar in concept to Forgotten Worlds for the Genesis, has features that the serious NES game player has been looking for and not often finding! S.C.A.T. not only scrolls both horizontally and vertically but it also can be played solo or as a two person cooperative game! Spectacular graphics coupled with very challenging game play and fast and furious action set this game apart from the rest!
In the 21 st century, the alien conqueror Vile Mal-mort launched his mutant armies on an invasion of the planet Earth. After destroying New York, the aliens constructed an Astrotube to link the ruined city with their orbiting space platform. Then the invading hordes prepared to finish the job and eliminate the human race.
Fortunately, the President received early warning of the coming in vasion and assembled a team of the world's top scientists. They worked endlessly to invent a weapon to combat the alien threat. Their answer: S.C.A.T. - the Special Cybernetic Attack Team. Part human, part machine, the two members of S.C.A.T. are equipped with the latest technology and the heaviest firepower ever assembled.
S.C.A.T. has five stages, starting in the ruins of New York and ending in the heart of the alien ship with a desperate battle against Vile Malmort himself. You can play by yourself or with a second person, and we strongly recommend playing with two. S.C.A.T. is a difficult game, especially during the later stages. The same numbers of enemies will attack no matter how many players there are, so taking a friend along will effectively double your firepower.
There are two S.C.A.T. commandos: a man named Arnold and a woman named Sigourney (a welcome feature). The S.C.A.T. cybernetic enhancements include the ability to fly, plus a pair of satellites which constantly maneuver above and below your character until locked in place. The satellites fire in tandem with your main weapon, so you can shoot in several directions at once. Learning the best position in which to lock the satellites during a particular stage is critical to winning the game. Use them to hit gun emplacements in the walls and ceilings of tunnels while knocking out airborne enemies.
Although essentially a shooter like many others, S.C.A.T. stands head-and-shoulders above most of the competition. The graphics are among the clearest and most colorful we've seen on an eight-bit system, and the animation is very smooth with minimum flicker. In fact, it looks a lot like Forgotten World on the 16-bit Sega Genesis. S.C.A.T. is an exciting, challenging game.
NES/Famicom/Dendy Screenshots