Singles 2: Triple Trouble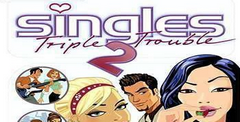 Click the "Install Game" button to initiate the free file download and get compact download launcher. Locate the executable file in your local folder and begin the launcher to install your desired game.
Triple Trouble? name would suggest. However, What madness is this? When the thought police stepped in, this non-awaited sequel was first and we now have this more sanitised affair, which is nevertheless banned announced, it was subtitled Threesomes, with all the lascivious intrigue that in Australia and carries an 18 certificate here, if only a 12 in its native Germany.
It's a farce, literally. Drawing heavily from rank 70s sitcom, My Wife Next Door, the premise is thus: you are Josh (if you choose to play as the bloke), a failed musician who has just split up with his girlfriend. Anna (also playable). Seeking a fresh start in a new town, you accept a flat-share with two girls, only to find that one of them is - shock, horror - your ex-girlfriend. As for the other one, she's an extremely attractive oriental sort with a pleasing habit of sitting around with her undercrackers on show.
Three's A Crowd
What's a guy to do? If the original premise had been sanctioned it would have taken very little thought (if a bit of imagination). Seeing as you can't have them both (at once), you're forced to choose between treading old ground with Anna, or visiting the Pacific Rim with Kim, Seeing as Anna requires wooing with candle-lit dinners and bespoke love songs, and Kim willingly puts out for a bag r of chips, there's not much to think about.
That said, it took a full ten hours of gameplay - a couple of weeks in-game - to lure her into our specially bought double bed. Was it worth it? That really all depends on how exciting you find two cartoon characters fumbling about under a permanently obscuring duvet. She's clearly enjoying foreplay at one point, and then a shag, but really it's all pretty tame stuff. Perhaps tellingly, the game box contains a flyer advertising a speed-dating service.
Show Me The Money
As is often the case, getting there is more fun than arriving. Initially at least, it's mildly compelling, with a back story revolving around your music career, a number of set quests and even some RPG-lite levelling up. You've got a mate called Magnet (presumably as in Fanny Magnet) who you can call on for advice, and you can even visit his bar and try your luck with some of the locals - in theory they're pissed, so it should be easier to get some action.
There's also the S/ms-inspired soft furnishings aspect to play around with, which despite the premise, is still slightly gay to our minds. Plus, a lot of the time Singles 2: Triple Trouble is simply a domestic chore simulator, with no end of laundry and washing up to contend with. It all gets a bit too real...
But if you put the hours in, you will eventually get your end away, although it can't help but be an anti-climax. Ultimately, it's like a very slow porn film with no money shot.
Download Singles 2: Triple Trouble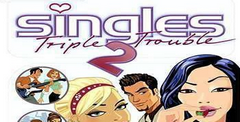 System requirements:
PC compatible
Operating systems: Windows 10/Windows 8/Windows 7/2000/Vista/WinXP
Similar Games
Viewing games 1 to 9