The Longest Journey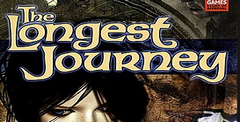 Click the "Install Game" button to initiate the free file download and get compact download launcher. Locate the executable file in your local folder and begin the launcher to install your desired game.
Underrated By some (ourselves when we first reviewed it), overrated by others (everyone else), The Longest Journey is a rarity in these post-Tomb Raider days: a point and click adventure aimed at adults, with a good script, excellent acting and decent puzzles. Your character, April Ryan, might share some of Lara's curves, but she's just a struggling art student in a well thought-out 23rd century setting, and she's been having some strange dreams lately. The story is complex and wants very badly to be called epic, but all you need to know is that there is a parallel world where magic rules and everyone's dialogue has been scripted by Tolkien, and that April can shift between both worlds.
The modern world is much more enjoyable and not nearly so cliche-ridden, though at times it does try way too hard to be 'adult', with a liberal use of 'arseholes', 'bastards' and even the occasional At least the excellent translation from the original Norwegian has been fully localised for the UK, while the classic adventure elements are strong enough to keep all us point and clickers grinning like misty-eyed old fools.
Download The Longest Journey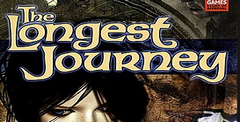 System requirements:
PC compatible
Operating systems: Windows 10/Windows 8/Windows 7/2000/Vista/WinXP
Game Reviews
The Longest Journey is aimed at the 'adult adventurer', which is slightly surprising considering its complete lack of horrific violence and sexually explicit material. We do get a glimpse of our heroine's ample arse occasionally, but let's face it, you'd have to be pretty sad to get turned on by a bit of digital rump. Anyway, she's wearing knickers.
The 'adult' tag is largely due to some interesting quirks you wouldn't generally associate with PC games - like your lesbian landlady and local gay policeman for a start. The liberal use of words like "s**t", "b******s", and "f***k" is also a major factor. Apart from that, things are very subdued. Strangely, these blatant shock tactics come nowhere near the offensiveness of the actual plot itself, which is a shameless rip-off of The NeverEnding Story, albeit an extremely dull and laborious one.
Jump Around
At the start of the game most of April's time is spent jumping between two staggeringly different worlds in a vain attempt to discover why she's having weird dreams. There's the planet Stark (April's homeworld), which has a kind of cosmopolitan Bladerunner feel to it, and Arcadia, which is much more... well, you know... magical and mysterious. All this world-hopping does get a bit tedious though, and you end up wishing the developers had stuck to just one planet - preferably Stark as that's where most of the action and 'adult' material lies.
The over-indulgent and pretentious script doesn't help things. There are long, droning speeches about something called The Balance and The Guardian, and magic discs and dragons and two worlds merging... It just goes on and on and on. Thankfully, you can hit the magic 'Esc' key to skip these immense monologues, which is a bloody good job considering there are four CDs of this gibberish. Worst of all, The Longest Journey tines really hard to be funny, but sadly the sarcasm is forced out in a stream of pointless puns.
TLJ has its good points.
The interface is intuitive and fast, but, unlike Grim Fandango, characters won't turn their heads to look at something of interest. Switching between the inventory and main game area is also very smooth, making trial and error puzzle solving a joy, although some of the puzzles are a mite contrived. Talking to other characters is done through the usual multiple-choice options, though sometimes you have to ask questions about stuff you haven't even heard of.
Beautiful, But Shallow
TLJ boasts some absolutely amazing locations and expertly blends photo-realistic images to create a unique atmosphere. Unfortunately, this is tempered by the animation of April, which is extremely dull. All she really does is walk, go to bed and get up again. Charismatic? Not a chance.
If you're a fan of adventure games you might want to consider this, if only for its gorgeous backgrounds. On the other hand, if you've never played an adventure game, this is certainly not the place to start.
EM Forster (the author of Howard's End and A Passage to India) once wrote a novel called The Longest Journey. Luckily though, this adventure game isn't based on it. Otherwise we'd be falling asleep within minutes, as some pathetic graphics and dense dialogue depicts a world of disconnected lives, social chasms, people having tea and discussing property prices as a metaphor for the modern soul. Instead, we can look forward to a highly sophisticated and beautiful looking title that promises to breathe new life into the adventure genre.
Okay, so the developers are European (Norwegian to be more exact), but when we said 'sophisticated' we didn't mean pompous, boring or a triumph for style over content, as is sometimes the case with these things. In fact, we're looking forward to a well-formed story that slips in some action sequences with meaty brain teasers (although not quite displaying the insane degree of ambition seen in The Nomad Soul). You play the role of April Ryan, a slender teenage girl (well, you don't get many guys called April) who carries the fate of the Universe in her hands. The game revolves around two very different worlds: Stark, the world of Science; and Arcadia, the world of magic. There is a delicate balance between them which keeps the universe from hurtling into chaos. And that is exactly where it's heading, since one of the Guardians of Balance (bear with us) has up and lifted. Good thing that April is a Shifter, then, one who can switch between both worlds. A journey which, if the title is to be believed, is rather lengthy.
The amount of detail that has gone into the creation of both worlds, its inhabitants, culture and history is quite astounding and gives players an unrivaled freedom, rarely seen in a game these days. There'll be over 150 locations to explore, brimming with characters to interact with and puzzles to get your grey muscles straining. But despite the enormity of the environments and the independence you'll be granted, the story will always be there to drive the whole thing along.
Considering the current state of adventure games, we're salivating at the prospect. Knowing that Funcom have professed their admiration for the likes of Monkey Island and Grim Fandango, this should be a trip worth going on.
See Also
Viewing games 1 to 9