Warrior of Rome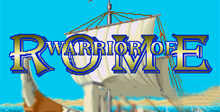 Hail Caesar!
Beware the Ides of March only if you live that long. Brutus won't get the chance if you can't survive the four rounds of battle in store for you here. You are on a routine inspection mission, when you are suddenly ambushed by vicious pirates attempting to loot the island of Crete. You quickly round up your men and head into battle. You must destroy the pirate ships before they destroy all of your forts. Sounds easy, but it takes practice.
The pirates tell you of the overthrow and capture of your beloved Cleopatra. You must set sail for Egypt to save the queen and her land for Rome, your journey is fraught with disaster as you are bombarded on your ships by rebel ships and besieged by renegade troops as you set foot on land in Egypt.
You must fight to Cleopatra's castle and rescue your damsel in distress. It is up to you...Warrior of Rome!
Game Reviews
Levels: 4
Theme: Stg.
Players: 1
Difficulty: Hard
Have you ever wanted to become the emperor of Rome? Thanks to the minds at Bignet, you can! Take all of your troops across the terrain so that you can obtain more of the empire.
Sega Genesis/Mega Drive Screenshots