Way Of The Warrior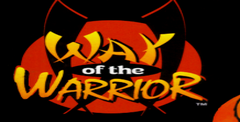 a game by
Naughty Dog, Inc.
Platform:

3DO

Editor Rating:

6.5

/

10

, based on

3

reviews
Rate this game:
This first fighting game for 3DO serves up nine digitized characters and two 3D rendered bosses, & la Mortal Kom-bat. The action, set in a mountain fortress, includes standard head-to-head fighting for one or two players.
Each character has 60 to 80 normal and special moves, including kicks, grabs, throws, projectile attacks, and more.
CD tunes and slick sound effects add oomph to the realistic graphics. Scaling, unusual perspectives, weather effects, and 3D-modeled backgrounds are just a few of the graphical treats in store for you-not to mention killer fatality moves with realistic blood and gore.
Download Way Of The Warrior
Game Reviews
People say:
5
Way of the Warrior has all the makings of a good fighting game. The graphics, fatalities, and such are great But as with most games of this type, the control is what pulls it down. The control is much too sluggish to play. The digitized graphics are surprisingly clear, and the animation is pretty good. The fatalities and the last guy are certainly worth seeing. I'd have to recommend renting this one first to see if you like it or not.
4
Way of the Warrior is a very beautiful game to look at. Now that the good points have been taken care of, let's see what went wrong. First off, the control is absolutely horrible. Jumping around is a near impossibility, let alone the special moves. The music and sounds are decent but I it looks as if too much time was spent on pretty graphics, rather than a fighting game that was at least playable.
3
I thought fighting games were supposed to play like fighting games. Well, this one didn't play at all. The control is so bad I had to struggle to get any character to jump forward. The special moves aren't anything special at all if you even get to do them. The only redeeming quality about this game is the graphics which is where it seems all the programming went into. Overall, this game isn't even good by accident!
3
Um, hello? This game has great humor value and some excellent graphics, but as a fighting game, no. The fighters moves are very difficult to pull off, and some characters have very unfair advantages over others. The Bosses are very big and colorful, but this game is better to look at than to play. I especially liked the biker girl with the lousy trash talk, and Shakey Jake. Clever, if not overdone, fatalities.
Way of the Warrior is a new fighting game that has pulled out all the stops with over 10 digitized human lighters and two 3-D rendered Boss characters! Every player in this game has at least 60 moves including everything from projectiles to super magic moves. There are at least six fatalities for each player and even more that are stage related. You can fight in the tournament or go head-to-head with a friend.
Other games by
Naughty Dog, Inc.