World of Outlaws: Sprint Cars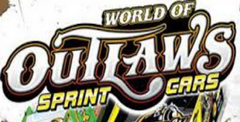 Click the "Install Game" button to initiate the free file download and get compact download launcher. Locate the executable file in your local folder and begin the launcher to install your desired game.
Infogrames and those Aussie fellows over at Ratbag have teamed up to create World of Outlaws: Sprintcars'an oval-track racing game featuring muddy tracks and mega-winged beasts. Replete with eye-popping graphics, a unique physics model, and several modes of play, WOO: Sprint Cars crosses the finish line with style and grace' uh, I just don't know if anyone really cares!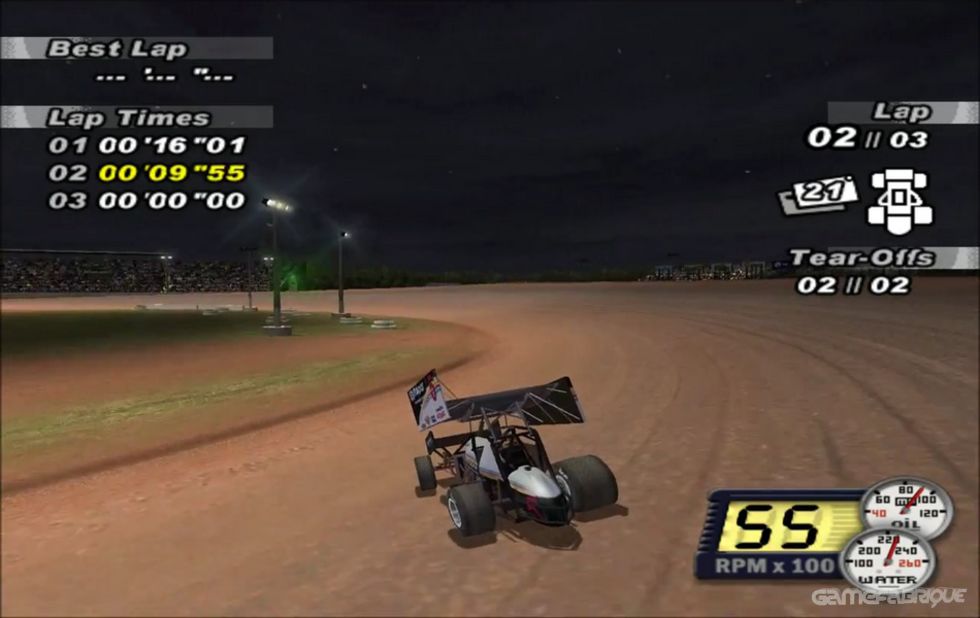 Once you're at the main menu, you'll be greeted with three main modes of play: Arcade, Career, and Multiplayer. The Arcade Mode offers three sublevels of competition. It allows you to enter the Championship, where you select a driver and progress through a series of events in hopes of toppling the points table. In this mode, you won't have to make any important financial decisions. As part of a racing team, you'll have full access to all of the resources needed to take on the competition. In Single Race, you can customize race settings such as the number of laps, level of difficulty, and whether you want to race the full format race day (several events in succession), or skip ahead to a featured event. In both Championship and Single Race Modes, you can choose to challenge a friend or go it alone. The third level offers a Time Trial that pits you against the clock. Here you can learn the tracks, as well as the basics of driving a sprint car. Once you've gained enough experience, you may want to take on the Career Mode. Like most racing games, this is where most of the fun is to be had. Like the Championship Mode, you progress through a series of events with the goal of winning the sprint-car title'but this time you'll have to earn it. You start off with just enough money for a basic sprint car. By winning some early races, you'll gain new sponsorships and be able to afford equipment upgrades and repairs. Eventually, you'll be able to travel to more races until you've secured all of the events in the World of Outlaws series. Finally, the game offers multiplayer mayhem on a LAN or via the Internet. Unfortunately, as of the writing of this review, I was unable to test out this feature.
Once you're out on the track, you'll be subject to a host of challenges above and beyond the familiar 'turn left'? formula common to most oval-track racers. The fact that the races take place on dirt and mud rather than asphalt, along with the very nature of the cars themselves (which can be best described as winged cages on wheels), demands a whole new attitude and approach to the racing dynamics. You'll have to deal with removing tear-offs ? strips of clear plastic that are layered on your helmet visor to prevent mud buildup. And unlike the super speedways of Nascar and the IRL, the game features relatively small ovals that include an assortment of high and low-banked turns. What this all amounts to is an entirely new racing experience that most of you will either love or hate. The game supports control via the keyboard, a joystick, or a racing wheel that can be configured to your specifications. Even on the easiest difficulty setting, I found the CPU AI to be quite challenging and at times flat-out frustrating. After several hours of practice (not to mention pausing and restarting a gazillion times) I was able to win my share of races. Multiple car set-ups and wing adjustments are available to the user, be prepared to set aside plenty of time to experiment in order to fully realize their subtle effects.
The graphics in the game are exceptional. The car models and track environments are highly colorful and contain clean and detailed textures. Excellent lighting and shadow effects further enhance the visuals. Nighttime racing is especially impressive'the tracks are way cool under the lights. In addition, the frame rate is fast and fluid, even on my year-and-a-half old notebook. The damage model is somewhat limited, but it provides a nice touch nonetheless. Unfortunately, engine sounds and collision effects are uninspiring.
In the end, what we have here is a unique little racer that packs quite a visual punch. Its game play is at once rewarding and frustrating. If you're an oval-track racing fan and you're willing to put in the time, this game just might be your ticket. However, ultimately it will never be a game that will gain distinction with the masses.
Download World of Outlaws: Sprint Cars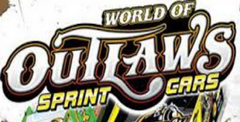 System requirements:
PC compatible
Operating systems: Windows 10/Windows 8/Windows 7/2000/Vista/WinXP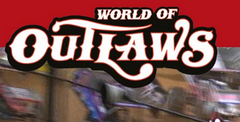 System requirements:
PC compatible
Operating systems: Windows 10/Windows 8/Windows 7/2000/Vista/WinXP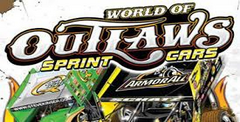 System requirements:
PC compatible
Operating systems: Windows 10/Windows 8/Windows 7/2000/Vista/WinXP
Playstation 3 Screenshots