2xtreme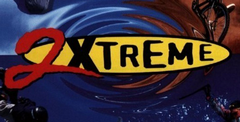 Click the "Install Game" button to initiate the free file download and get compact download launcher. Locate the executable file in your local folder and begin the launcher to install your desired game.
Extreme Sports fans will be happy to hear that 2Xtreme, Sony's sequel to their original PlayStation hit, is worthy of its TV heritage. You take on nine other kamikaze racers in such events as mountain biking, skateboarding, inline skating, ora new neck-breaking snowboard course. In addition to the smash-and-dash gameplay, you can also increase your points, and chances of winning, by attempting special midair trick moves. You can compete through a full season, single race, or face off in the two-player mode. No matter what, you're assured lightning-fast, entertaining, Xtreme action. Co for it!
ProTips:
The moving barriers alternate in direction; zigzag sharply to avoid them without losing speed.
Stay centered on the course as much as possible to best avoid obstacles.
Graphics
Digitized character anima tons and well-rendered backgrounds create a believable 3D environment for racing. Individual touches, such as Vegas hotels and wild animals on the loose, add to each course's appeal.
Sound
Despite a rockin' intro, sounds during gameplay are kept to a bare minimum. Echoes in tunnels and the digitized sounds of crashes and wipeouts add a nice touch, though.
Control
Smooth, responsive controls enhance gameplay, making this game easy to pick up and play. The special moves are also easy to learn and execute.
Fun Factor
Plenty of high-speed action and a tough CPU competitor will keep gamers coming back for more. The biggest appeal is the split-screen, two-player mode for face-to-face action.
Download 2xtreme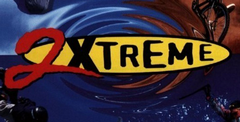 System requirements:
PC compatible
Operating systems: Windows 10/Windows 8/Windows 7/2000/Vista/WinXP
Game Reviews
Sony is trying to take it to the next level with 2Xtreme. It's an intense combat racing game that allows one or two players to compete in highly detailed, 3-D-rendered environments. Gamers can choose to take part in inline skating events in Las Vegas, ride skateboards in Los Angeles or race mountain bikes in Africa. This year, not only are there different events, but in each event there are special moves that you can learn to execute. Various power-ups are hidden throughout each course, as well as hidden areas that you can try to find or can just stumble onto.
Each of the four locations in 2Xtreme have three different courses that build in difficulty.
The wide variety of power-ups provided to players include speed bursts, health points and improved jumping and leaping abilities.
Players will be able to find special Keys that unlock secret passages, open paths to shortcuts or provide the player with control over traffic signals or other interactive background elements.
MANUFACTURER - Sony Int.
THEME - Multi
NUMBER OF PLAYERS - 1 or 2
Fans of the first Extreme Games will be happy to hear that Sony is getting ready to release a sequel. 2Xtreme is expected to contain all the bone-crushing competition of the first game, with the addition of some new courses, new equipment, and a lot of new features.
Players will now compete in four different locations, each with three different courses. This makes for a total of 12 new courses, each with its own attributes, obstacles and dangers. Instead of racing any "vehicle" on any course, the locations are now specifically designed for one particular vehicle. For example, the inline skating competition is now held exclusively in Las Vegas, while the mountain bike races are held in Africa. This was a necessary adjustment because of the equipment change: Although in-line skates, skateboards and mountain bikes have remained from the original version, there is no longer a "street luge" competition. Instead, the designers have introduced a snowboarding competition on the mountains of Japan. This allows for a significantly different racing style as well as a bunch of new tricks.
2Xtreme also includes a new point system, which awards points to players depending on their position at the end of the race and how many points they collected during the
course of the race. Points are awarded when players go through special gates, knock down their opponents or perform tricks, which vary depending on the equipment being used. In addition to points, players can now collect power-ups, like health, speed, strength and jump boosts. These power-ups can be used strategically during the course of the race. Players can also collect keys which control the environment, like turning on stop lights to halt cross traffic. These will also open up secret areas and short cuts.
With 10 different characters each with his or her own special abilities, as well as the ability to create characters. 2Xtreme should appeal to those looking to put themselves in the game. Look for this one sometime this fall.
Other Games by Sony Imagesoft