Air Boarder 64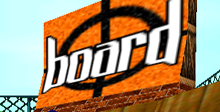 1080 Snowboarding has captured the console snowboarding video game crown. So how do you improve upon a hit formula? Open up the playing fields and turn the snowboards into airboards!
This game is set in the future, where airboarding is a hugely popular spectator sport, with audiences in the millions. You can choose from one of eight characters (four of whom must be earned from beating certain levels and meeting specific time, point or trick requirements) who are all vying for the coveted title of "Master of AirBoardin'."
You have an arsenal of more than 80 different moves, including nose slides, tail grabs, hand plants and roast beefs (Roast beef? Is that a real-life move?). Individual characters also have special tricks at their disposal. But what really separates AirBoardin' USA from most snowboarding games (besides the use of hoverboards, of course) is the freedom to go anywhere. Players can go over snow, water, land, vertically up buildings, etc. No longer are players limited to tracks and half-pipes.
AirBoardin' USA will have several modes of play. Besides a typical time attack and Practice Mode, the game will have a Coin Mode, where players must ride around and find coins scattered about the course. AirBoardin' USA will also have a two-player Versus Mode and a free run (where you can just hoverboard around and explore for fun).
MANUFACTURER - Human Entertainment
THEME - ACTION
NUMBER OF PLAYERS - 1 or 2
Game Reviews
A Back To The Fufure-style hoverboard 'sim' combining racing and stunts. An acquired taste - you might try it and like or hate it.
Nintendo 64/N64 Screenshots
Similar Games
Viewing games 1 to 4