All-Star Baseball 2004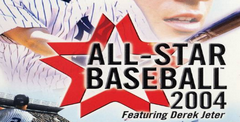 Click the "Install Game" button to initiate the free file download and get compact download launcher. Locate the executable file in your local folder and begin the launcher to install your desired game.
The telltale signs of spring are in the air. Kids are outside playing on the streets again, birds are chirping in the morning, flowers are beginning to bloom' but most importantly for gamers, a flood of baseball games are hitting the market, forcing diamond fans to choose between the major sluggers out there. Acclaim's All-Star Baseball franchise makes it's third appearance on the PlayStation 2 as a veteran in the crowd, but can this aging franchise offer enough improvements to become the king of the diamond?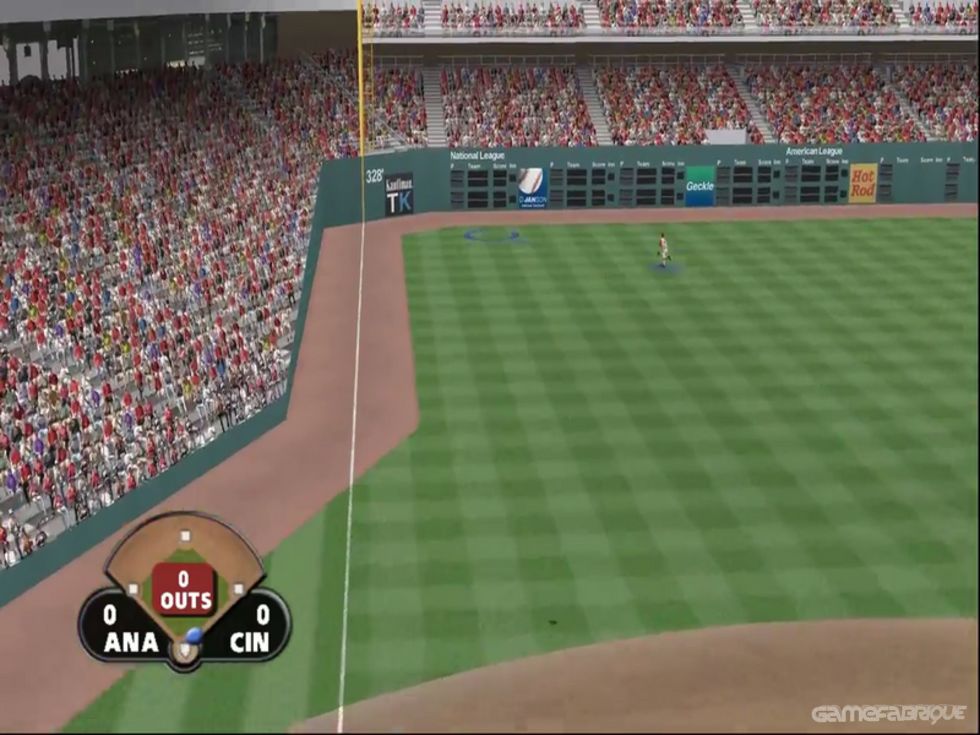 The All-Star Baseball series is well known for its refined pitching and batting system where extreme accuracy can be achieved on either side of the ball. Pitching remains largely the same as other baseball titles, with a cursor used as a marker for the various pitches. Batting, however, has several options that will appeal to the novice and veteran alike. All-Star Baseball's trademark batting system will be the setup of choice for advanced players as it offers exact precision, while beginners may want to use the easy setup that's a throwback to early baseball games where you simply have to swing at the proper time to make contact with the ball.
A zone batting option that's strikingly similar to the High Heat Baseball series can be found, as well as the classic batting setup found on the N64 versions of All-Star Baseball. Theyre all executed well, but do have their individual faults. For instance, while the advanced batting option offers the most precision, it's a bit cumbersome to properly set up at bat before the first pitch is thrown due to the fast-paced nature of the game. Regardless of a few minor problems, batting has always been All-Star Baseball's strong suit and this year's version proves no different.
Not all is well in All-Star Baseball, however, as there are some significant problems in the game's fielding. The infield is quick on their feet as expected, but the outfield is sluggish as their throwing animations are more drawn-out then they need to be, resulting in plays that should've easily been out. Another recurring problem is that the AI will sometimes ignore your commands and perform what it thinks is best instead of relaying your input. Adding a turbo feature and finding a proper balance between the infield and outfield would have possibly solved these problems. But perhaps All-Star Baseball's biggest strong suit is the sheer number of game modes available. There's the standard quick play and franchise mode, which we've all come to expect, but there's also several other modes on top of that. The most notable one being the scenario mode in which you're placed in the middle of over 25 historical games and have to turn the game around with a different outcome. The sheer amount of things you can do in ASB 2004 guarantees you'll be playing this one faithfully until the next season and maybe even after that.
All-Star Baseball 2004 has its ups and downs graphically. Player models resemble their real life counterparts closely, with detailed faces and batting stances. Animations are a mixed bag, however, as the batting and throwing animations are spot on while other simpler animations such as walking look stiff and unnatural. And while stadiums look realistic, the backdrops to them look blurred and muddied -- the end result producing a sharp-looking stadium contrasted starkly with an ugly skyline.
Aurally, All-Star Baseball 2004 does a decent job as well as Acclaim aimed to create a realistic ballpark experience when concerning the audio. Many familiar music samples can be heard, everything from Smashmouth's tune 'All-Star' (fittingly) to popular organ jaunts. Audio commentary is decent with convincing play-by-play and color commentary that avoids being too redundant, but will occasionally lag behind the action.
When all is said and done, All-Star Baseball 2004 is a solid game, with outstanding batting but sub-par fielding. It's not the king of the diamond this year, but a solid game in every respect.
Download All-Star Baseball 2004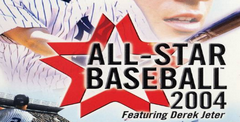 System requirements:
PC compatible
Operating systems: Windows 10/Windows 8/Windows 7/2000/Vista/WinXP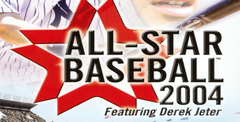 System requirements:
PC compatible
Operating systems: Windows 10/Windows 8/Windows 7/2000/Vista/WinXP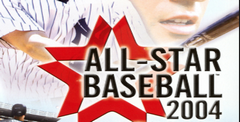 System requirements:
PC compatible
Operating systems: Windows 10/Windows 8/Windows 7/2000/Vista/WinXP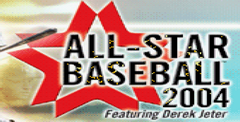 System requirements:
PC compatible
Operating systems: Windows 10/Windows 8/Windows 7/2000/Vista/WinXP
Game Reviews
As the 2003 MLB season fast approaches, this year's crop of baseball video games have already begun to clutter retail shelves across the country. For PS2 and XBox owners, the choices are many. On the other hand, GameCube owners will have to make due with 3DO's not-yet-released High Heat MLB 2004 and Acclaim's perennial powerhouse ? All-Star Baseball 2004 (Sorry folks, SlugFest is not a simulation!). ASBB 2004 steps up to the plate with a dugout full of new options, features, and modes of play. In addition, if you're a big fan of previous versions, you'll be happy to know that in terms of game play, not much has changed. But for baseball diehards hoping for a more accurate simulation of our favorite pastime, you may have to look elsewhere.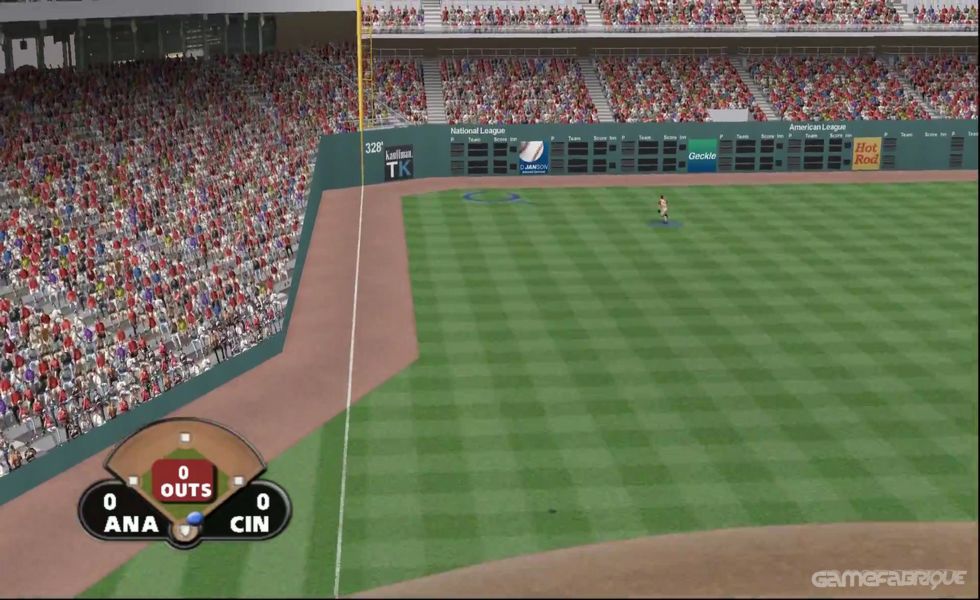 In terms of features, All-Star Baseball 2004 delivers big time. Along with the current 30 MLB teams and stadiums, the game throws in a gaggle of additional old-time stadiums, over 100 Hall of Fame players, and even a team featuring the best players from the Negro Leagues. You'll find the usual modes of play including Exhibition, Play-offs, Season, and one of the best Franchise Modes in the history of baseball gaming, which allows you to control a team's destiny for up to 30 full seasons. Additional modes include Batting Practice, Home Run Derby, a Trivia Game, and a new Scenario Mode which allows you to change the outcome of several key contests from last year's season. And if you're yearning to get to know each of the ballparks more intimately, no problem, there's an excellent stadium tour that features impressive graphics and narration. No question, this game has a lot of extras that you won't find anywhere else.
In terms of game play, it pretty much comes down to personal preference. The cursor-based pitching and hitting mechanics from previous versions are back once again. If you like this sort of thing, then you'll probably love the game play. If you hate this sort of thing...well, need I say more? Regrettably, the fielding woes from last year's version are back once again. While there isn't necessarily anything wrong with the GameCube's controller setup, the sluggish response time of button presses makes infield play more frustrating than it should be.
Outfield play seems to have its share of problems as well. On several occasions, the player that the CPU gives me to control isn't even the player who makes the catch ('Hey, I called for it!'?). The overall AI in the game is not terrible, but there are areas that are lacking. If you lay down a bunt with a runner on first, for example, the opposing pitcher will almost always go to second, even if it's obvious that he doesn't have a play. In addition, once again there are some base-running issues, like runners who don't take the extra base or tag up when they should. Combine that with the illogical use or nonuse of pinch hitters and pinch runners, and what you end up with is a series that needs to grow up a bit.
For the most part, the game's graphics are superb. Stadiums, lush with colorful details are a sight to behold. The player models are equally impressive with mannerisms and facial features that are amazingly faithful to their real life counterparts. An abundance of true-to-life animations further immerse you into the action on the field. Unfortunately, similar to previous versions, several transitional animations are somewhat uneven and detract from the overall aesthetic package. The aural effects also get high marks for duplicating the assorted sounds of the ballpark. The roar of the crowd, the PA announcer, and even the broadcast duo of Brennaman and Lyons, who deliver robust commentary, are much improved from last year's version.
There's heated competition among the top tier of baseball developers this year and that's good news for next-generation sports gamers. It is regrettable that Sega Sports and EA Sports have opted to sit out this year's GameCube baseball season, as their respective products are quite a treat for owners of the PS2 and Xbox. For GameCube owners, I'm afraid it comes down to All-Star or High Heat. If you prefer graphics and extras and you've got to have it now, go with the former. But if you demand authenticity and control and you're willing to wait a while, go with the latter.
People say:
5
There's a tremendous crop of top-quality baseball games this year, but ASB 2004 isn't one of them. It simply can't compete. First of all, the batting is physically painful. In order to avoid constant check-swings, you'll have to pound on the pressure-sensitive button with all your might. Plus, lining up the finicky batting cursor just isn't fun. Around the sixth inning (when you've just finished icing down your throbbing fingers), more frustration sets in as you continue to acclimate to the unpredictable fielding control. It's too hard to judge routine fly balls because the nonad-justable camera angle is set so far back you feet like you're playing ASB 2004 from the Goodyear blimp. Even if you're perfectly positioned inside the circle designating where pop-ups land, there's no guarantee you'll catch them. Besides the nagging gameplay issues, ASB 2004 suffers where the series shined in years past—the visuals. The player models and stadiums are subpar compared to those in Sega's WSB and EA's MVP. Fluid player animations are the game's only visual saving grace. In its defense, ASB 2004 comes packed with a ton of extras such as downloadable rosters, MLB legends (including the likes of Gehrig and Ruth), and even Negro League greats. The entertaining Pick-Up and Scenario modes also help, but with so many baseball games out there offering tighter game-play, I can't recommend this one.
5
If you paid me enough, then maybe I'd play this game over the best-of-the-crop High Heat '04. While All-Star feels like it's been crafted for baseball lovers by baseball lovers, some poor execution drags it down into mediocrity. First and foremost, can we please get rid of cursor batting? I'm never a fan of cursors, and All-Stafs makes me especially punch-a-wall angry. If I want to pull the ball, I should swing early, right? Not here—I just have to adjust the cursor. Why is that? Isn't this baseball? Cursors aside, the pitches are thrown at such eye-popping speeds, you won't hit them anyway. Nifty unlockables, pretty visuals, and good commentary help, but not enough.
5
All-Star Baseball definitely has awesome extras, such as a bevy of hidden uniforms, movies, cheats, and other nifty secrets—as well as a cool Scenario mode that throws you into nail-biting situations. And playing in classic stadiums with Negro League and Major League legends stirs up a nice nostalgic feeling. Too bad the actual gameplay isn't very good. Hitting is a chore—tinkering with ASB's signature batting cursor while trying to turn around a fastball is hellish. Combine this with imprecise fielding, and you're left with more frustration than fun. Rent it to check out the impressive bonus features, but if you're lookin'to buy a baseball game, you can do much better.
With spring training already under way many baseball games have already hit the market. The competition will be tough again this year as EA is initiating a new franchise while the other, older franchises attempt significant improvements over the previous year. Since Acclaim is continuing their franchise with All-Star Baseball 2004, a certain amount of improvements and new features are expected and will in fact be necessary to not get overwhelmed by the competition this year.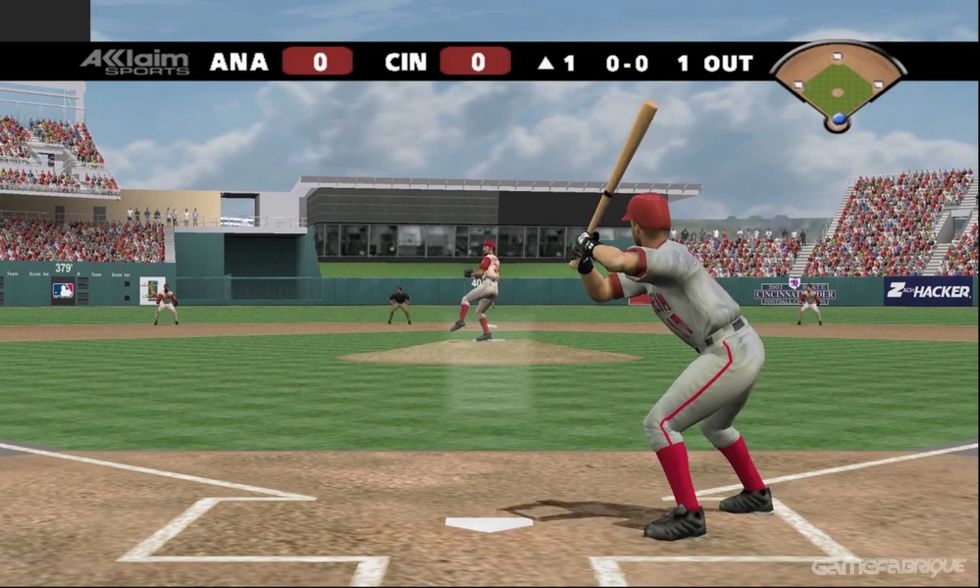 All-Star Baseball 2004 brings to the table the same general gameplay as past years. The pitching is great with up to four pitches available, the hitting is still challenging almost to a fault but does create a more realistic experience, and the presentation is one of the best out there with menus and options galore. The Scenario mode in particular adds a different flavor as you have the option to change the outcome of some of baseball's greatest games. Often you'll pick up in the middle of a game and attempt to prevail where others failed. Most of these are locked initially so unlocking them also adds an extra challenge.
There are a number of gameplay issues that are still being carried through this franchise, however, that can cause some frustration while playing. One issue is the long animations, particularly for the infielders. Often by the time the player gets the ball out of his glove and gets around to throwing it, the base runner is already safe. Other issues like the wrong outfielder consistently being selected to field outfield hits is also annoying but manageable.
As far as the graphics, there is room for improvement but the players are clearly recognizable albeit somewhat rough around the edges. Many of the fielding animations are well done, allowing the players to make some spectacular catches and stops. The audio fares slightly better as the commentary does a great job a calling a realistic game and making it more interesting
All-Star Baseball 2004 puts together a solid baseball game that should be considered before purchasing a baseball game this year. Although there are a few areas that could have been better, the overall game will keep most fans playing until next year.
Similar Games
Viewing games 1 to 6