American Truck Simulator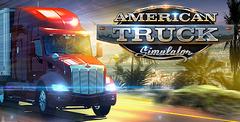 Download American Truck Simulator and hit the open road as you haul cargo across the vast and diverse landscapes of the United States. Build your trucking empire, customize your vehicles, and experience the thrill of being a long-haul trucker. Can you deliver the goods on time and become a trucking legend? Play now!
American Truck Simulator is a truck simulation game that was released in 2016. It is a spiritual successor to Euro Truck Simulator 1 and 2. The major difference being that it is now set in American cities as opposed to the European cities of Euro Truck Simulator. If you are a fan of Euro Truck Simulator, you will love American Truck Simulator. If you're new to the franchise, American Truck Simulator is a lovely game to start with.
Gameplay
In American Truck Simulator, you drive different variants of trucks around cities, delivering loads and earning money and experience points. You must deliver the goods as fast as possible and with minimal damage to earn more money and experience points.
You can use your own truck to deliver goods or you can use a truck provided by a company. When you use a truck provided by a company, the company will repair the truck and handle other costs.
You need to observe your driver carefully to see how awake he is. You constantly check for your fuel level, truck damage level, cargo damage level, time remaining and shortest route to your destination.
The money you earn can be used to purchase trucks and upgrade your trucks with paintwork, better cabins, chassis, engines and other things. The experience points you earn can be used to select higher paying payloads and improve your driving.
The truck models are highly detailed and they look and drive like their real-life models. You drive flatbeds, reefers, goosenecks, lowboys and other types of trailers. You can deliver various types of cargo. The more dangerous or fragile your cargo is, the higher you earn.
You can also own your own trucking business, whereby you hire other truck drivers and buy garages. These truck drivers will perform deliveries for you, thus earning you money. You can also train your drivers so they earn you more money through their improved driving skills. You can also tweak some truck settings if you know what you're doing. Things like brake intensity, brake type, transmission type and others can be adjusted. There is also a photo mod available.
There are also weight stations at specific places where your loaded truck is weighed to determine the weight of your cargo, so you aren't overweight.
You'll enjoy driving through American states like Oregon, Washington, Utah, California, New Mexico, Arizona and Nevada, with more states to follow. States are added to the game in the form of paid DLCs. The added American states feature the cities and other rural areas in each state. The trucks featured in the game are also real licensed trucks from automobile manufacturers like Volvo and Kenworth.
Pros
Finally, we have American cities in a realistic truck simulation game
You can now own your trucking company
Interesting mods are available for the game
Beautiful graphics
The music is good
Cons
More trucks need to be added to the game
Few American states added as of now. The world isn't as large as Euro Truck Simulator 2 yet
8
American Truck Simulator is an enjoyable truck simulation game. It provides a good mix of simulation and fun. But, just like earlier games in the Truck Simulator series and other games like The Sims, some players might want to wait for more DLCs before purchasing the game.
Download American Truck Simulator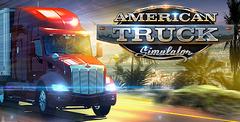 System requirements:
PC compatible
Operating systems: Windows 10/Windows 8/Windows 7/2000/Vista/WinXP
See Also
Viewing games 1 to 5