Carmageddon: Splat Pack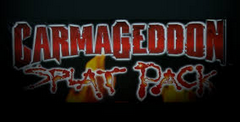 Click the "Install Game" button to initiate the file download and get compact download launcher. Locate the executable file in your local folder and begin the launcher to install your desired game.
a game by
Stainless Software
Platform:
PC
User Rating:

8.0

/

10

-

2

votes
Rate this game:
See also:
Carmageddon Games
Just For A Moment. Think About How X-COM 3: Apocalypse Was Simply Described In Our July truly incredible computers are. Consider how remarkable it is that the human race has actually managed to create devices that think. Reflect upon the silicon chip's widespread influence, its seemingly inexhaustible range of applications, its innate significance in the unfolding history of mankind's evolution. There is still some way to go - we're constantly improving our design - yet in a short space of time, computerised technology has come to permeate almost every aspect of our lives. Clearly, this merely marks the beginning. There is a new force at work in the world; the exponential power of countless zeroes and ones. Humans are now beginning to grasp the possibilities such a force presents. Correctly harnessed, this digital energy has the potential to improve the lives of all humankind. Forever. S'yeah, right. Here's an add-on pack for Carmageddon.
Chunky, meaty, fresh
You all know Carmageddon. The game that made the Daily Mail leak a swollen bladderful of warm coward's pee into its collective cotton underpants. The game that so badly irked the BBFC they forced SCI to replace the red-blooded pedestrians with green-gunked zombies and release it with a 'No Gristle Guarantee'. The game we awarded a whopping 95 per cent back in issue 50.
Now those of you who just can't get enough vehicular death and destruction can wipe clean those feeding bowls and prepare for a second bloody helping. The Splat Pack takes the original game and adds a whole bunch of previously unseen tracks and cars. Oh, and it reintroduces the grisly bits. But more on that delicious development later. For now, let's look at the new bits.
First up, you'll be racing through a new series of environments; a medieval castle, a South American 'Inca' level, an island which houses an immense dam, an 'ice world', a bizarre futuristic city, and rather dramatically, Hell itself. The formula is much the same as before, in that each 'arena' provides the setting for several different courses, with barriers, checkpoints and signposts changing position accordingly. Frank Muir wannabes will be delighted to see that once again, each race is named after an excruciating pun: 'Inca Pacitated' (for a Mayan level) being a particularly grim example. Apart from the new textures and roadside furniture, the new environments also introduce new pedestrians (not zombies this time) to plough through. Bouncing off your windscreen this time around are more animals (sheep and warthogs) and people (with a dubious emphasis on scantily-clad women) than ever before.
Here in my car, I feel safest of all
Because we wouldn't stand for anything less, the team has also supplied a new range of cars. The Splat Pock menagerie of automobilia is more diverse than before, with the new vehicles ranging from the very, very big (a Duel-style juggernaut), to the very, very small (a Mini Cooper with full Italian Job regalia). The majority of the original Carmageddon vehicles are also at your disposal, some of which have been souped-up and made-over (your standard car, for instance, looks far cooler than it used to). Mostly, the additional cars are slightly more down to earth than the original Carmageddon beasts, in direct contrast to the distinctly surreal nature of the supplementary levels. There's also a knowing wink in the direction of Interstate 76, with the inclusion of a near-identical car, driven by a near-identical pair (named - bad-pun-tastically - 'Carkey and Clutch').
Okay, so there are some new tracks and vehicles. What else? Well, erm, not much really. Apart from the improved 3Dfx support (which should finally silence those who initially criticised Carmageddon's ropey VGA visuals), the only other major difference is that unlike the original neutered UK release, the Splat Pack co-stars eyeballs, intestines, livers, spines and bloody great arcing ropes of coagulated gore. Yes, folks, the BBFC may have demanded the removal of red blood and innocent pedestrians from Carmageddon, their decision has been overturned: now it's grue city. In addition to providing new tracks and cars, the Splat Pack will magically transform your original Carmageddon into the bloodbath it was always intended to be. For the meantime at least, SCI legally allow us all to wallow in their mire of vile, sickening, four-wheeled depravity. The readership of the Daily Mail, for once, can sit and spin. Hooray for that.
Vroom with a grue
No review of an add-on disk is complete without a sizeable amount of griping about features which could have been added but weren't, and hey, I don't want to buck the trend. So here we go. Ready?
First up: multi-player. Carmageddon, in its original, un-Splat Pack-ed state, has a severely flawed network mode. It's just not as much fun as it could be - the arenas are too large, the object a little unfocused. Nothing has changed. The Splat Pack offers no new deathmatch-specific levels - it simply allows you to use the new tracks. The Formula One track is clearly the best option for multi-player racing (especially the figure-of-eight section in the centre), but even that isn't ideal. What we want are a couple of small, tight playing areas. It isn't too much to ask.
Ultimately, how you feel about the Splat Pack depends very much upon on how much you like Carmageddon. There's lots of new stuff, but there isn't anything here that significantly improves upon the gameplay. The team is currently busy planning Carmageddon II, and our suspicion is that they are holding onto their very best ideas and improvements. If you didn't like the original, the Splat Pack won't do anything for you.
If, on the other hand, you loved it to pieces, played it from beginning to end, and can't wait for the full-blown sequel, this'll do the business. At the end of the day, it costs about the same as a CD by Cast or The Cranberries, so if you've got a bit of money to burn, for God's sake buy this instead. We don't want to encourage them.
Download Carmageddon: Splat Pack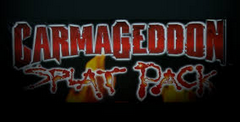 System requirements:
PC compatible
Operating systems: Windows 10/Windows 8/Windows 7/2000/Vista/WinXP
Similar Games
Viewing games 1 to 14