DuckTales 2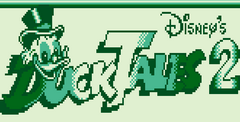 Click the "Install Game" button to initiate the file download and get compact download launcher. Locate the executable file in your local folder and begin the launcher to install your desired game.
Unca' Scrooge is searching for gold again in this pocket-size adventure that's an exact translation of DuckTales 2 for the NES. Scroogie's got to search the world for six missing pieces of an old treasure map that'll lead him to McDuck's lost treasure. In this one-player, multi-scrolling action/adventure game, Scrooge can use three new cane power-up adapters as he races Flintheart Glomgold for the treasure.
Download DuckTales 2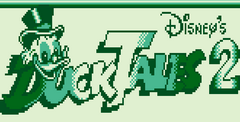 System requirements:
PC compatible
Operating systems: Windows 10/Windows 8/Windows 7/2000/Vista/WinXP
Game Reviews
Capcom's hit NES action game, Duck-Tales 2, has been faithfully ported over to the Game Boy. Every twist, turn, trap, bonus item, villain, and tail feather of the original is intact. In fact, the fun factor has increased, because now you can take this intriguin', globe-trottin' treasure hunt with you!
Trippin' for Treasure
Five levels represent five exotic locales that you, as fair-feathered mallard hero Scrooge McDuck, must search through for priceless lost treasure. Each side-scrolling level is a challenging, obstacle-filled maze full of traps, hidden items, and secret passageways for Scrooge to run, hop, and jump through. Luckily, he can find hidden special items, such as Ice Cream and Cake to restore health units, Scrooge Dolls for 1-Ups, and Diamonds for extra points. Also hidden throughout each level are pieces of a worn-and-torn map that lead Scrooge to the ultimate prize - the long-lost treasure of Great, Great Uncle Fergus McDuck!
Quality Quacker
DuckTales 2 is a visual and audio delight. Whether tripping through Egypt, Scotland, Bermuda, Mu, or Niagra, Scrooge is smoothly animated and easily discernible amidst the unique, detailed backgrounds and settings. Compare these pix with the NES graphics, and you'll notice that very little detail has been sacrificed on the tiny Game Boy canvas. DuckTales 2 also makes full use of the Game Boy's limited sound capabilities. Each level sports its own distinctive, lighthearted soundtrack, keeping the music from becoming too repetitive.
On-screen actions are .extremely responsive to the Game Boy's controls. Scrooge sports a small array of moves that are easy to master. His cane is his lifeline. Whenever you come to what looks like a dead end, it usually requires Scrooge to use his cane. He uses his cane to whack apart obstacles and uncover treasures, pull boxes and other obstacles out of the way, operate mechanisms, climb onto higher ground, and jump pogo-style on the heads of a mob of enemies.
Disney Delight
In a season of endless fighting and brawling, DuckTales 2 serves up a wholesome, fun adventure cart that's "quacked up" for gamers of all calibers, thanks to the difficulty-select option. More than just a button-pusher, this game also requires innovative thinking to make your way through each level's twists, turns, and dead ends. Sharp, clean graphics, innovative game play, and an engrossing story line prove that there's still life for the Game Boy. Waddle your way over to this winner!
ProTips:
Pogo Jump on blocks that sport arrows to activate other blocks for you to step onto in Egypt
In Mu, pull on the flower that's by the edge of the chasm and you'll launch your way over the huge gap.
Use your cane to whack obstacles out of your way.
Whack open all chests. Some reveal bonus Items.
In Bermuda, fire the cannon by yanking the trigger with your cane, and you'll blow down the wall facing you.
Use your cane to operate mechanisms, such as conveyor belts.