F1 ROC II: Race Of Champions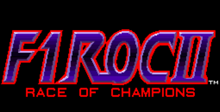 Seta tries to add a new twist to racing games with some bally- hooed technology, but ultimately FI-ROC II provides only above-average racing action.
ROC and Roll
At first glance, FI's abundant options qualify it for the trophy. You get 32 tracks (half are actual Formula One courses), three racing modes (including a Grand Prix season), and three cars that can be customized. One option you'll miss, however, is two-player head-to-head competition on a split screen.
ProTips:
Moon City Ls the easiest Practice track, while the aptly named Wild Bear is probably the hairiest.
In R&D, you'll need to upgrade several components at once: A faster engine will need better tires and wings.
Your car handles well and responds smoothly to the controls, which is essential on some of the extremely twisty courses. Seta adds a good strategic dimension to the control with its new custom DSP chip, which makes your vehicle perform differently depending on what happens in the race (for instance, your tires gradually wear out, and collisions affect the car's handling). You'll have to time your pit stops correctly to win.
The Racing World
You'll recognize the view: It's the standard behind-the-car racing you've seen for years. Although the backgrounds are imaginative (ranging from desert sunsets to city lights), the foregrounds aren't very detailed, and the cars are too small. Fun details, like sparks flying during collisions, are far too infrequent.
Slow yourself by cutting across the wide shoulders on turns but don't hit the red tires.
The sounds are worse. Engines whine like buzzing bees, and tire screeches are almost muffled out of existence.
The many tracks, the realistic strategy, and the good controls make this an interesting game. Still, for hard-charging intensity and head-to-head action, you'll have to steer elsewhere.
Download F1 ROC II: Race Of Champions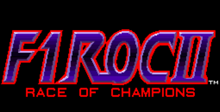 System requirements:
PC compatible
Operating systems: Windows 10/Windows 8/Windows 7/2000/Vista/WinXP
Pentium II (or equivalent) 266MHz (500MHz recommended), RAM: 64MB (128MB recommended), DirectX v8.0a or later must be installed
SNES/Super Nintendo/Super Famicom Screenshots