Flatout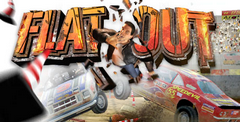 | | |
| --- | --- |
| a game by | Bugbear Entertainment |
| Platform: | XBox |
| Genre: | Racing |
| Rating: | 8/10 |
FlatOut's hook--drivers catapulting from cars like limp-limbed crash dummies--had me slapping my forehead more than my knees. Whenever I had to watch (and watch and watch) my gravity-defying wheelman demonstrate the game's so-so physics, opponents slingshotted past, and I placed last (buckle up, bonehead, we want that prize money even if it's in pull tabs). The trick works better in hurts-so-good bonus modes (not available online), where you hurl drivers for height, for distance, and for the hell of it at dartboards, bowling pins, and whatever's in the way."]
ing into stuff, and yet most objects (tire walls, poles, etc.) are so strangely sticky that if you bump into them, you're stuck. Hey, at least the car-reset button is easily accessible--it's set to Triangle on the PS2 version because you'll use it so much.
FlatOut may be an ill-handling, poorly designed hot mess, but its minigames are good for a laugh--even if you're giggling at the absurdity of rag-doll drivers ejected into oversized bowling pins. Too bad only the conventional, crappy races are playable online."]
7
I understand FlatOut wants to differentiate itself from the crowded racing field, but man, did this one make some wrong turns in trying to do so. Wrong turn No. 1: From the get-go, the hillbilly A.I. drivers perform like they aced Skip Barber's race school. Wrong turn No. 2: You'll need nitrous to challenge these backcountry pros for the checkered flag, yet the only way to acquire this much-needed boost is by rubbing other cars and crashing into objects, which--as you might've guessed--kinda slows you way down. Wrong turn No. 3: Unlocking the entertaining minigames requires you to complete the single-player mode, which is no easy feat. So make the right turn and steer clear of this wreck.
Similar Games
Viewing games 1 to 4