Fox Sports College Hoops '99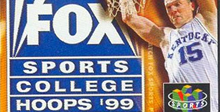 Click the "Install Game" button to initiate the free file download and get compact download launcher. Locate the executable file in your local folder and begin the launcher to install your desired game.
Z-AXIS has had this title under development for some time now. The choice to go with a college format was probably made to fill that untapped niche no doubt.
Looking remarkably similar to NBA Courtside, Hoops '99 sports the standard fully rendered polygonal players in "true" 3D environments. Players move fluidly at about 30 fps while performing a bounty of moves. Some of them include: exaggerated swats, cheesy-looking reach-ins and impressive 360 drives to the hoop. Even the maneuvers look similar to those in Courtside which, by the way, is meant as a compliment.
College Hoops '99 has the complete NCAA license, and therefore, 112 real college arenas, complete with chanting crowds, music and squeaking sneakers. Fox has also slipped in something they call Broadcast Graphics. Basically it's an attempt to give the game a TV broadcast look and feel. This is done through score highlights, clock updates and music bits. And of course the halftime band cranks out fight songs. The bread and butter of college ball is the tournaments and championships. Hoops '99 offers Full Season Mode, conference tournaments and of course the Big Dance and Final Four.
Gameplay is always the big question with new sports titles. Although the developers are still tweaking, it's apparent this too has been borrowed from the NBA Courtside school. The result? More skill is needed to drive the lane successfully. For that matter the whole game requires more patience and practice. Long-bomb passes will get intercepted about 40 percent of the time, just like in real life. Taking too much time around the three-point line will attract aggressive defenders who'll steal the ball. And lastly, driving the paint requires much more than holding down the Turbo button and swerving in and out of the defense for the easy jam. Try that here and you'll get blocked-out or rejected. Instead, players must master the controls--drive the lane with skill using dribble switch-overs to put defenders on their toes, 360 spins to get out of tight spots and sidesteps to find the open shot. In short, if you get good at a game like this it's because you know what you're doing. Basically that's the hope we have for all sports games--not just basketball.
While the N64 may not have many basketball games, both Hoops '99 and NBA Courtside have pushed the interactivity threshold. We'll have to wait and see what NBA Jam and NBA Live have to offer later this year when they're released.
Download Fox Sports College Hoops '99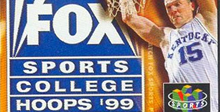 System requirements:
PC compatible
Operating systems: Windows 10/Windows 8/Windows 7/2000/Vista/WinXP
Game Reviews
After long publisher delays and a big licensing change (see "Sports Pages," January), Z-Axis and Fox Sports Interactive are finally hitting the court with College Hoops '99. And while it may not beat Live '99 in features and game speed, CH99 incorporates enough fresh gameplay options to warrant a look from N64 bailers everywhere.
Tournament Tested
Fox Sports College Hoops '99 struts to the court with 120 Division I teams and 8 conference All-Star teams from the SEC, ACC, and Big Ten, just to name a few. Also, a number of hidden teams (like the All-'VOs and All-'80s teams) become available after you've obtained special passwords. Once you've selected your favorite school, you can tip-off in Exhibition, Season, Conference Tournament, NCAA Tournament, or Final Four modes.
CH99 sports some cool innovations that really help it shine above other hoops titles--but it also omits a few standard options that bailers are used to the plus column, CH99 authentically mimics the college schedule, including a two-game preseason tournament and the end-of-vear conference tournaments. And for the lirst time ever, you can talk virtual smack: If you're ahead in the game, you can humiliate your opponcnt with the press of a button. To round out the options, CH99 features intuitive control with a first-step button. Depending on the defensive situation anti how you manipulate the joystick, your first step may be a speed burst toward the basket, a cross-over dribble, or a swim move to claw your way past a tight-playing opponent.
As for the MIA list, you won't find extensive stat tracking (CH99 tracks only your top players and only in five statistical categories), you can only view the replay during a dead-ball situation (after a foul, a bucket, or when the rock goes out of bounds), and you'll sorely miss the lack of a create-a-player option and icon passing. Fortunately, though, these missing features do nothing to detract from College Hoops' solid gameplay.
Jumpin' Out the Gym
99 offers an excellent round of competitive sim-stylc hoops that's easy enough for freshmen and complex enough for All-Americans. Graphically, this cart really shines, offering superbly detailed hi-rcs player models. You'll notice excellent player animations, including wicked cross-overs, high-flying two-handed jams, and spectacular alley-oops. And while there is some minor slowdown when you're grabbing a tough rebound in traffic, it doesn't affect the overall flow of the game.
The game's control and sound are also topnotch. To make up for the lack of icon passing, CH99 gives you two passing options--you can pass to the man closest to you or pass to the man in the direction you're running. The only downfall is that if you run a play in a congested area, you may find yourself playing catch rather than advancing the ball tow; hoop. You can also call eight offensive and foui sive plays on-the-fly. And to go along with the smack talk, CH99 fealures interactive crowd noises and solid in-game hoop effects.
Final Four, Baby!
Fox Sports College Hoops '99 stacks up well against Live '99 by offering a different license, different gameplay, and an extremely competitive A.I. opponent. If you have the cash or if you're a college hoops diehard, grab a copy of both. This game's for real!
ProTips:
If your center is waving his arm when he's under the basket, throw him the ball for an alley-oop.
Work the ball down low to your power forward, then kick it out to your guard for a three-point bomb.
Make sure vou have a clear lane when driving to the hoop, or you'll get called for a charge almost every time.
Use a fake first step to get your opponent leaning one way, then blast past 'em to the hoop.
People say:
5
It's getting increasingly hard for the little developers to nudge in on the "big two" sports video game publishers. I'm speaking of EA and 989 Sports. Their dominance of the genre is growing to the point of MONOPOLY!! That's fine, they put out great games. It's just that publishers like Fox Sports Interactive have really got their work cut out for them. College Hoops 99 tries to resemble NBA Courtside but I wouldn't put it on the same quality level. This Freshman entry has more than a few problems. For starters, the appearance of the polygonal players, while not horrible, is not as advanced as Live 99 or NBA Courtside. The player animation is a bit "herky-jerky" as well. When a man is defending a ball handler they can appear very stiff and stick-like. The game's Al is the most guilty. Often computer players don't seem to be in the game at all. They hover near their man, block him out and then the two lay back and watch the action. When two or three sets of players do this, it starts to look like league night at the YMCA-not much action. The game isn't terrible by any means. Advanced moves such as the first-step and alley-oop combos are very cool. The on-the fly defense option is nice as well. If Z-Axis can clean up the Al and advance the animation a bit, next year this title could be decent.
3
Fox Sports College Hoops 99 has one thing going for it: It's the only college hoops game available on the N64. Unfortunately, even if you're the biggest college b-ball fan in the world, there's no way I can recommend this stinker. The graphics are OK, but the animation is horrid (the frame-rate stinks!), and the Al is totally unbalanced. Both Courtside and NBA Live are MUCH better games. If you must play ball, don't play it here.
2
You know something's wrong when people are laughing their heads off...while playing a basketball sim. This game is that horrible. The ball physics and players' movements are unrealistic and erratic. The frame-rate is terrible. It's impossible to steal the ball (you'll foul at almost every attempt). The dunks look ludicrous. Anything fun here? Sure...watching the players go through their ridiculous animations before shooting a free throw.
4
Ever since Nintendo's impressive NBA Courtside came out. the bar has been raised for N64 roundbail sims. Unfortunately, Fox Sports College Hoops doesn't come anywhere close to that bar. The control isn't that good, and there are Al problems which really bring the experience down. The graphics are also disappointing and lack any serious visual punch. It's not as bad as In the Zone '98, but it's still pretty bad.
Nintendo 64/N64 Screenshots
Similar Games
Viewing games 1 to 4