NBA Courtside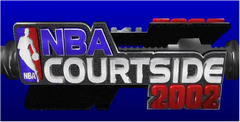 Click the "Install Game" button to initiate the file download and get compact download launcher. Locate the executable file in your local folder and begin the launcher to install your desired game.
Mintendo's here-again, gone-tomorrow sports lineup makes games like Courtside feel a lot like the ex-girlfriend you regret breaking up with: It comes around every couple of years, only to remind you of what you've been missing. This year's Courtside has little in common with previous editions of the b-ball franchise, aside from Kobe Bryant's mug on the box. Yet, this completely revamped bailer manages to sport a polish that makes it feel like it's been being refined for years. The surprisingly deep features set is more robust than even the most established basketball franchise. And when you're tired of playing NBA hoops, you can dive into a three-on-three streetball-style contest, or tinker with a player creator so intricate you can field a full team of Ron ieremys, detailed right down to their body hair. If that's not a hoop dream, we don't know what is.
People say:
8
First off, I want to thank the guys who did the rosters for this game. It's the first NBA game this year where my crappy Houston Rockets weren't rated as having less talent than the floorboards they play on. Because of those sympathetic (or drunk) roster writers, I was able to take my Rockets to the championship. But not because the game is easy. In fact, it took me awhile to learn how to out run-and-gun the computer in Courtside. The A.I. plays well enough on defense to keep the scores realistic and will light up the board if you let your guard down. Sometimes I was tempted to step aside and let the computer drive in so I could watch it strut its stuff. Many of the jump hooks, fakes and elaborate lay-ups have to be seen to believed, especially the humorous stuff in the Streetballing mode. One special move includes a ballerina's spinning pirouette that's mesmerizing, yet easy to do thanks to the intuitive controls. In fact, the painless Practice mode gets you comfortable and playing like an overpaid NBA star in just minutes. Shame you can't pass like one. Courtside's passes are so floaty that it feels like you're heaving change-ups cross-court. Defenses have more time to react to deflect the ball, occasionally creating an extra (and hopefully not costly) turnover. But it's nothing that will stop you aspiring John Stockton's from racking up the assists, and it certainly doesn't ruin an otherwise rock-solid hoops game.
7
NBA Courtside is a game that tries to appeal to the arcade-lovin' fans of NBA Street, while simultaneously hanging on the shirttails of those who prefer a little reality in their ballin'. And while it features pleasant graphics and a good (but not great) set of features, Courtside lacks the electricity that defines the best b-ballers. Perhaps it has something to do with the odd layout of the controller buttons, the polite speed at which the players run around, or maybe it's the repetitive, subdued commentary that kept me reaching for the caffeine. Not to suggest Courtside is a waste of time, but given the choice, I'd just rather play NBA 2K2.
8
I may feel the urge to make a crack about Kobe's mini-fro, but his game is no joke--it's serious fun. I'd have to put it in the same league as NBA 2K2. Maybe not as polished, but a smooth-playing, smart and intuitive basketball game. It's got a lot of neat features, too. The C-stick has replaced icon passing; simply point it toward a teammate and zap--the ball goes to him. Easy, eh? Another cool feature is the adrenaline button, which lets you control the intensity of your special moves and dunks. And the hyper-spastic Street mode, while no NBA Street, holds up well. I wouldn't buy a GameCube just for Courtside, but it's a gimme for GC jockeys.
Download NBA Courtside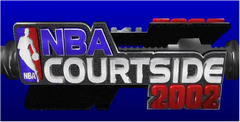 System requirements:
PC compatible
Operating systems: Windows 10/Windows 8/Windows 7/2000/Vista/WinXP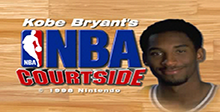 System requirements:
PC compatible
Operating systems: Windows 10/Windows 8/Windows 7/2000/Vista/WinXP
Game Reviews
Nintendo isn't known for realistic sports games, but they've been somewhat forced into making them due to the need to plug some gaping holes in the N64's sports lineup. Even more surprising is that NBA Courtside, their first foray into basketball, is actually very simulation-minded. It isn't the arcade-style fare you might expect from Nintendo but perhaps that's because it is developers Left Field Productions who are responsible for what you see on screen. And, indeed, what is on screen is pretty impressive.
NBA Courtside was deliered to the tGM offices, and short of a few bugs, it is almost complete. The 3D graphics are as good as those found on basketball games on any system, though they don't seem to raise the bar in any way. The polygonal players are well-constructed, and move fluently around the court--there's very little jitter between the motion-captured moves. Better-known players have their faces texture-mapped, and there are varying player sizes that make them roughly the size of their real-life counterparts. And as you might expect, there are a variety of selectable camera angles, and even some that automatically flip to the view that best captures a particular dunk.
Courtside's gameplay seems to be well-balanced, and smart. In various playing sessions, the computer defended well and played good offense. There are a ton of moves to learn and are executed by presses of the C buttons. There are post passes, alley-oops, cross-over dribbles, calls for a pick and various dribble moves that can be used in conjunction with Turbo speed (Z button). When you get the hang of them, you can really make your player scoot like a jitterbug as he flies to the hoop. For beefier, less nimble NBA players, there is the ability to post-up (by pressing R) and back in toward the bucket, something rarely offered or done correctly in basketball games. The one glaring omission in the version we tested was the ability to pass while jumping in the air. Such a move is crucial for faking shots, and is something that just about every basketball video game has.
While not as anally retentive as EA's NBA Live series, there is no shortage of features. Players can be created and extensively edited in appearance and abilities. There is full stat tracking during the season that includes individual stats, and those on overall team performance. Hardcore players will undoubtedly make use of those in addition to the playcalling on the fly. If you're not sure what a certain play does, just pause the game and read the play descriptions provided.
As you can see, NBA Courtside looks to be on track to become a great addi tion to the N64 sports lineup--especially for a first-time effort. At the very least, it will definitely top the horrendous NBA In the Zone 64 that is (unfortunately) the only N64 hoops game currently available.
MANUFACTURER - Nintendo
THEME - Sports
NUMBER OF PLAYERS - 1-4
Fluid gameplay, sharp graphics, and a very simple control system make NBA Courtside the best ever basketball game.
When it comes to Nintendo 64 basketball games, Kobe Bryant's NBA Courtside plays like the Bulls while its only competition, NBA In the Zone, plays more like the Mavericks (sorry, Dallas fans). Although Courtside isn't quite as good as the two top PlayStation basketball titles (Shoot Out '98 and Live '98), it's definitely the best b-ball game for its system and a must-buy for all N64 hoop-heads.
Setting the Court on Fire
Courtside blazes the hardwood with its fast, fun five-on-five action. You can compete in Preseason, Season, or Playoff modes while shakin' stiffs with an array of moves straight from the NBA, including up-and-unders, hook shots, and finger rolls. Although it can't measure up to the overall depth of player abilities found in Shoot Out '98 (no icon passing, cutting, or Total Control Dunking, to name a few), Courtside buries In the Zone in terms of team A.I. and NBA realism. You can call plays on-the-fly, double-team hot players, and even choose to front post players while on defense.
Sometimes, though, controlling your squad can become a bit sketchy. While your players react nicely to the change of speed provided by the analog stick, it's sometimes frustrating to grab rebounds, and your teammates get in the way too often as you bring the ball up court. Other problems include your offensive player picking up his dribble after bumping into a defender and a free throw meter that takes too long to get used to.
I Dunk on You
Courtside's graphics score all over In the Zone's--everything from player movement to the look of the arenas is animated more clearly and with greater detail. The dekes and dunks aren't as smooth as Shoot Out's, but when it comes to the N64, Courtside's visuals win by a landslide.
Soundwise, the game sports crowds who boo the visiting team and cheer for their hometown heroes. If a member of the home team misses an easy shot, you'll even hear a funny voice in the crowd disgustedly yell out, "Oh, come on!"
Division Champs
While Courtside isn't the greatest basketball game ever made, it's the best hoops game currently available for the N64. Jump all over this one the day it comes out--it has enough hang time to get you through the approaching hoops-less summer.
ProTips:
Don't always run down court and expect a dunk. Wide-open mid-range shots are sometimes better than contested slams.
When your center has the ball, back in toward the basket to protect the ball from your defender. When you get close enough to the hoop, turn around and straight-up dunk on his head.
Use scrappers like Dennis Rodman to grab offensive rebounds and tip in missed shots.
Create turnovers by harassing your opponent's point guard in the backcourt.
Nintendo 64/N64 Screenshots
Similar Games
Viewing games 1 to 9