NBA In The Zone '98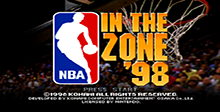 Click the "Install Game" button to initiate the file download and get compact download launcher. Locate the executable file in your local folder and begin the launcher to install your desired game.
Konami enters the season with the newest installment of its popular sports series, NBA In The Zone '98. However, instead of getting funk-nasty on the court, it does nothing more than finger roll its way into the PlayStation roundball arena.
Goin' Baseline
Zone '98 hits the hardwood a little bit better prepared than last year with the addition of plays and strategies. Still, it's more about dunking than anything else, so don't freak out, all you Kobe Bryant wannabes--Zone's still an arcade-style scoring fest. Hey, there's nothing wrong with that, but if you're looking for something more sim intensive with depth and accurate basketball physics, you won't find it here. You also won't find icon passing, which is almost unforgivable in a hoops title these days.
What you will find, however, are a host of other standard options, such as all the NBA teams and most of the players (including Sir Charles, Shaq, and this year's rookies), a create-a-player feature, and trades.
The graphics and sound are pretty much the same as in previous Zones. You'll find nicely sculpted polygonal players, each with a smoothly animated repertoire of cool dunks and jump shots. The ingame sound effects are the usual fare, and while the announcer is sparse on his commentary, at least he's not wrong.
Coming Up Short
NBA In The Zone '98 is better than its predecessors, but it can't compete with Live '98 in the sim gym. But if you're more into arcade action, Zone '98 will satisfy you for an evening's worth of dunking pleasure.
ProTips:
Always look to steal the ball when you're on D. Usually, you can pick your opponent's pocket and fastbreak it the other way.
To create spacing and get a good shot at the basket, call for a screen by tapping Rl.
Download NBA In The Zone '98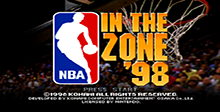 System requirements:
PC compatible
Operating systems: Windows 10/Windows 8/Windows 7/2000/Vista/WinXP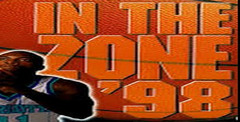 System requirements:
PC compatible
Operating systems: Windows 10/Windows 8/Windows 7/2000/Vista/WinXP
Game Reviews
Known for its great graphics and arcade gameplay, the latest incarnation of the NBA In the Zone series is being readied for the PlayStation.
Konami is beefing up their polygonal basketball game in a number of ways, starting with Charlotte Hornets forward, Glen Rice providing an endorsement for the product. More importantly, Zone's already impressive 3-D graphics are being improved with the addition of some new moves and motion-captured animations such as no-looking passing and behind-the-back dribbling. As always, the game will be heavy on action, but a few, new features might attract simulation fans to the game.
MANUFACTURER - Konami
THEME - Sports
NUMBER OF PLAYERS - 1-4
Konami looks to do some serious rimrocking with the third title in its Zone series, NBA In the Zone '98. Suiting up for this year's game are a host of options, including all 28 teams (as well as two all-star teams); a full roster of players, including rookies like Mercer and Duncan, as well as veterans like Sir Charles and Shaq; a create-a-player mode: and trades. However, the newest features for this year (which were sorely missing from last year's game) are the additions of on-the-fly play calling and team strategies. Now hoopsters can develop a game plan that entails more than just running the court and dunking the rock.
In the preview version we played, the action in Zone '98 was very similar to last year's game, but this time there was a little more movement by the CPU players that didn't have the ball.
As always, this year's Zone features some spectacular dunks and dekes, which really add eye-catching flair to each game. The in-game physics, however, are still a little off-base in that you can't run over your opponent's players when you go charging down court. Also on the downside, In the Zone '98 lacks icon passing, which has all but become standard in today's hoops games. Still, with a little more tweaking, Zone '98 could become a contender in the bulging PlayStation basketball world.
People say:
3.5
In The Zone '98 may be the first (and therefore only) "realistic" basketball game on the N64, but that doesn't change the sorry truth--this game is sorely disappointing. Before I even get into the gameplay problems, what's the deal with the ugly graphics? The players animate nicely, but the courts look horrendous (washed out is an understatement) and the crowd looks equally terrible (is there a fog settling in?). The PlayStation version (which was developed by a different team at Konami) looks a million times better than this, and there's just no excuse for that. Anyway, gameplay. ITZ '98 is completely offense-oriented. The Drive button in combination with the Dash button makes for an easy two points almost every time. Little guys will run through big guys--centers will drive from half court--whatever you want. It just adds up to a boring game with absolutely no defense whatsoever. I've got other minor problems too, like the lack of icon passing (I'm a big supporter of icon passing, as you know), the weak free-throw system and the various useless camera angles. Changing players is an exercise in frustration, too. As far as stats and options go, ITZ is loaded, but nowadays that's expected. From a company like Konami on a system as strong as the N64, I expect more.
3.0
I'm sorry to report that the first N64 basketball game is a bad one. ITZ '98 suffers from so many flaws, I just don't have enough space to describe them all. Let's just say that too many aspects of the shooting, stealing, dunking, passing, free-throw shooting and (lack of) defense are unrealistic and/or frustrating. Then there's the blurry and sluggish 3-D graphics that are equally as bad making this the worst ITZ game in the series.
4.5
I may be a casual sports gamer, but I sure know a mediocre basketball game when I see one. After the first game, the problems become immediately apparent: Switching players on defense is a pain, the Al is nonexistent and anyone (including short guys) can drive to the hoop with ease. The game looks pretty good but falters in the playability department. I'd wait around for a better N64 basketball game to come out.
5.0
I was really disappointed with this N64 game, because I thought Konami would do much better. The horrendously blurry graphics gave me a headache that shook my cranium worse than a San Francisco earthquake. If you can get past the graphics, the gameplay isn't too bad--especially if you don't mind being able to score a whole lot and whenever you want. If an N64 is the only console you own, this one is worth renting at best.
For two years, Konami's In the Zone series has delivered an arcadish brand of fast-paced basketball to the PlayStation. Finally, it's almost ready to arrive on the Nintendo 64.
We have finally received our first playable version of In the Zone '98, and it seems like there won't be any surprises. The gameplay appears conceptually similar to the past editions of the series, with perhaps a few more realistic elements. Players now move around on the court more like those on an NBA team (unlike pre vious ITZs where offense consisted of nothing but one-on-one match-ups). Also, just about every rule is being enforced (and is togglable on and off).
The 3-D graphics are still in their preliminary stages. Right now they look nice, but the camera angles and animations are still being worked on. Also, only two teams (Bulls and Jazz) could be used, along with only a sample of the game's options.
Although we have a playable version, In the Zone '98 is still far from completion. It will be interesting to see if this game turns out to be the Nintendo 64's first basketball game. Nevertheless, let's hope it turns out to be a good one.
Slowly but surely the holes in the Nintendo 64's sports lineup are being filled. Providing the first basketball game (it is the first N64 basketball game we've seen) is Konami, who has decided to bring their arcade-style basketball game to the Nintendo 64.
NBA in the Zone has always been a graphically pleasing game, and as you can see, they are well on the road to accomplishing this on the N64. Obviously, the N64 should have better 3D graphics due to its 3-D hardware, but it will have some other advantages such as Rumble Pak support, which should add some pizzazz to those rim-rocking, controller-buzzing dunks.
MANUFACTURER - Konami
THEME - Sports
NUMBER OF PLAYERS - 1-4
NBA Pro '98 opens promisingly enough, with a flashy intro sequence giving flashes of basketball action depicted through detailed high-res images. Great, you might think - this game looks brilliant!
Sadly though, the in-game graphics are not up to quite the same standard. They could best be described as 'blurred'. Okay, 'very blurred'. Think of looking at a picture through a fishtank that needs cleaning, and you're halfway there.
To be fair, the blurring seems to decrease depending on the camera view you use. It seems worst on the wide side-view though, which is rather unfortunate since this is the easiest view to play with.
NBA Pro '98, as its name suggests, contains all the teams and players for the official NBA '98 season. Or at least, it should. There is in fact a note in the manual to explain that all team rosters were accurate at the end of October last year, which means that if a new super-player has entered the NBA scene since that date then he's probably not included in the game.
Bring On The Features
NBA Pro '98 is packed full of options. You can play an exhibition match, a variable number of playoffs, a complete season, or even an all-star match using the best of the best.
Budding managers can reorganise their starting lineups, decide on substitutes, trade players with other teams and even create their own players with the comprehensive edit facility.
One good thing, or one bad thing depending on how you look at it, is the faithful adherence to the rules of basketball, which may take some time to get used to if you have no knowledge of the game. Luckily, unlike American football the rules are fairly straightforward and they — usually - make sense.
There is the obvious 'out of bounds' rule, and the fairly simple 'foul out' rule (foul five times and you're out). More unusual, and likely to catch you out to start with, are the 'back court' and 'goal tending' violations. The back court rule states that a player may not go back or pass back over the centre line once the ball has passed over it. Goal tending is when a player knocks the ball away from the basket when it's about to go in, which seems a bit daft, since stopping the other team from scoring is half the battle, isn't it?
There are also various time violations which occur depending on where you are on the court and what you're doing. These are all designed to keep the pace of the game going, making it as exciting for the fans as possible - like the 'pass-back' rule in football. Curiously, it's possible in NBA Pro '98 to get caught for 'travelling', which is where the player runs without dribbling the ball. Since the players dribble automatically, it's not clear how this occurs (I managed to do it though).
Realistic Running
The on-screen players run at different speeds, as real players would, and their speed becomes reduced as the game goes on and they get tired. Fatigue also affects their throwing abilities and their accuracy, as it would with their real-life counterparts.
One really irritating aspect, at least on the one player game, is the in game player selection. To swap between players, you need to tap the C Down button, which selects the player closest to the ball. However, there are times when it would be much more useful for the CPU to swap for you, like when you've just attempted a three-point throw and missed, for example. You still retain control of the player who has thrown, when obviously you want to control the player nearest the ball. The other problem with the player selection is that it's often not clear which player is closest to the ball, unless you're using the overhead mode.
The saving grace of this game is the multi-player mode. You can play with up to four human players on one team, or any combination per side. As with most multiplayer sports games, when your player is off-screen an arrow indicates where he is, allowing you to bring him back into the visual play area, or alternatively to switch to a different player.
Playing against human opponents is a lot more fun than facing the computer players, because the CPU is just too good at scoring, and it usually becomes a case of just trying to score more goals than it does in a relay. It scores one, you score one, it scores one... With all the players under human control though, at least as far as shooting goes, the game is a whole lot more fun, because of the number of baskets scored. None of this 'two or three goals a match' rubbish that you get in football - the scores in basketball go up quicker than English cricketers losing wickets to the West Indies.
All in all, NBA Pro '98 is an enjoyable game. The blurring of the graphics is a little disappointing, and the one-player game becomes a little tiring after a while, even with the mass of features and options that you get to play around with. The four-player game is loads of fun, and just shows why the N64 was made with four joypad ports. If you don't have enough pads, buy more, and recruit a few friends for some serious NBA action!
An enjoyable multiplayer game and lots of options. Good, but hardly brilliant. The question is do you really like basketball?
Konami's streaking toward the basket with the Nintendo 64's first five-on-five basketball game, NBA In The Zone '98. Like its 32-bit predecessors, Zone '98 will feature a full complement of teams (all 28 franchises and 2 all-star squads), and rosters built to the hilt with almost everyone, including rookies (like Ron Mercer) and the Lakers' dominator, Shaquille O'Neal. For features, Zone '98 is scheduled to offer team-specific strategies, trades, a create-a-player option, and support of the Rumble Pak.
In the preliminary version we played, the action moved a little on the slow side, but was helped to a degree by a Turbo button. And although the graphics were very slick, they looked more like a polished 32-bit basketball game than a truly super 64-bit game. Hopefully by game time, some of these shortcomings will be addressed. Unfortunately, this is probably the only basketball title N64 bailers will have to look forward to--unless someone snaps up Z-Axis' promising hoops game (see "Sports Pages," January).
The Nintendo 64 finally sees the arrival of its first five-on-five basketball sim in NBA In the Zone '98. Unfortunately, because of lackluster gameplay and less-than-spectacular graphics, Zone N64 trips on its laces coming out of the locker room.
Warriors vs. Nuggets
Zone '98 hits center court with most of the standard options, offering team rosters and play in Exhibition, Playoffs, Season, and All-Star Game modes. You'll also find stats tracking, support of the Rumble Pak, and a create-a-player feature.
The gameplay side of Zone '98, however, isn't as complete. There are no in-depth strategies or plays; all you need to do is make one or two passes, then hit turbo when you reach the paint and it's jam city.
Flagrant Foul
Along with its game-play, Zone's graphics and sound really fail to do the N64 any justice, though the control is adequate. Overall, the game is plagued with a blurry look: The courts lack fine-tuned clarity and the players merely look 32-bit with a little added polish. The sound is also very ho-hum and does nothing to add or heighten the experience. As for control, the shameful lack of icon passing isn't really a big problem because of the limited amount you have to do.
With such high hopes riding on this title, Zone '98 leaves hardcore gamers with nothing but a flat Spalding. However, if you're a gamer who prefers arcade-style action, a rental will help you to decide if Zone '98 should earn a permanent spot in your rafter.
ProTips:
Press the bottom C and B buttons when you reach the paint to rock the rim.
Be sure to keep an eye out for anv Isolation in the lane: More times than not, jour center will be wide open.
Konami's returning to the hardwood for its third season of arcade-style backboard bashing. While details are still scarce, Konami's looking to enhance the gameplay on the sim side, and the previously strong graphics will be improved with more than 300 new animations. As for moves, In the Zone '98 will dish out no-look passes, pivots, behind-the-back dribbling, signature moves lor star players, and more. Tire N64 edition will, naturally, support the Rumble Pak for those rim-rockin' dunks.
Nintendo 64/N64 Screenshots
Similar Games
Viewing games 1 to 11