NBA In The Zone '99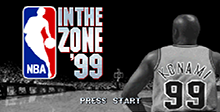 Konami may not be known for their sports titles, but that won't stop them from releasing In the Zone '99 later this year. The newest entry to the slim N64 basketball lineup will attempt to impress with solid fundamentals and gameplay rather than gimmicky features. In fact, aside from a three-point shootout option, everything else is firmly straightforward.
Looking like a chunkier version of NBA Live 99 (N64), you'll have the chance to icon pass, call plays on the fly and perform fancy offensive and defensive maneuvers. All-new motion-capture work has given players a decent, realistic look--not spectacular but not bad. Cross-over and behind-the-back dribbling are available and quite useful when driving the lane. Trying to press without them results in a collision nearly every time--not much cheap stuff to speak of. Oddly enough, the create-a-player option allows you to create a 5-foot, 300+lb. player... always a plus for any team.
Stats and licenses are plentiful. In addition to all the NBA teams, logos and stadiums, you can track your own stats as well as individual players and teams.
While NBA In the Zone '99 probably won't dazzle us with incredible new features, it does look fairly solid at its current stage of development.
Download NBA In The Zone '99
Game Reviews
People say:
7.0
NBA in The Zone '99 is greatly improved over last year's disastrous effort. The graphics are sharp (unlike NBA ITZ '98) and they're nicely shaded and realistic. ITZ rivals Live 99 (N64) and Courtside for looks--it might even be a little nicer (Ricciardi disagrees). Yet the combination of hyper active, ill-shifting camera movements and semi-erratic animation puts the title firmly in third place. Also dragging it down a bit are the way players bunch up on screen. It makes it tough to see the action. As for Al. calling offensive plays on the fly seems like a good idea but it doesn't translate well. You can see your players move into position, but actually executing a play is tough. Still, other play elements are very good. The CPU's defensive Al is quite tough. It forces you to use all the tricks and maneuvers at your disposal to find the open shot. The fake shot, cross-over dribble and speed burst work well. Slowly backing in and busting a quick 360 into a jumper is great. The difficulty levels are a little wacky though. Normal mode seems a bit tough--I actually preferred playing on the Easy level. 2P games are decent fair: The shot ratio is realistic, and games are low-scoring due in part to the good defensive Al. Overall. ITZ '99 is an enjoyable game but it could've benefited from a little more work. At this rate, next year's game could be great.
6.5
If you play ITZ '99 and then go back and read my ITZ '98 review youll notice that Konami addressed every one of my complaints when they created this year's game. The result is a much better looking, playing and feeling b-ball game that's actually fun to pay. The graphics still need work, but they're way better than last year's, and the Al is improved, too. The rosters are a little outdated, out otherwise this is a real solid effort.
6.5
I'm still waiting for an NBA Courtside killer, but alas, ITZ '99 won't be the one. This game has its ups- best is the defensive game engine that stops dunk-happy play without resorting to the cheapness that Courtside uses. But this game also has rats downs. It is really hard to follow the action when the players are crowded around under the hoop, and the computer at is really tough, even on the easier difficulty settings.
6.0
I can appreciate how much work Konami did to improve in The Zone '99, but the bottom line is that I'd still rather play Courtside. ITZ '99 features improvements in nearly every area of play, but the Al is still a little off (even the Hard mode isn't all that difficult), and the graphics are still too muddy for my tastes. On the other hand, If next year's game improves as much as this year's did, IT? could end up being my round ball game of choice.
Nintendo 64/N64 Screenshots
Similar Games
Viewing games 1 to 4