Guild Wars: Eye of the North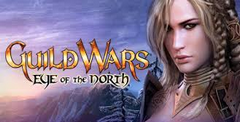 Eye Of The North is an explosive end-of-season-style expansion pack - success in which, and indeed the rest of the Guild Wars canon, will filter into Guild Wars 2. Noobs should look away now.
Whereas Prophecies. Factions and Nightfall were separate, yet linked, chapters where anyone could start off a new character, Eye Of The North is designed solely for max-level characters. It's being built as a stepping stone for both the existing community and the GW storyline in the lead up to the all-guns-blazing sequel. It introduces villains and big bad evils, bigging up the Human and Charr races, while introducing the Asura and the Norn (all of whom shall be playable come the advent of the sequel), and giving its famed instanced gameplay an almighty send off.
Beyond the 150 new unlockable player skills, 18 individual dungeons set in the Prophecies lands and the usual gamut of fresh mobs, weapons and stat-infested armour, there's also GW2 inheritance to think of. You'll be granted digs up in the northern bits of Ascalon, you see, and here you'll discover a Hall of Monuments that reflects your achievements throughout the entire span of the Guild Wars canon.
For every pedestal you fill, there'll be an unlock waiting for you in the sequel as inheritance - and seeing as you're in a fantasy land, Gordon Brown can't snatch a penny of it. Not that he'd be able to do much with passed down mini-pets, clothing, weapons and companions apart from perhaps sell them on eBay. But there you go...
Download Guild Wars: Eye of the North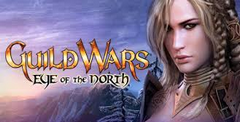 System requirements:
PC compatible
Operating systems: Windows 10/Windows 8/Windows 7/2000/Vista/WinXP
Similar Games
Viewing games 1 to 8