Ken Griffey Jr.'s Winning Run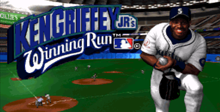 Click the "Install Game" button to initiate the free file download and get compact download launcher. Locate the executable file in your local folder and begin the launcher to install your desired game.
Nintendo's swinging for the fence, and it has put one out of the yard with its sequel to " Ken Griffey Jr. Presents Major League Baseball. Winning Run is just what the doctor ordered for gamers who have endured a long, cold winter.
The game has a Major League Baseball license but it doesn't include a Major League Player's Association license, which is distracting at first. The cool thing is that all of your favorite players' abilities and statistics are included in the game. It's just that they don't have their real names.
If you take too long to make a pitch, the umpire will turn around, tap on the glass, take his mask off and ask you to play ball. It's a funny little feature that adds to the realism of the game. The strongest part of this game is the gameplay.
A number of things have been changed from the previous version of Ken Griffey baseball, including the ability to customize your defensive formations in both the infield and outfield. You can play a hitter to pull the ball or adjust your fielders for him to hit straightaway. There are also several codes in this game to give you a variety of powers, including a home-run swing and a hard throw feature that allows you to try to get a quick runner out on the base paths. Rare, the designers of this game, left no base unturned. The animations are cleaner and less cartoon-like. One incredible feature that was distracting in the last game but now has been improved is the pitcher's ability to pick off a baserunner with ease. This time the view remains the same, making it tougher to steal. Now play ball!
MANUFACTURER - Nintendo
THEME - Sport
NUMBER OF PLAYERS - 1 or 2
Download Ken Griffey Jr.'s Winning Run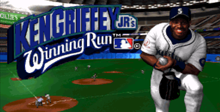 System requirements:
PC compatible
Operating systems: Windows 10/Windows 8/Windows 7/2000/Vista/WinXP
Pentium II (or equivalent) 266MHz (500MHz recommended), RAM: 64MB (128MB recommended), DirectX v8.0a or later must be installed
Game Reviews
This Namco driving contest, in splendid polygon-fill graphics, has you taking to the fast track. Fasten your seat belts as you take the wheel - a steering wheel that has realistic jolts and shimmies, thanks to a feedback system that reflects what your on-screen vehicle endures.
Sports games have never been strong on the SNES, but Nintendo's second round of Griffey baseball knocks that stereotype out of the park. With realistic, action-packed gameplay and superb graphics, Winning Run strolls easily over home plate.
"The Kid"
Although Griffey's the only real-life player in the game, you swing for the fences with all the major-league teams and a fine selection of authentic stadiums. The other players sport goofy names like Slip Slyden, but their abilities and appearance are modeled after their major-league counterparts. Five modes supply standard Exhibition, Season, Home Run Derby, All-Star, and World Series action. Trades, adjustable outfielder positioning, and detailed stats complete the lineup.
Hit the Ball, Meat
The tight controls respond smoothly at each position. Pitchers can chuck a fastball, curve, change-up, and one special pitch, such as a screwball or slider. You still steer the ball's flight, but you can only minimally affect its path. Likewise, gamers can use the directional pad to pull their swing or intentionally hit a grounder -- within the limits of the batter's ability.
These refinements to the controls infuse the action with a realistic, strategic feel that nicely complements Griffey's traditional slamfest gameplay, resulting in a raucous blend of sim-style realism and arcade-style action. Hardcore fans, however, will be annoyed by the game's minor flaws: The third baseman sticks too close to the line, slides can't be controlled, and so on.
ProTips:
Confuse batters by alternating your pitches between the inside and outside, as well as mixing up the speed.
Lead off as soon as the pitcher begins his wind-up.
To steadily advance runners, drive a grounder or line drive through the gap by gently tapping Up as you swing.
Winning Graphics
Rare, the developer, used the same ACM graphics that helped DKC 2 shine, and the results are just as outstanding. Snazzy sprites and sharply rendered stadiums replace the exaggerated, cartoony look of the first game. Graceful animations, from a hefty swing at the plate to an ump waving safe at first, make for engagingly realistic action.
Spectacular ambient sounds, like a vendor calling "Peanuts!" and catcalls from the crowd, bring the ballpark to life. The ball and bat effects, though cartoony, instantly tell you whether you whiffed or connected solidly.
World Series '95 fans will probably stand by their man on the Genesis, but it'll be hard to find SNES baseball that bests Griffey's game. Winning Run's a solid hit for Nintendo.
Controls
On the mound, pitchers pack three standard pitches (fastball, change-up. and curve) and one special pitch, such as a knuckleball. You can still steer the ball -- within the bounds of realism and your pitcher's ability. Some tuning aside, batting and fielding work much the same way.
Graphics
This Griffey ditches the exaggerated, cartoony look of the first in favor of realistic, rendered 3D players and stadiums. Nintendo also built in some unique touches to simplify fielding: When the ball is hit, a white streak trails behind it, and when it lands, it kicks up a puff of dirt. Even on the basis of these early pictures, Winning Run looks like a promising fly ball that might leave the park.
Gameplay
Winning Run steps up to the plate with most of the modern baseball necessities, including four modes, major league teams and stadiums, adjustable fielder positioning and trades. No real-life players, though. If the flashy arcade style of the first Griffey game turned you off, Nintendo. S promising to deliver a sequel with more realistic, in-depth action. Only hands-on play time will tell the true tale, but Winning Run's headed in the right direction.
SNES/Super Nintendo/Super Famicom Screenshots