Battletoads & Double Dragon: The Ultimate Team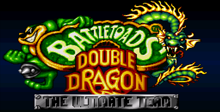 Click the "Install Game" button to initiate the file download and get compact download launcher. Locate the executable file in your local folder and begin the launcher to install your desired game.
a game by
Rareware, and Rare, Ltd.
Genre:
Fighting Games
Platforms:
SNES,

GameBoy

Editor Rating:

8.1

/

10

, based on

4

reviews
User Rating:

8.0

/

10

-

2

votes
Rate this game:
See also:
Battletoads Games
In the original Battletoads for the NES, the Toads gave the Dark Queen a major headache on Ragnarok's World. Now she's back to return the favor, but this time she's joined forces with the vile Shadow Boss of Double Dragon fame, and together they plan to enslave the Earth. There's only one thing for the web-footed heroes to do -- put a call out to the Double Dragon brothers, Jimmy and Billy Lee!
Teaming the Battletoads with the Double Dragon boys seems like a surefire way to pump up sagging interest in the NES. The concept IS great, but the execution is a little ragged in some areas.
Get Heady to Ribbit and Ruuumble!
Battletoads/Double Dragon is a fists-of-fury beat-em-up. One or two fighters can play, and they can be any Toad or Lee Bro. -- Rash, Zitz, Pimple, Jimmy, or Billy. Professor T. Bird is also back as your mean-tempered team leader.
This side-view, multiscrolling adventure leads you through eight treacherous levels inside the Colossus, on Earth, and finally in the Dark Queen's spaceship. With just three continues this game is a worthy NES workout. Moreover, since there are no passwords, you're in for the long haul.
ProTip: To beat a dynamite- tossing Windowman of Doom, you must anticipate where his dynamite sticks will land, grab 'em, then toss them back at him before they explode.
Clobberin' Time
As you might expect, this game doesn't skimp on the action. You must wade through a never-ending army of goons from the original Battletoads and Double Dragon games. Robo-Manus, General Slaughter, and Scuzz the Rat team up with Roper, Linda Lash, and Lopar. If you don't know these creeps, understand that they're Major League bad news to NES fist-fighters (and get yourself to a video store to rent the original NES games).
In Big Blag's lair, kick the stuffing out of the Guidos without taking damage by holding onto a ladder or a wall as you kick.
To beat off the evil gang, the Toads and the Dragons pack an awesome arsenal of fighting techniques. The 11 Battletoads moves feature creature-pounding effects, such as the Kiss-My-Fist and the Big Bad Boot. The Lee Bro.'s pull their familiar, lowdown repertoire of 12 mean moves (kicks, punches, and hair-grabbing throws, including the Twistin' Typhoon Kick and the Earthquake Elbow Smash). Any character can body slam a bad guy and pick up loose objects to use as weapons.
Your opponents can hurt each other, but so can you and your partner.
Considering the massive repertoire of rough-and-tumble moves, the controls do a good job. One slight hitch is the but- ton-mashing it sometimes takes to counter a sneak attack.
One way to bust up Abobo at the end of Level One is to back him up against the edge of the screen and pummel him. You move forward with each blow, so be prepared to step back slightly after three sets of blows. If you don't step back, he'll get behind you.
Graphics & Sounds; Lean & Green
The game's look will be familiar to Double Dragon disciples but it'll make the Battletoads brood want to croak. The overall design, including backgrounds and cinema scenes, doesn't have the same pizazz found in the original NES Battletoads. Instead, it tends to follow the more traditional route of the Double Dragon pix -- a flat, 2D appearance and almost robotic animation. Parts of the sprites disappear in blocks during hectic fighting scenes, and the colors aren't as vibrant as those in either of the original games.
When you come across the flying Retro Blasters, you can jump up to catch them. Move underneath them and press A.
The graphics are underpowered, but the visuals manage to grow on you, thanks to some toadally cool-looking fighting techniques and acrobatic moves. You can see how the graphic design for this game must have absolutely jumped off the drawing board. The Lee boys do their famous hair-pulling, knee-jerk Face Smashers. The Toads come on with their cartoony, oversized-fist, monster punches and Big Boot frog kicks. Smart-looking special moves include a stomping technique, where your character uses a staff to literally pound a bad guy through the floor.
An additional graphic punch comes from the fast-moving Speeder Bike races and mean- looking boss characters, such as Abobo, Big Blag, and the Dark Queen. You'll simply crack up when your heroes pull an outrageous, drop-jaw, bug-eyed gawk whenever a boss appears.
Whenever you bust something up, such as a Walker, break all the pieces lying around for extra points.
When you wack Ravens, keep batting them into the air to rack up points.
The sounds have a frog in their throat. The effects are okay, but mild. At least the music has plenty of energy.
The NES Fights Back
This is a game you want to like. These guys make a great team, and they've fired up a rousing fighting adventure. If you can live with the graphics, Battletoads/Double Dragon makes the NES a mean-and- green, fighting machine.
Download Battletoads & Double Dragon: The Ultimate Team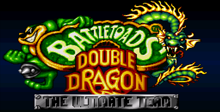 System requirements:
PC compatible
Operating systems: Windows 10/Windows 8/Windows 7/2000/Vista/WinXP
Pentium II (or equivalent) 266MHz (500MHz recommended), RAM: 64MB (128MB recommended), DirectX v8.0a or later must be installed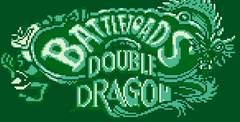 System requirements:
PC compatible
Operating systems: Windows 10/Windows 8/Windows 7/2000/Vista/WinXP
Game Reviews
Yes. I will move to this! This is identical to the NES version with some differences, but the graphics are improved ten-fold! Putting these two teams together was a great idea, and fans of both will not be disappointed! Yes!
Manufacturer: Tradewest
Machine: Super NES
Theme: Action
No. of Levels: 14+
We've Got to Fight!
They're back, and this time it's all-out 16-Bit war! The brawlin' masters have combined efforts for the ultimate team! There are several combinations for two players: play as two Battletoads, two Dragons, or one Battletoad and one Dragon! There are also two modes: one where you can damage your partner and one where you can't! All the bosses are also here - both the 'Toads and Dragon's deadliest enemies - including the Shadow Boss and the Dark Queen herself! The game isn't all fighting, though, and there is even a level where the game becomes a shooter! Battle on!
Battletoads & Double Dragon: The Ultimate Team is a beat 'em up originally released for the NES and later ported to the Sega Mega Drive/Genesis, Super NES and Game Boy. The game was developed by Rare and published by Tradewest.
It is a crossover of both Technos Japan's Double Dragon and Rare's own Battletoads game franchises, although Technos had little or no credited involvement in the production of the game outside of the Double Dragon license.
SNES/Super Nintendo/Super Famicom Screenshots