Double Dragon 2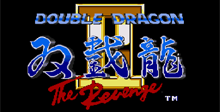 Click the "Install Game" button to initiate the free file download and get compact download launcher. Locate the executable file in your local folder and begin the launcher to install your desired game.
Double Dragon II: The Revenge is a sequel to the original Double Dragon game released in 1987 and is a side scrolling beat 'em up game produced and published by the same company, Technos. The game was released for the first time in 1988 as a coin-operated arcade game, but appeared later on Nintendo Entertainment System (NES). There were big differences between the two games. Other versions were released in the following years for Sega Mega Drive/Genesis, Game Boy Advance and PC.
The arcade version of the game begins with Marian, the women from the original Double Dragon, being killed by the leader of the Black Warriors. The player can control one of the same twin brothers Billy and Jimmy Lee, but their task is different. Now they have to avenge Marian's death.
The arcade version brings an improved control system compared to the first game. Now there are two directional-based attack buttons, left and right, instead of the original punch and kick buttons. Pressing the attack button of the player's current direction will employ a standard series of punches, while pressing the button in the opposite direction will perform a back kick. Several moves were introduced in this game, such as a Hurricane Kick, which was a powerful attack.
Most of the enemies in the first game returned in the second one too, but were given makeovers and few new moves they could use. The weapons were also modified and, for example, the steel bats and dynamite sticks were replaced by shovels and grenades.
There were four levels in the first game and there are still four in the second one: a heliport, a lumber storehouse, a wheat field and the new hideout of the final boss. There is a sub-boss for each stage. He has to be defeated for the players to get through the next level. After a single-mode game the player will have to confront a double of him to finish the game, otherwise he will encounter his twin brother, controlled by the second player.
Double Dragon II: The Revenge was also the name of the original soundtrack released in Japan in 1990. There are also few tracks from the original Double Dragon game.
The version for PC was released in Japan in 1993, while the version for Sega Mega Drive/Genesis was released in Japan exclusively and features the same levels and moves as the arcade version.
The first release of the series was very popular; the second one followed the same path. The version for Nintendo Entertainment System was rated with a great total average of 8.6 out of 10. No less than 838 users voted when this review was written. The game for arcade was rated with 8.3 and received 35 votes up until now.
Download Double Dragon 2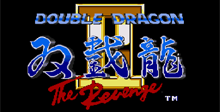 System requirements:
PC compatible
Operating systems: Windows 10/Windows 8/Windows 7/2000/Vista/WinXP
Game modes: Single game mode
Player controls:
Up, Down, Left, Right - Arrow keys
Start - Enter (Pause, Menu select, Skip intro, Inventory)
"A" Gamepad button - Ctrl (usually Jump or Change weapon)
"B" button - Space (Jump, Fire, Menu select)
"C" button - Left Shift (Item select)
Use the F12 key to toggle mouse capture / release when using the mouse as a controller.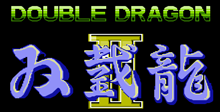 System requirements:
PC compatible
Operating systems: Windows 10/Windows 8/Windows 7/2000/Vista/WinXP
P-200, 32 MB RAM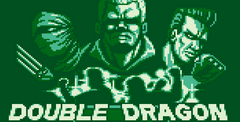 System requirements:
PC compatible
Operating systems: Windows 10/Windows 8/Windows 7/2000/Vista/WinXP
Game Reviews
Double Dragon 2 - The Revenge is one of the most anticipated games of the new year. Adapted from the stylish arcade sequel to one of coin-op's all-time classics, the second story in the Billy and Jimmy Lee saga brings our heros together and side by side, for the first time on the Nintendo Entertainment System, to take on the Shadow Boss who appears to have killed Marian. But is she really dead? New moves and enemies help to inject some variety into the proven play concepts.
People say:
7.0
I enjoyed Double Dragon 2 a lot. The new moves and fancier backgrounds do add some depth, and the two-player cooperative function is another welcome enhancement over the original NES Double Dragon. In the end, it's just more Double Dragon, but as a DD fan, I'm more than satisfied.
8.0
Every bit as good, and even better, than the first. It's all new too! New moves, new scenes, great graphics, excellent player control and multiple difficulty levels. Double Dragon 2 is easily the best kick-and-punch game ever made!
9.0
The supreme punch-and-kick! Top rate graphics help compliment this super sequel. The new two-player simultaneous feature is another added improvement over the original that clearly makes it more fun. A worthy sequel that surpasses its predecessor in almost every way!
8.0
Double Dragon 2 represents a phenomenol improvement over the original Double Dragon. The graphics, game play, and two-player interaction all combine to blow Double Dragon out of my NES. The theme is a bit stale next to upcoming efforts like Viper, but for now it's king of the kicker carts!
Big-time kicks on game boy
Now you can take all the adventure of the Double Dragon series with you in this incredible Game Boy sequel! With fantastic graphics and game play throughout, Double Dragon II: The Revenge follows the continuing confrontations of Billy and Jimmy Lee.
After defeating the Black Shadow Warriors, Billy and Jimmy Lee joined the dojo of the Scorpions. Their sensei, Gordon, took them under his wing and made them instructors of their elite fighting machine. After the jealous Scorpion, Anderson, eliminated another instructor, he blamed the brothers. Now, you must help Billy and Jimmy Lee discover the truth behind the betrayal. You must overcome a seemingly endless variety of enemy agents as you press towards the final fight with your rivals. Fantastic animation and scrolling for the Game Boy and solid punch-em-up action combine to make Double Dragon II one of the best games available for the Game Boy system!
Master tip #015
The enemies are more vulnerable when they are down! To make your fights short and sweet, perform the body smash when they are stretched out on the floor! In most cases, the enemy will be wiped out.
The best kung-fu punch-em-up ever released on the NES, this two-player version of the original adds more levels, intermissions, and some super graphics!
The second installment of this Double Dragon series more than lives up to its reputation. Superb graphics, and sound!
The 'classic' of martial arts game is coming to the MD later this summer! With graphics that rival the arcade version, this copy of DD 2 offers spectacular flicker -free one and two player cooperative game play! All of the great moves have been translated directly from the coin-op making this not only, the best looking but also the best playing of the DD games yet!
Marian is dead!
The evil Shadow Boss and his agents are out to settle the score for the thrashing you gave them in the original blockbuster. After killing Marian, your one and only love, they knew that you'd come after them with everything you've got!
This time, it won't be so easy. There are nine levels to fight through and a whole new gang of stronger and smarter thugs to beat. This time, however, you can bring a friend since Double Dragon 2: The Revenge is a two-player cooperative game - just like in the arcades!
Double Dragon 2 is also loaded with all-new martial arts moves such as the Cyclone Spin Kick, and Back Kick. With these new techniques you might have a chance against the somersaulting mad men from the Shadow Boss' evil gang. This game is more than just another kung-fu kick-em-up, however, with strategy playing an important role in your quest to reap revenge!
There are now nine new levels of action and suspense, not to mention the graphically striking intermission sequences which set up the climactic ending of the game (a la Ninja Gai Den). You'll have to work your way through walls filled with disappearing ledges, where timing is critical, and past conveyor belts and rotating gears that push and pull you in different directions above pits filled with deadly spears.
Double Dragon 2 may seem like a nightmare since you'll often find yourself confronted by gang members who seemingly appear and disappear at will. You'll also encounter an illusion of yourself that is equally skilled in the martial arts. And don't forget the Shadow Boss himself - your toughest opponent and the ultimate warrior! Is this new master of illusions really as strong as he seems? More importantly, is Marian really dead or is this another one of the Shadow Boss' evil tricks?
All new challenges - Double Dragon 2 is filled with surprises and packed with punch and kick action!
Outstanding graphics - Battle your way through nine highly detailed game screens!
Two player combo - Now you can play Double Dragon the way it was meant to be played - with a friend!
Be warned: there are three entirely different endings in this game, depending on which of the three skill levels you choose, and it will take a superb player to find out what really has happened to Marian.
Double Dragon, the runaway award-winner of 1988, is getting ready to strike again in both the arcades and at home! Courtesy of the folks at Romstar (through a special arrangement with American Technos), Double Dragon II: The Revenge is on the coin-op horizon and it is a blast!
In this super arcade follow-up, Double Dragon II continues the adventures of Billy and Jimmy Lee, out to clean up the city and eliminate an evil alliance of criminals who have taken over the cities as well as the beautiful Marion. Needless to say, you are mad and out for blood!
Although the game play may be similar to the original in many ways, it expands upon the first game's appeal with a whole new cast of maniac street thugs as well as some additional punching and kicking techniques (like a reverse kick, for instance). These new features, combined with a whole new world of spectacular scrolling graphics, giant animated characters, and sound effects make Double Dragon II: The Revenge play like an entirely new game in many respects.
In addition to boasting game play and graphics that are even better than the first Double Dragon game, Double Dragon II: The Revenge offers the same simultaneous two-player action that lets you and a friend take on the mean streets together! Not only does this make The Revenge look, and feel more like a brand new game, it also helps out the odds when a gang of hoods has you surrounded!
One of Double Dragon II: The Revenge's most stunning features are the incredible background and foreground graphics which serve as the setting for each of your kick-em-up encounters! The playfield scrolls smoothly by as you take on each new set of attackers. The enemy characters themselves are also rendered with exceptional detail and clarity, with a different personality and mode of attack evident with each new member of the gang's varied cast of killers! Without a doubt, these are some of the best graphics ever seen in an arcade action title!
Double Dragon II: The Revenge has plenty of new features like spectacular scrolling graphics, and giant animated game characters throughout!!!
If a good street fight is what you're looking for, then Double Dragon II: The Revenge will more than likely fill any needs you may have. The entire game is very impressive -- when you see the bad guys flying through the air with knives in their hands you can begin to appreciate the extra work that went into making this game as perfect as it could be. The Revenge is more difficult than the original Double Dragon, but by the same token, it's a lot more fun!
The Black Shadow Warriors are at it again in Double Dragon II, Acclaim's latest slugfest for the Game Boy. No matter how many times Billy and Jimmy Lee whip the Shadow Warriors, they still find a way to regroup. This time around, Anderson, the last remaining Shadow Warrior, has framed you (Billy Lee) and Jimmy with the murder of one of your fellow members of the Scorpion dojo. Now, the Scorpion leader, Gordon, has decreed that you both must die as retribution, so you hit the streets to clear your name of this evil deed.
Unlike previous Double Dragon games, this time you won't be able to rely on any weapons in your quest to defeat Gordon's fighters and find the evil Anderson. It's just you and your DD skills against the hordes of evil throughout 10 tough missions.
Mean Martial Arts
You can not only punch and kick with the best of 'em, but you possess other fighting skills that will show your opponents the true power of a Double Dragon warrior. The High Kick has fair power; it's a good technique against weak enemies. The Flying Kneedrop is effective for finishing off a downed enemy. However, the ultimate fist-to-face pounding move is the Aerial Uppercut. If this one doesn't down your enemy, you know he's a boss.
Impossible Mission?
DD II's 10 Missions will take your Game Boy martial arts skills to their limits, but unlimited continues ease the way. Each Mission features three different areas. Missions One, Five, and Nine are in the streets; Two, Four, Six, and Eight are on subway platforms; and Missions Three and Seven are in subway cars. At any point in the game (except the final mission) a second player can join in the action so that Billy and Jimmy Lee fight together.
Gordon's gang is relentless. They rule the streets, and they're out to grind you into the pavement. The subway platforms hide a variety of opponents, and the subway cars are mobile death. At the end of Missions Four and Eight, a detailed map reveals your progress. Mission Ten takes you to your final destination, Anderson and Gordon's hideouts. It's a long way up this building, with every elevator holding new dangers. It takes heavy-duty DD skills to make it all the way to Gordon's hideout. Each Mission, of course, has a final boss...and these bosses are boss!
Double Fun
Obviously, a Game Boy game can never equal Final Fight or Streets of Rage, but this tiny game holds more action then you'd think possible. It may not be a brain-teaser, but if action is your game, then so is Double Dragon II!
ProTips:
The Aerial Uppercut is the most effective technique against bosses. Press both A and B twice quickly to pack a punch worthy of Van Damme.
If you've weakened your opponent to the point that he's crouching, press Button B to perform a High Kick.
Most bosses will wipe you out quickly if you just charge them on a horizontal level. Try to stay out of their way until you can attack them vertically.
Double Dragon and its sequel. Double Dragon II: The Revenge became the subject of a series of suits and countersuits, as different manufacturers claim the rights to publish the programs for various formats.
American Technos, a subsidiary of Technos Japan, the original creator of the game, filed suit against Tradewest, declaring that company has no rights to the game Double Dragon II: The Revenge. According to American Technos Vice President Aldo Donnaloia, Tradewest negotiated with them to try to gain the rights to the sequel, but they never reached an agreement.
Tradewest countersued, contending that their agreement authorized them to market all versions of the game without limitation, for NES and computer systems. Tradewest seeks monetary damages and a halt of Double Dragon II licensing to any other publishers. Tradewest states that it would be "irreparably harmed" if their agreement is breached.
Meanwhile American Technos had another brick to throw: They say that Tradewest's rights to the original Double Dragon will end on December 31, 1989, and have requested that Tradewest not accept orders for shipment of the game after the end of the year. Tradewest spokespeople deny that this is the case, and say that the agreement entitles them to market Double Dragon as long as product demand continues.
While the two were busy getting their lawyers in place for a grand-slam court event, sub-licensees proceeded with their publishing plans for the mega-hits. Double Dragon is published for the Atari ST, Amiga and Commodore by Arcadia, a division of Virgin Mastertronic, and distributed by Electronic Arts.
And, just to complicate matters more, Acclaim Entertainment signed an exclusive agreement with American Technos for Double Dragon II: The Revenge on the NES, and is said to have game development well underway.
Sega Genesis/Mega Drive Screenshots
NES/Famicom/Dendy Screenshots