Streets of Rage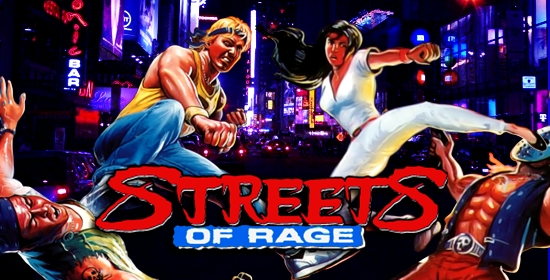 Fans of Streets of Rage for the Genesis already know what's in store in this faithful adaptation for the Game Gear. Although it's scaled down to fit an 8-bit environment, none of the intense action or the hard-knuckled challenge was compromised.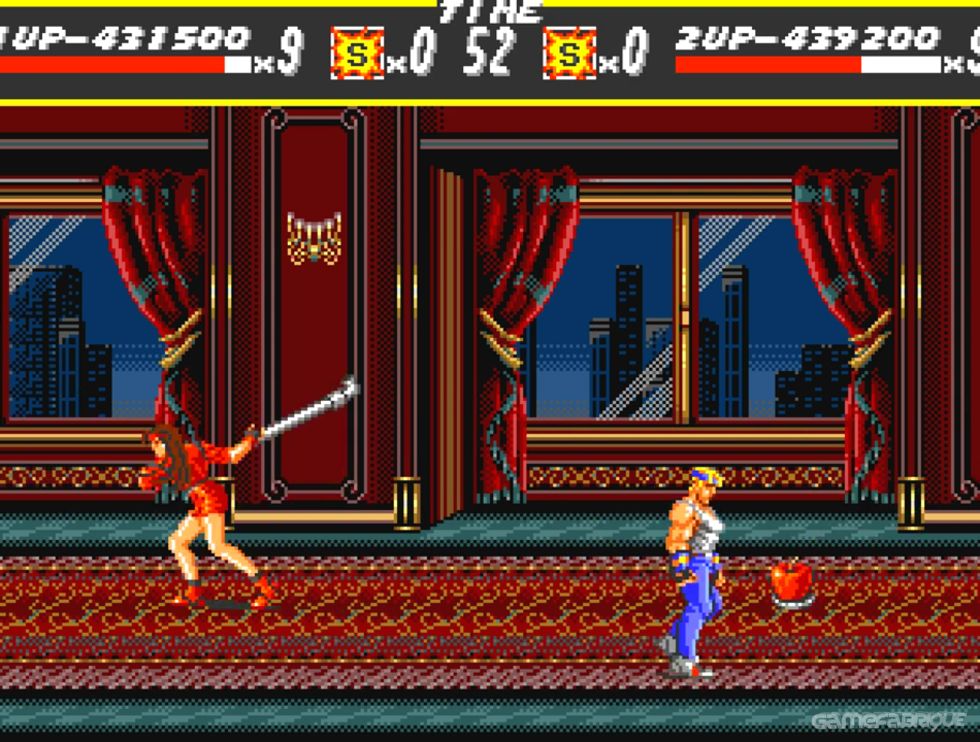 Street Fightin'
Things aren't going well in the city. All semblance of authority has crumbled under the oppressive weight of the Syndicate - a powerful crime organization that controls everything, including the mayor and the cops. Only two police officers, Axel Stone and Blaze Fielding, resisted the temptation of corruption. Both officers are skilled masters of hand-to-hand combat, but will that be enough against a city full of vicious thugs?
Five huge side-scrolling levels await you in this one-or two-player game. The rules are simple: Use your character's fighting skills to knock out every gangster. You start with three lives, and there are three continues--finito. No passwords and no excuses. Fortunately, there's an abundance of power-ups, weapons, and bonus items hidden throughout each level.
Your riotous rumble takes you across the city in search of the Syndicate's HQ. Before you hit pay dirt, you must survive treks through the Downtown Streets, the City Bridge, ships in the harbor, and a factory. Wave after wave of nasties hinder your progress, including thugs, bikers, ninjas, and whip-crackin' leather dominatrices!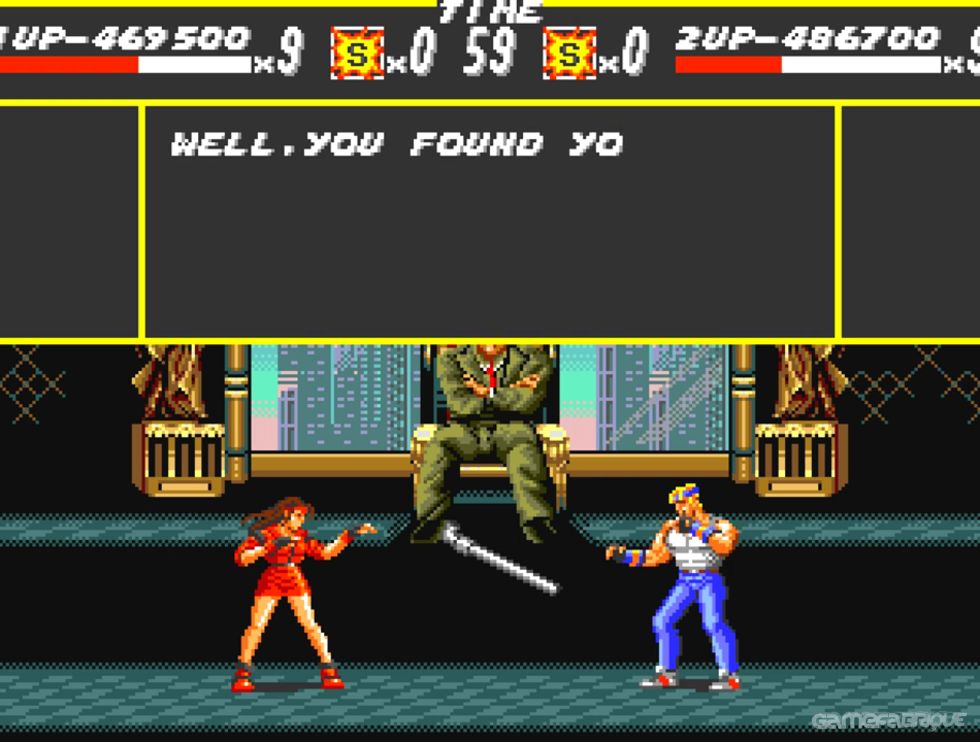 At the end of each level, a super-strong boss makes your life miserable. Every boss requires a specific strategy. Erase his life bar before he erases yours!
OutRAGEous!
Streets of Rage is nonstop, finger-pumping action-definitely the hottest street brawl for the Game Gear to date. Fans of Streets of Rage for the Genesis won't be disappointed by this portable version. Sharp graphics, smooth animation, and intense challenge guarantee this cart will be all the rage!
ProTips:
Smash open various stationary objects located at the bottom of the screen to reveal hidden power-ups.
Find the crowbar hidden within the phone booths. This weapon has the most force and the greatest striking distance.
You can only cany one weapon at a time. You must discard a current weapon to pick up a new one. Discarded weapons are gone for good.
The Level 1 Boss throws his boomerang directly at you. Move up or down to dodge it Attack him after he catches his boomerang and before he rears back to throw it again.
Attack the Level 2 flamethrower Boss from behind.
Throw one enemy into another to take 'em both down.
If an enemy grabs you from behind, flip him Into his buddies.
Enemies tend to move in dusters. Knock them down as a unit before taking them one-on-one.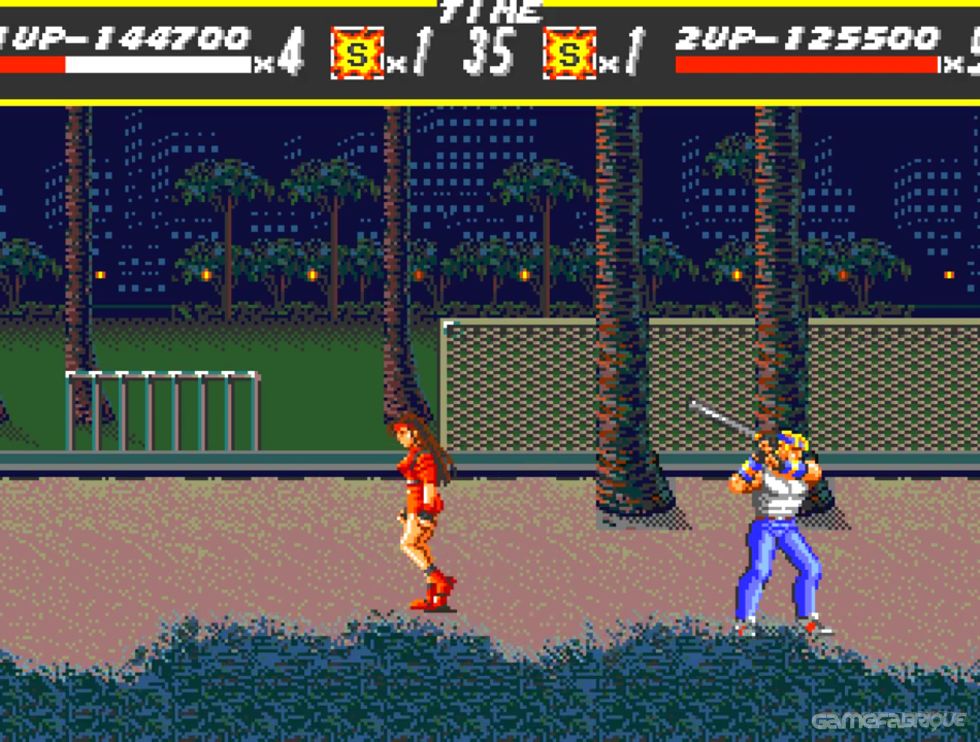 Download Streets of Rage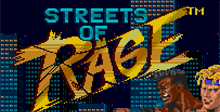 System requirements:
PC compatible
Operating systems: Windows 10/Windows 8/Windows 7/2000/Vista/WinXP
Game modes: Single game mode
Player controls:
Up, Down, Left, Right - Arrow keys
Start - Enter (Pause, Menu select, Skip intro, Inventory)
"A" Gamepad button - Ctrl (usually Jump or Change weapon)
"B" button - Space (Jump, Fire, Menu select)
"C" button - Left Shift (Item select)
Use the F12 key to toggle mouse capture / release when using the mouse as a controller.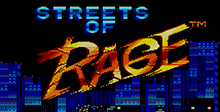 System requirements:
PC compatible
Operating systems: Windows 10/Windows 8/Windows 7/2000/Vista/WinXP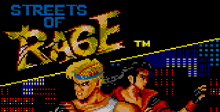 System requirements:
PC compatible
Operating systems: Windows 10/Windows 8/Windows 7/2000/Vista/WinXP
Game Reviews
Have you been craving a hot fist-fighting type game for your Genesis? Well, now you can start dancing in the streets, Streets of Rage that is! The street fighting concept has been used everywhere else, such as in the arcades and on all other home systems, but it's never been done on the Genesis and it's rarely been handled this well. However, you will recognize Streets' style, which mirrors that of Alien Storm and Golden Axe.
Streets of Rage has eight fist-pounding levels in which you fight along shorelines, on a cargo ship, up an elevator, and, of course, in wind-blown streets. The graphics and animation in this game are terrific!
You choose from three characters, tough cops who each specialize in different hand-to-hand fighting techniques, Boxing, Martial Arts, and Judo.
This game is packed with awesome moves that help you escape most sticky situations, and you can grab loose items such as lead pipes and baseball bats for a swinging time. Simultaneous two-player games are a blast, and a second player can join in any time!
ProTips:
In two player games, you and your partner should take position at both sides of the screen.
Use back kicks and jabs by pressing Buttons B Rage will knock and C to escape tight spots!
Streets of Rage will knock you out! If you enjoy games like Double Dragon or Final Fight, you must slug it out with Streets of Rage.
My favorite series on the Sega Mega Drive/Genesis is Streets of Rage. I will go one better than that and say that Streets of Rage 2 is my favorite 16-bit Sega game and is one of my top ten games of all time. Before that in the distant year of 1991, we had the original game which was released by Sega to try and have a Final Fight style game on their system. Well, in my opinion, this series eclipses everything that Final Fight ever did!
Cleaning Up The Streets One Goon At A Time
For a 16-bit game and an early one at that. Streets of Rage is rather cinematic. The following two games would be far more cinematic. However, the story starts here pretty well. The city is being terrorized by a crime boss called, Mr. X. Three badasses in Axel, Blaze, and Adam are taking it upon themselves to clean up the streets and put a stop to Mr. X once and for all.
Now You Are Playing With Mega Power
Out of the three games, the original clearly is the least detailed in the visual department. You most notice it on the characters themselves as they are quite small. Still, Streets of Rage is a very fine-looking game. The background art is truly remarkable for a game from 1991 and the two games that followed this just built upon what was started here.
Electronic Music At Its Best
One thing that the series gets right as soon as you start is the soundtrack. Oh, my goodness does this game have a great soundtrack. I feel that Streets of Rage 2 has the best soundtrack, but I do prefer the soundtrack here over what is in Streets of Rage 3. The music was done by the very talented Yuzo Koshiro and when I think about this series, the first thing that always pops into my mind is the music.
Putting A Beating On Some Thugs!
The gameplay of this original Streets of Rage is much more basic than the games that would follow. Axel, Adam, and Blaze do all have different stats and slightly different attacks, but it is not as varied as it would become. Instead of having a special move, you do yourself, when you press the A button you call in the cops who fire a missile that will clear the screen or do heavy damage to a boss.
You fight your way through each stage, until you reach the boss. Defeat the boss and you get to go to the next level. You can pick up various weapons as you go as well as health and items for points. Getting points is worth it as you can get extra lives. Which you will need as this game is tough! There is plenty of replay value here as you have different endings
I will admit that if I am in the mood to play some Streets of Rage, 99/100 it will be the second game that I play. Still, this was a great start to one of my favorite series of games. It may be basic, but it is still a fantastic beat-em-up. It is the kind of game that is even better when you have a buddy playing with you and you guys try to clean up the streets together. This is a staple of the Sega Mega Drive/Genesis and a game that everyone needs to play through at least once.
Pros:
You can play as one of three characters
Each level has its own design
The soundtrack is incredible
It is even more fun to play through with a buddy
This is a game that never gets old
Cons:
It is not as good as Streets of Rage 2
There are not as many moves in this as the sequels
Following the introduction of the16-Meg monster Street Fighter 2, Sega decided to construct their own version. And are we in for a treat!
Now, with four characters, you can choose from several original and unique moves. So many in fact we didn't have enough space on this page to show them all! Stay tuned to us for more up-to-date coverage!
The battle heats up as you find yourself deeper in the territory of the crime syndicate. You must fight your way to the penthouse of the Main Boss and dethrone him once and for all. The U.S. National Video Game Team will guide you through the final stages of this great game. We'll give you the best in strategy and the latest techniques from the best players in the world. Look for an in-depth section on techniques to defeat each of the characters in the game as well as the best way to polish off the leader of this bunch of thugs.
Manufacturer: Sega
# of players: 1 or 2
Difficulty: Moderate
Theme: Action
Let the head-busting begin! The vicious syndicate is back in town and Axel Stone stands falsely accused of crime. Axel, Blaze, Sammy, and a new brawler, Zan leave a trail of smashed heads and mortally wounded scum. The mob is meaner than ever! The biggest brawl just got bigger with 24 explosive megabits of dynamite graphics and arcade-style martial arts slaughter! Veteran bashers Axel, Blaze, and Sammy from the second adventure are joined by newcomer Zan, a specially trained combat cyborg. The game is rich in action and is loaded with improved fighting skills, lung buster punches, killer throws, skull-shattering kicks, and mortal blows! There is also an enhanced two-player Mode for cooperative mayhem. Or blow off steam beating the daylights out of each other in the Head-to-Head Mode.
Manufacturer: Sega
Machine: Genesis
Number of Levels: 8
Theme: Action
Difficulty: Average
Number of Players: 2 sim
Feel The Rage...
A new crime boss has taken over the city! Even the police force is corrupt. Save the city from this criminal scum before it's too late! Choose from three different heroes, each with their own specialized moves and abilities! Pick Wolf for power, Blaze for speed, and Hawk for all-around skill. Learn the numerous techniques of each hero, and use the one suited for you! Next, blast through 8 levels of nonstop fighting action as you race to reach the crime boss and end his reign of terror. It may be rough, so bring a friend along for 2-player simultaneous play! Just don't hit each other if you plan to win. Superb 16-bit graphics combined with the musical mastery of Yuzo Koshiro and Team Shinobi make Streets of Rage a raging hit!
Number of Levels: 8
Theme: Fighting
Difficulty: Moderate
Number of Players: 1 or 2
Available: December 1991
Become the master and guardian of the streets of rage
A war is raging on the city streets and the crime rate is soaring! The gangs are so strong even the police can't stop them! Three ex-cops Adam Hunter, Axel Stone, and Blaze Fielding have taken it upon themselves to get rid of the crime syndicate behind the terror! Streets of Rage is one of the hottest fighting games available for any system and now the U.S. National Video Game Team is going to take you into battle like never before. With perfect maps and the best tips and techniques, you should have no problems battling your way to the Big Boss who's behind it all.
Round 1
You'll find this apple in the first booth. Get rid of all of the enemies before recharging your life.
The bottle is a good weapon, but the lead pipe, which is just ahead of it, has a longer reach.
The two outer phone booths are empty but if you destroy the one in the middle you will find an apple.
When this punk tries to throw you just hold UP and JUMP to land safely on your feet.
This guy looks a lot meaner than he really is. To insure your survival it is best to keep the meat on the screen until you are low on life. Grab the Boss and give him a couple knee slams and a backdrop for best results.
Round 2
In this level there are many power-ups hidden under the cans.
The pepper will stun the enemies for a few seconds!
Round 3
The baseball bat will help you pass through the first part of this level. Try to defeat the enemies as they appear or they will follow and gang up on you making it harder to fight them off individually.
Get the meat after you've defeated the kung fu masters.
Make sure that you get the 1-UP icon on this level.
To defeat this Boss all you have to do is grab him, do two knee slams, and then backdrop him. Keep the meat on the screen just in case you need to refill your energy.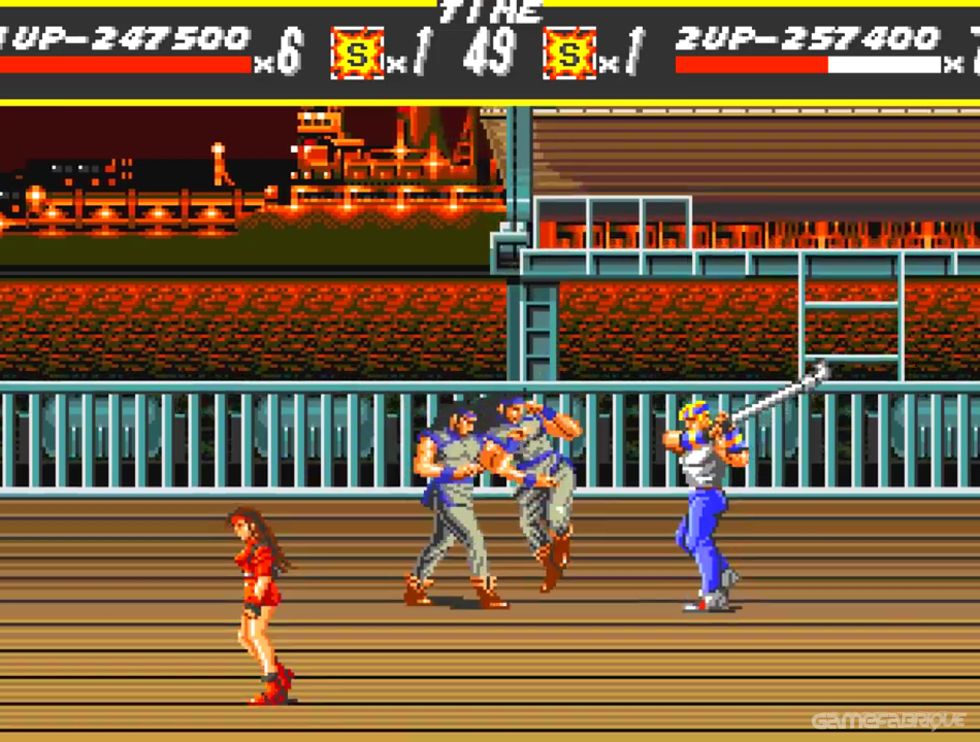 Round 4
In this level the enemies are more numerous and tougher than before. Watch your back!
Look under the cones and barriers for power-ups.
Don't miss this valuable 1-UP!
Boss 4
This Boss is rather easy once you know his weak spot. Knock him down with a jumpkick and then rapidly knee slam him. Don't try to backdrop him or else!
Here's a street fighting game that'll knock your socks off. New, Streets of Rage from Sega Genesis. You get a total of 40 individually controllable attack moves. Upper cuts. Head butts. Flying double knee attacks. Neck grabs. Jumping pile drivers.
You'll need every one of them, too, to clean up these streets. This neighborhood's crawling with punks, muggers and urban riff-raff. You and a buddy, fighting side by side, take on up to eight of these toughs at once.
Go at 'em with everything you've got. Pipes. Bottles. Knives. Dish out justice however you see fit. Remember, you're the good guys. But watch your back. These goons are even more ruthless than you are. Gangs of 'em come at you from everywhere ... and keep on coming.
So if you want to clean up the streets, don't just sit there. Do something. Get Streets of Rage from Sega Genesis.
The criminals are loose in the city and your going to stop them with your martial arts skills. A great 2 player game!
Streets of Rage is a beat 'em up side scrolling game and the first one in the trilogy of the same name. At the time of its release it was competing with Final Fight for popularity, which is why fans have split opinions about the two, as they both have their own pros and cons.
The story behind Streets of Rage is nothing special; three police officers (Adam, Axel and Blaze) set out to cleanse the city of crime by simply defeating any and all thugs they encounter. Their superiors had been caught in the web of corruption spread throughout the city, thus they must go it alone.
The gameplay consists of up to five enemies entering the screen from either side, and you must obviously defeat them in order to move on to the next part of the level. Each of the three playable characters can use a basic attack, jump, attack while jumping and finally use a special move which calls a non-playable ally to shoot all enemies on the screen. Note that this ability can only be used once per level, although you may find power ups scattered throughout the game. At the end of each level you must fight an oversized boss in order to continue. The strange part about them is that they are nameless as well as strange themselves; at one point you get to fight a sword wielding pirate.
Streets of Rage also has a two-player mode, and four difficulty levels to tailor to any type of gamer. Based on the mode played, the game can show an alternate ending, which adds a little replay value. The three characters are also slightly different in terms of gameplay. Adam is the strongest of all, but moves slowly; Axel is well balanced but doesn't jump as high; Blaze is the most agile of the three, but her strength is not that great.
Because there can be many enemies at once on the screen, the sizes of the characters had to be reduced, and this makes them less impressive than its so-called rival, Final Fight. However, the environments are nicely designed and the audio is top notch and really sets the mood.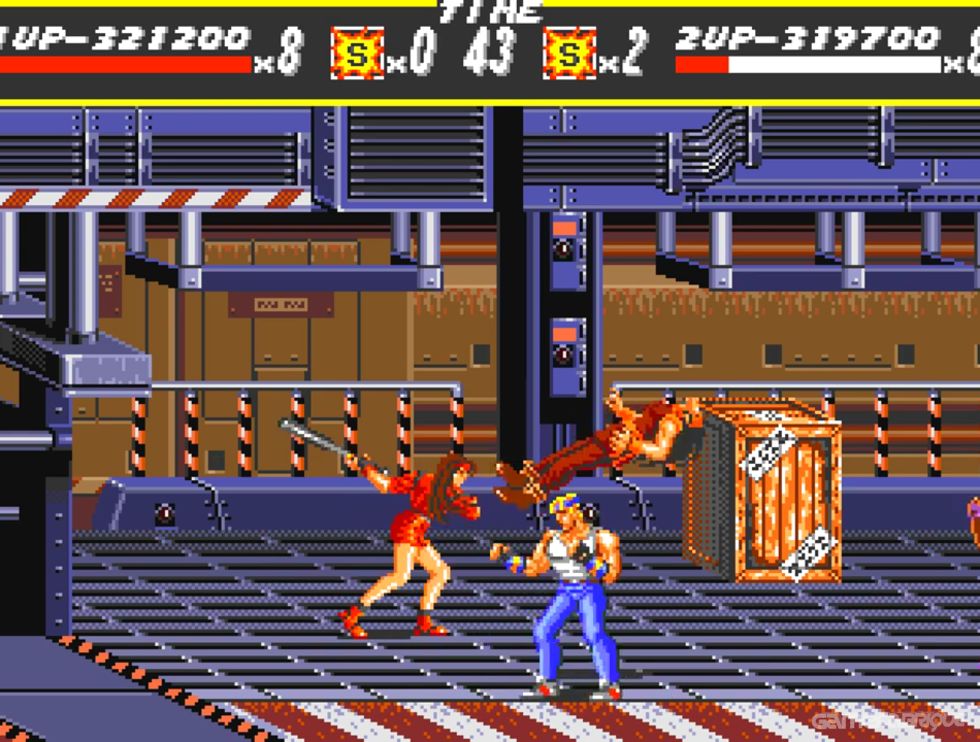 Streets of Rage can provide hours of entertainment and even if it does not bring anything new to the table, there is really nothing frustrating or off putting about it. It is definitely worth checking out.
Streets of Rage features:
Four difficulty settings and two player co-op mode
Three different characters with pros and cons
Alternate ending based on the game mode
Gang violence is running rampant in the metropolis. They've taken over the city streets, merchant ships, factories, and office buildings. Now, it's up to two ex-cops to take back what the citizens have lost!
Use the fighting skills you've gained from your martial arts training against the gang members and fight your way to the leader of this reign of terror, the Big Boss himself!
Great graphics, cool music and excellent game play enhance this all-new portable powerhouse!
Sega Genesis/Mega Drive Screenshots
Sega Master System Screenshots
See Also
Viewing games 1 to 6
Paradoxaction said on Forum:

I love this game. It marked a part of my youth. And their intro song is wonderful. Now i'm a music producer and i have created a remix of the intro in 80's style, because the game is in 80's style too. :-)

Download the song at this page: http://www.sondclick.com/paradoxaction

The song name is Streets of Rage (Paradoxaction Remix)

Enjoy! :-)