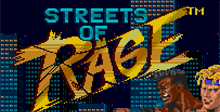 gabbe posted a comment: 14 years, 5 months ago

Hot $h!t this was one of the first street fighting games i fell in love with until part #2 came out.
Ash posted a comment: 14 years, 4 months ago

this game is the best action game
Paradoxaction posted a comment: 14 years, 4 months ago

I love this game. It marked a part of my youth. And their intro song is wonderful. Now i'm a music producer and i have created a remix of the intro in 80's style, because the game is in 80's style too. :-)

Download the song at this page: http://www.sondclick.com/paradoxaction

The song name is Streets of Rage (Paradoxaction Remix)

Enjoy! :-)
Paradoxaction posted a comment: 14 years, 3 months ago

The correct URL is: http://www.soundclick.com/paradoxaction

Sorry, for the error in the original message. lol ;-)
mounir412 posted a comment: 14 years, 1 month ago
Andy posted a comment: 13 years, 5 months ago

Am i the the only one that plays Streets of rage Karma Sutra?, It is the same game but you play a two player game and try to get your girlfriend in kinky positions!, It's a bit of fun!!!....
Brad Gutenborg posted a comment: 13 years, 3 months ago

Final Fight is nothing. Strets of Rage is the game!
MATIAS MORALES posted a comment: 13 years, 3 months ago

Streets of Rage es un grandioso juego de peleas callejeras, en donde tres j?venes ex polic?as, Adam, Axel y Blaze deber?n devolverle a la ciudad la paz y la seguridad que una Organizaci?n Criminal Secreta se encarg? de arrebatarle. En este juego debes avanzar peleando contra todos tus enemigos y acabar con el enorme jefe de cada nivel. Hay en total 8 niveles: la peatonal, el barrio, la playa, el puente, el barco, la f?brica, el ascensor y el hotel. En este ?ltimo se encuentra el jefe de la Organizaci?n Criminal: el Sr. X . Para destru?r cada jefe o boss debes conocer sus movimientos as? sabr?s cuando defenderte: para los tres primeros jefes es recomendable que le des pu?etazos cuando te le acercas y lo lanzes al otro extremo de la pantalla; para derrotar el obezo que lanza llamas por la boca debes ubicarte fuera del alcanze de su recorrido en diagonal y atacarlo por detr?s pero no lo lanzes ya que es demasiado pesado y te aplastar?; para derrotar a las gemelas acr?batas debes usar tu ataque de pu?o o patada hacia atr?s ( esto lo logr?s si oprimes el bot?n de salto y el de pu?etazo juntos) pero ten mucho cuidado con su patada voladora y su toma de lucha libre. Luego que los derrotes a todos ver?s que reaparecen junto a otros jefes en un mismo nivel y como si fuera poco algunos son gemelos. Para vencer al Sr. X debes tener suficientes vidas para retomar la pelea y a veces es necesario usar los continues: ten mucho cuidado con el culatazo de su ametralladora y esquiva o golpea las balas. Este jefe llama con un chasquido de dedos a los peleadores callejeros para distraerte y atacarte. Si logr?s derrotarlo podr?s contemplar desde el puente la ciudad vuelta en paz y sus calles despojadas de la ira.
vinx_619 posted a comment: 13 years, 3 months ago

This game rocks!!!!!!!!!!!!!!!!!!!
jose posted a comment: 13 years, 2 months ago

i want to get snow bros 2 with new elves... can someone give me a download link???
alan posted a comment: 12 years, 12 months ago

The best game in sega for me =]