Mario Party 8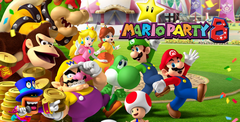 Click the "Install Game" button to initiate the free file download and get compact download launcher. Locate the executable file in your local folder and begin the launcher to install your desired game.
Mario Party 8 is the 8th game in the Mario Party series and was originally released on Wii back in 2007. In Mario Party 8, Mario and his friends compete for stars in a virtual board game environment, where the player with the most stars at the end is crowned the winner. Up to 4 players can get involved, so grab a few friends and have some fun!
A mix of gameplay styles
The main game mode involves players taking turns rolling a die to determine how far they move across a virtual board. Many tiles on the board are standard ones, but there are plenty of special tiles that trigger both positive and negative in-game events that add to the fun of the game.
Ultimately, though, the aim is to collect coins throughout the game in order to purchase stars that are needed to win. You can even buy candies that act as powerups, enhancing gameplay in various ways. Some candies let you roll more than one die in a turn, and others let you steal coins and items from other players! Minigames also break up the traditional gameplay between each round, allowing players to compete for stars and coins in fast-paced activities. There's a nice balance between the two gameplay styles that all players are sure to appreciate and enjoy.
Mario and the gang
As with many Mario games, a bunch of familiar faces make an appearance in Mario Party 8 that hardcore Nintendo fans will love. Not only are there the traditional playable characters like Luigi, Peach, Yoshi, and Waluigi, but there are lots of unique characters that you might not expect such as Birdo and Blooper! In total there are 15 playable characters, 2 of which aren't unlocked until after completing the Star Battle Arena twice. You can even play as a Mii character though this option is only available in the Extras Zone where you can choose to play one of 8 minigames available.
A selection of boards to choose from
Mario Party 8 features 6 unique boards to choose from, with each one boasting a unique environment with features that aren't present in the other boards. You've got a jungle-themed map based on Donkey Kong, a map set on a moving train, a beachside map inhabited by pirate Goombas, and even a special battle station map which isn't unlocked until after you beat the main story.
With so much variety, there's plenty to look forward to in Mario Party 8, and it'll be a long time before you get bored.
8
Mario Party 8 is a fantastic entry in the Mario Party franchise that offers a lot of unique features that aren't present in other games. If you enjoy virtual board games like Monopoly or wacky minigames like those found in Rayman: Raving Rabbids, be sure to download Mario Party 8 and give it a go!
Pros:
Range of playable characters and boards to choose from
Over 70 unique minigames
Both multiplayer and singleplayer options available
Cons:
The game can be quite slow-paced at times
Singleplayer mode gets boring quite fast
Download Mario Party 8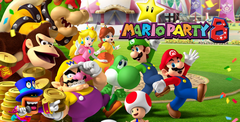 System requirements:
PC compatible
Operating systems: Windows 10/Windows 8/Windows 7/2000/Vista/WinXP
Game Reviews
Few games have captured the hearts of fans like the Mario Party franchise. It's a delight to play for gamers both young and old, with straightforward gameplay, creative minigames, and classic Nintendo characters to play them. There have been many new renditions of the game, but the versions for the Wii were incredibly resourceful in terms of gameplay mechanics and game boards. One of the popular games in the franchise, Mario Party 8, was developed by Hudson Soft and was first released on May 29, 2007, for the Nintendo Wii.
Fun At the Carnival
All the previous Mario Party games are set at different locations, each with its own theme and host. Mario Party 8 is set at a bright, festive carnival hosted by the colorful and self-proclaimed "master of catastrophes," MC Ballyhoo. In addition, the game features six unique game boards to play on, each with its own special events and quirks. Choose your favorite Nintendo character and set out to be the top player at the fair!
So Many Boards!
A few more modern Mario Party games have received criticism about their limited selection of game boards. However, Mario Party 8 provides six fun options to choose from:
DK's Treetop Temple
Goomba's Booty Boardwalk
King Boo's Haunted Hideaway
Shy Guy's Perplex Express
Koopa's Tycoon Town
Bower's Warped Orbit.
Admittedly, some of these boards were more well-received by players than others. Koopa's Tycoon Town is most likely the most appreciated board in the whole game, featuring a rectangular city with hotels that you have to invest and manage, reminiscent of games like Monopoly. Though it may sound a bit dull, the objective to get more properties and upgrade the hotels is incredibly addicting. Any player can easily pick up on the gameplay mechanic, making it an excellent board for the whole family.
Loads of Minigames
Just like all the other Mario Party games, Mario Party 8 features a massive list of minigames to play and discover. A few of these games are still incredibly beloved today, like Cardiators, a satisfying and engaging chance-based minigame, and King of the Thrill, an entertaining fighting minigame with cohesive game mechanics.
Mario Party's Legacy
However, just like the other Mario Party games, some minigames didn't resonate with players. For example, Bumper Balloons is a bit slow and boring with confusing game mechanics. Flip the Chimp is tedious and involves intense reaction-time mechanics that can be incredibly frustrating to nail correctly.
7
Overall, even if some players didn't enjoy Mario Party 8 as much as the other games in the franchise, it does a great job capturing the fun "Mario" theme that Nintendo encapsulates so well. The carnival theme is fun and well-implemented, and there are enough game boards to satisfy any type of player.
Pros:
Vibrant art style, creative game boards, mostly entertaining minigames
Cons:
A few boring/poorly designed minigames
Similar Games
Viewing games 1 to 8