NHLPA Hockey '93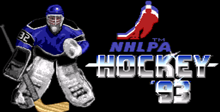 Click the "Install Game" button to initiate the file download and get compact download launcher. Locate the executable file in your local folder and begin the launcher to install your desired game.
a game by
Electronic Arts
Genre:
Sports
Platform:
SNES
Editor Rating:

7.9

/

10

, based on

5

reviews
User Rating:

8.5

/

10

-

4

votes
Rate this game:
See also:
Hockey Games
Electronic Arts continues with their famous line of Hockey games.
NHLPA Hockey '93 CD for the Sega CD is as good as the cartridge, plus it has some really neat features that put this cart on top. All the players are digitized, and you can see the teams highlights from over the past few years in the form of full-motion video.
I shouldn't even have to mention that this game has CD sound, as you've probably guessed it. If you've been playing all the previous EA hockey carts, this one is even better.
Download NHLPA Hockey '93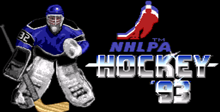 System requirements:
PC compatible
Operating systems: Windows 10/Windows 8/Windows 7/2000/Vista/WinXP
Pentium II (or equivalent) 266MHz (500MHz recommended), RAM: 64MB (128MB recommended), DirectX v8.0a or later must be installed
Game Reviews
Nobody can hold stick to these guys: Oates, Neely, Tocchet, LaFontaine, Sandstrom, and the 545 other guys who play hockey at the highest level. The deadliest marksmen, the enforcers, the brightest stars of the pro game.
They're all captured in NHLPA '93. The official game of the National Hockey League Player's Association. Last year, NHL Hockey was the top-selling Genesis sports title. This year, the same game designers deliver even more explosive game play. Check out all the players. The complete, accurate team rosters from the 1992 season. Including 1993's new Ottawa and Tampa Bay expansion rosters.
NHLPA'93 is the finest the sport has to offer. With more new pro moves than you can shake a stick at.
There are last, tough-to-beat goalies who leave the crease to clear loose pucks, or lunge and dive to smother shots. Individualized moves, like glass-breaking slap shots, nimble stick action, and brutal body checks. Each player skating his own unique game.
Hot new defensive techniques and an improved computer opponent that raises the electricity in power plays.
Standing between you and the championship are scorers like Yzerman. Goalies like Essensa. Intimidators like Domi and McSorley. Each of the 550pros rated on 14 characteristics based on 1992 playing stats.
Some are better defensemen, others scoring machines, others specialists at killing off power plays.
If these guys don't stop you in your tracks, the refs will. For tripping, hooking, cross-checking, off-sides, high sticking, or icing. The more severe the penalty the longer you're in the sin bin. There are even injuries that can knock you out for the game.
NHLPA '93 should chill out you SNES hockey fanatics. Put on your pads and grab a stick, 'cuz you're finally goin' into the game. Matchmaker, Matchmaker
NHLPA '93 for the SNES is pretty much the same as its Genesis counterpart. In fact, the game play options are almost an exact match, with the exception of the Password option. Choose any of the 24 National Hockey League teams, plus two All-Star teams, in a overhead-view, real-feel game.
You can match skills against the computer in the one- or seven-game Stanley Cup play-offs or play a regular season. If you want to go head-to-head against a friend, however, you're limited to playing a regular season.
Real Players, No Stats
The SNES version of NHLPA, unlike the Genesis game, doesn't allow you to mix and match different players to build your own Scoring, Checking, and Power- Play lines. Even though you can display the basic overall team stats at any point of the game, there's no way to check on individual stats for each player. However, this game maintains the true-to-form abilities of the actual 1993 National Hockey League Players Association members. Their rated skills, just to name a few, include Speed, Agility, Power, Endurance, Weight, and Shot/Pass Accuracy. Line changes and penalties (except fighting) can also be deactivated.
ProTips:
To swap the computer's team in the New Play-off mode, press Right to change your team, then Left to return to your original selection. You can generate three to four different match-ups with this method.
Use short passes for higher accuracy. This also reduces the chance of an interception.
Loss of Blood
The match-up between the SNES and the Genesis versions of this game is pretty much a draw. Although the SNES action is much faster, the animation tends to be a bit choppy. In the SNES version, you also won't see blood during injuries, hear the one- minute warning beeper, or feel the glass-breaking slapshots. Another improvement, though, is in the computer's goaltending skills. The CPU goalie is more daring about passing the puck when one of your players is nearby.
Stay close in front of your opponent's goalie and force him to hold the puck. You'll get a face-off near his net.
Cam-a-lot!
EA's sports games are known for their instant replay feature, and NHLPA is no exception to the rule. Although the cool isolation camera is absent from the SNES version, the game still features camera and tape control, which includes frame-by-frame, slow motion, and rewind. The SNES version even shows more replay footage, so you see a lot more action than usual!
Don't shoot or pass when opponents are crosschecking the player with the puck. It makes that player more vulnerable to a crosscheck, or a fall, and increases the likelihood that he'll lose the puck.
The Final Score
Electronic Arts does a good job of translating NHLPA '93 to the SNES and maintaining the feel of real National Hockey League action. NHLPA '93 is one of the best hockey games for the SNES thus far! It really skates up to the challenge!
Genesis skaters already know the cool feeling of playing one of the slickest, most competitive sports games around, NHL Hockey. Now, Electronic Arts is ready to slide the same opportunity to SNES gamers. Following the release of NHLPA Hockey '93 for the Genesis, the EASN banks an SNES version into your net off a wall of enthusiasm.
Net Worth
NHLPA '93 features 28 teams of real NHL players and two teams of all-stars from the National Hockey League. Although the actual team names and logos aren't real, that's no problem.
You can play one-player games against aggressive computer foes, or you can play with two players head-to-head or cooperatively.
Other cool options are regular season and play-off games, plus tournaments with passwords to save your progress. If you want to yank any players that aren't cutting the ice, you can call on the substitutions option. To catch every last detail, there's that trademark EA instant replay option. This game is so realistic, that it even includes injuries for really heavy hits. Penalties are called for fighting, off-sides, tripping, and icing. One-player gamers will appreciate the aggressive computer goalies and the challenging computer teams.
Winning the Cup?
NHLPA is sure to warm, err, and freeze the hearts of SNES sports fans. For a full review of all these cool features and more, check the Sports Pages next month.
After slapshooting the ultimate ice hockey game into your Genesis last year, Electronic Arts answers the sequel challenge. Only this time, they brought the pros along for the ride!
In NHLPA Hockey '93, real NHL players and their teams hit the ice. So strap on your gloves, lace up your skates, and tape up them sticks, 'cuz now you're playing with the best of the best!
Mix 'n' Match
NHLPA's excellent game play options mirror the original's. You can play by yourself or with a compadre, either head-to-head or as teammates. You can skate a standalone regular season game or go for broke in a one- or seven-game Stanley Cup play-off series. You choose from all 24 NHL clubs, minus their logos and proper names. Hotshots can also use one of two all-star squads. Penalties can be activated or deactivated, but the penalty for fighting is always active.
ProTip: To swap the computer's team in the New Play-off mode, press Right to change your team, and then press Left to return to your original selection. You can generate three or four different matchups using this method.
Power Players
Based on the full complement of National Hockey League Players Association players, the skaters are rated on their real-life skills, including Speed, Agility, Power, Stick Handling, Endurance, and Accuracy. Stats are tallied over the course of games and play-offs, but you can't save your stats.
In addition to its trademark thumb-burning action, NHLPA '93 offers players the opportunity to manage their teams. You become general manager and assign players to different "line" formations, such as a Scoring Line or Penalty Killing Line. Then you select lines to fit the game's situation.
Listen to EASN announcer Ron Barr's advice. He points out each team's strengths, weaknesses, and star players.
Find out which player has the most powerful shot, the highest shot accuracy, and the best shot/pass ratio. Use this player to take slap shots from the attack-zone blue line for a good shot on goal.
A Reality Hat Trick
As is their credo, EA's Sports Network "gets real" with NHLPA's true-to-life sounds. Improved over the original game, the sequel's cross-check grunts, boos and roars of the crowd, Ref whistles, goal sirens, blades and sticks cutting the ice, and pucks' bouncing all combine to take you to center ice. There's even a new crowd-leading organ that rallies the home team.
The overhead-view graphics are good-looking. The rink scrolls as smooth as ever, and the character animation is even better. Players now wobble off balance when hit, then recover. Even the goalie can skate outside of the goal box. Powerful players, such as Doug Wilson of San Jose and A1 Mclnnis of Calgary, can shatter the glass restraining wall with their signature-move slap shots!
As any hockey game should, NHLPA delivers some hard-line fighting action. Unfortunately, the fights are still confined to one-on- one action, with head shots and body blows at your disposal. Hard checks and vicious fights can injure players and knock them out of periods or the entire game. The visual effect is "graphic" -- blood actually flows onto the cold ice.
Stay close to your opponent's goalie to force him to hold the puck. You'll get a face-off near his net.
Play It Again, Cam
Most of EASN's standard sports features apply in NHLPA. Instant replay's at your fingertips, but a new isolation cam enables you to lock onto an individual player and follow him during playback. While you rest your thumbs, highlights of other games in progress are rolled between periods.
The lack of play-off passwords is good news and bad news. The game saves your position in the tourney, even if you turn the power off. However, you're booted out if you lose a series and you'll have to start over again.
The Final Horn
NHLPA's real players, fine-tuned animation, and more team management options make it an excellent sequel. This is as close as you can get to watching, managing, and playing a true pro hockey team without getting your socks soaked. If you hoses are still looking for a realistic hockey game, grab your stick and get the puck on the ice!
SNES/Super Nintendo/Super Famicom Screenshots
Other Games by Electronic Arts