Night in the Woods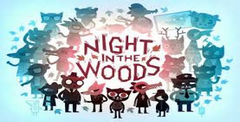 Click the "Install Game" button to initiate the free file download and get compact download launcher. Locate the executable file in your local folder and begin the launcher to install your desired game.
a game by
Infinite Fall
Genre:
Adventure/RPG
Platform:
PC
Editor Rating:

8.8

/

10

, based on

2

reviews
User Rating:

8.0

/

10

-

13

votes
Rate this game:
See also:
Cute Games, Quest Games, Cats Games, Lesbian Protagonist, Exploration Games, Games Like Inside, Games Like Oneshot, Games Like Little Nightmares, Telltale Games, Games Like Oxenfree, Games Like Journey, Games Like DDLC
Night in the Woods is an artistic and compelling narrative-driven adventure game, developed by indie studio Infinite Fall. Like many other games, you control a memorable cartoonish character on a side-scrolling adventure. However, Night in the Woods distinguishes itself from other 2D adventure games by telling a poignant and personal narrative, and by producing a unique charm and memorable characters. In Night in the Woods, your main objective isn't defeating enemies or reaching the end of the level. As a young 20 year-old returning to their childhood home, your overall goal is to work through your mental health issues and investigate the mysteries happening around town. It's a surprisingly effective story, resulting in tangible bonds with the game's various characters. As you explore the city that Night in the Woods presents you, you'll begin to see just how layered the story is.
The story in Night in the Woods focuses on Mae, a college dropout who returns to the town of Possum Springs. Her, along with the rest of the citizens of Possum Springs, are human-like animals. Mae and her family are cats, but the rest of the town ranges from reptiles to birds. Living at her parent's house, Mae spends the days exploring the town, reuniting with old friends, and pondering life's big questions. The game is split up across several days, and each day you'll choose who and what you interact with. Mae has a few friends left in Possum Springs, and it's up to you which friend Mae will spend the most time with. There's Bea, the cold and apathetic crocodile, Gregg, the fast-talking fox, and his boyfriend, Angus. Each character has their own distinct personality, providing Mae with a mishmash of optimistic perspectives and realistic pessimism. In many ways, Night in the Woods is all about the bonds you'll form with Mae and her friends, and which of those bonds you choose to focus on.
Between hanging out with your friends and going on various adventures, you can freely explore the various shops and locations in Possum Springs. Besides Mae's main friends, there's a slew of other characters to meet and areas to explore. You can spend time discussing Mae's future with her parents, make a spiritual check-in at the local church, or do a bit of humanitarian work with the homeless population. Possum Springs very accurately resembles the lifestyle of the middle class; hard at work at their individual jobs and lives, but coming together as a community for various events and holidays. As the Halloween season approaches Possum Springs, the citizens gear up for their annual fall festival. However, something truly terrifying awaits in the shadows, biding its time.
Night in the Woods excels as both a mystery story, an emotional adventure, and a stark look at the middle class. It's an interesting experience told with wildly imaginative characters and art. The overall writing is exemplary, whether it's an intimate moment with Mae's close friends or a drunken night of fun, Night in the Woods always feels honest in its storytelling. Although the gameplay can be a bit underwhelming at times, Night in the Woods makes up for it with a gripping narrative with compelling relationships. It's wholly unique, and for anyone who grew up in suburbia, it holds a distinctly nostalgic feel. The branching nature of the story and friendships provide plenty of replayablity, making this an indie game that is not only effective, but worth repeat playthroughs.
Download Night in the Woods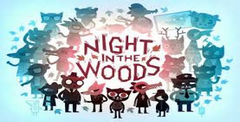 System requirements:
PC compatible
Operating systems: Windows 10/Windows 8/Windows 7/2000/Vista/WinXP
Game Reviews
Wow! I know that you may take a look at the art style of Night In The Woods and think this is some kind of dumb kids or comedy style game, but let me tell you few games will leave an impact on you as this one does. Night In The Woods is available for pretty much anything that can play a game and it is coming to Android real soon.
Hi, I Am Mae,
The first thing you notice about Night In The Wood is that all of the characters are animals. What is weird about this is that these are some of the most relatable characters I have come across in a video game. The main character and the person you will be playing as is called Mae. Mae has just recently dropped out of college and she decides to go back home. When she gets there she realizes that her childhood friends have grown up and are a bit different from what she remembers. Not only that their lives are very different to hers. Most of the game is spent with Mae trying to figure out her place in the world. From hanging out with her friends while they are working, playing the bass, looking for a job and socializing at night.
I Know You Very Well
You do not just get to know Mae, but each interaction with one of her friends reveals more about them. Gregg, Bea, and Angus are her best buddies and each one has their own story that you get caught up in. Night In The Woods despite having what you would call a "cute" art style is very hardcore when it comes to its issues. There is childhood trauma, confusions about sexuality and much more. I never expected the game to get this deep and it does it in such a clever way. Some may pass this game off as being slow, but it is all done on purpose. Even the most mundane of interaction with one of her friends has meaning and is there to make you feel more connected to them.
A Very Dark Turn!
I do not want to spoil things for you, but let me say that Mae has a bit of a dark past. She did something awful when she was a child and still tries to deal with that to this day. One night she and her best friends go into the woods where they come across something horrifying, something that has been causing the town a lot of distress and something that they are going to have to deal with. I It is very well done and I know that I am being vague, but this is one of those games that you have to experience for yourself as what they come across in these woods is very shocking and you never see it coming.
Game Time
While Night In The Woods is all about the story, they mix in some mini games for you too. The most notable of these is Mae's band practice which is way harder than you would think. Blasting people with water, stealing stuff from the shop and going after your friends in the woods all add variety to the game and help you bond more with Mae.
I really was not ready for the emotional roller coaster that Night In The Wood took me on. I think it is fair to say that no matter what device you play this game on you are in for a treat. You actually forget that these are animals as they are far more human and relatable than most other video game characters you will come across.
9/10
Pros:
One of the most engaging stories I have played
Mini games break things up
The characters are all interesting
Writing is very witty, clever and real
It looks great
Cons:
The story is more heavy hitting than you may be prepared for
Load times can be a little long
See Also
Viewing games 1 to 8