Spooky Starlets: Movie Monsters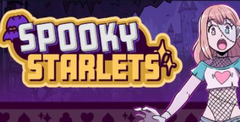 Click the "Install Game" button to initiate the free file download and get compact download launcher. Locate the executable file in your local folder and begin the launcher to install your desired game.
Simulation games never fail to amaze me on what I can play as next. I've had the pleasure to play as an immigration officer, homeless man and even a goat. Now, a porno director. In Spooky Starlets: Movie Monsters—a 2D deck building adult game.
If the premise isn't spicy enough for you yet, then maybe it will be after knowing that the cast of porn stars are humanoid monsters and ghosts—turning the game into a good candidate to add to your list of Halloween-themed games for this October. You'll be in for a shock…and not the jump-scare kind.
The Plot & Artistic Expression
The art design is at the heart of the game's appeal. The Starlets are the monster porn actresses that you will be directing. There's 8 of them, all offering something unique to the table. From outfits to body shapes and ethnicity—it's a mixed bag!
The Starlets are not just hollow characters with sexy bodies. The development team incorporated cut scenes and dialogue featuring the Starlets. You learn of their backstories and personalities, giving players more substance to connect with them and being invested in their 'journey' within this game—their journeys to the 5 different porn sets!
Speaking of variety, there are over 12 'fully-animated sex positions to have your Starlets perform on the shoots. This is the crème de la crème to what the game has to offer. All aspects of game design went into the polished'n'packaged scenes that will activate all the gamers tender senses and send them into a sexual frenzy:
Authentic voice acting & sound effects made up of mostly wet splashes & moans depicting the graphic sex on the screen.

Art design that graphically sexualises bodies to unrealistic proportions, offering a sense of awe for spectating gamers.

Animation that is smooth and realistic to actual sex motions, being viewed at 60fps makes it closer to observing sex in person opposed to in a movie or television show.
Now you know what you're in for when you play this game, but where is the gameplay in all of this?
Is There Gameplay?
Everything in this game revolves around watching these sex scenes. It's the gooey centre to a dessert many people immediately dig towards—It's what players of the game crave and the devs know this.
So, the gameplay is as passive as it gets. Sex positions are assigned to cards that you hold in a deck. Cards have stats and cost to use each round. You start off with a low limit of what you can spend and with only a few cards, so you pick wisely on what cards within your budget will pull off the best porno movie based on their stats.
The higher you score, the more you can spend for the next round and the more cards you receive—allowing you to spectate more cutscenes of sex positions in a round that you crave. All whilst feeling satisfied that you are producing the best of the best pornos. There it is—The Spooky Starlets' gameplay loop.
There isn't much strategy or thought involved and the game runs into the risk of getting stale fast because you launch the game for the first time and end up experiencing everything it has to offer after playing for a full day.
To Remain Relevant
Spooky Starlets is in dire need of depth in its gameplay. For one, you only have a static camera with no interaction buttons for when your porn stars are engaging in sex. Why not include controls, director demands and multiple camera angles to cut to? It doesn't need to have a dramatic impact on the outcome, but it's easily a missed opportunity to engage your players more and maybe even incorporate challenges and a skill gap to encourage more replayability.
The same goes for creating a progression tree that slowly unlocks more characters and sex positions, but the game makes the mistake of introducing you to all the content as soon as you start playing the game!
Much of the dialogue is filler and passes off too much as small talk that you lose attention for. Instead, they could have kept the allure with innuendos, or nothing aggressively sexual, but giving hints on what bothers them or what they want.
Taking inspiration from the more famed adult visual novels on Steam such Doki Doki Literature Club or Nekopara: Vol.1 would have been beneficial, where you're given dialogue options that will impact your relationships with the characters and story outcomes.
The ghosts are whack. Like they have no detail? You enjoy the uniqueness of the female monsters and what they express sexually and it could be made even spicier by applying the same level of detail to the male ghosts.
6
Fortunately, the devs have announced they will update the game with more monsters and did include a male monster, too. So, the direction is to focus on art opposed to gameplay for now and if that satisfies you and lines like "Last night you drank cocaine laced liquor out of skull." Just tickles your fancy! Then this game is worth a try—at the very least for the experience.
Pros
Captivating art, animation and voice acting
Character development
Impressive erotica
Cons
Lack of content
Unappealing models for ghosts
Poor interactive experience
Download Spooky Starlets: Movie Monsters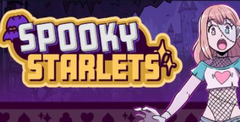 System requirements:
PC compatible
Operating systems: Windows 10/Windows 8/Windows 7/2000/Vista/WinXP
See Also
Viewing games 1 to 8