Steel Talons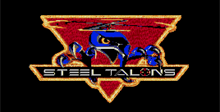 Steel Talons is one of the hottest commodities at any arcade! Bring all of the action home on your Lynx! Control one of the most powerful choppers in the fleet on a mission to investigate enemy activity. You have an assortment of missiles and guns to use at your disposal if any activity gets a bit suspicious. The polygon graphics look like they are lifted right from the arcade. Check out Steel Talons for the Lynx!
People say:
6
Steel Talons is another attempt by a home system to replicate the look and feel of arcade hardware well beyond its capabilities. Rated against the coin-op, this game pales by comparison, but on its own the graphic and game play combination presented here are O.K., although not as visually expressive as the arcade.
7
While nothing on any system can ever capture the feel of the arcade game, Atari has done a marvelous job in recreating the concept of the coin-op. The game play is decent and very controllable although the scaling needed to make this a hit is beyond the capabilities of the system. Still, a game that should be tried!
5
Steel talons is a cool alternative to the typical portable game. The scaling and rotation isn't as smooth as expected but the effect of flying is still well done. The game play is choppy and gets repetitive rather easily. However, I like the fact that Atari is doing more with the Lynx's abilities. Nice try!
7
For a portable system, the Lynx is certainly going places! Steel Talons doesn't have the scaling or smooth animation found in great simulators, but it is an excellent indication of where portable gaming is headed! Steel Talons needs a little work to become great, but I'm sure future versions will be awesome.