Warioware Inc Mega Party Games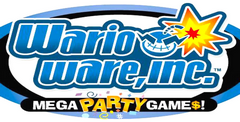 a game by
Nintendo
Platform:

GameCube

Editor Rating:

7.5

/

10

, based on

1

review
Rate this game:
People say:
8
Graphics take a backseat to pure game-play in Mega Party Games, which serves up more of the simple, sidesplitting challenges that helped WarioWare steal our 2003 Game Boy Advance Game of the Year award. Solo mode is, more or less, the same here as it was when you played it on the go (assuming youve already sampled Nintendos ADD simulator), missing only a handful of unlockable bonus games and the element of surprise that helped make the original so charming. But the fun youll have with three friends is more than enough compensation. Leaping a wheeled hot dog is one thing, but evading said wiener while your opponents parade across the screen, blocking your view with their fat heads (down in front!) is video Valhalla. The best of Ware's eight multiplayer modes reward dirty play (see sidebar) after all, laughing at someone elses expense is the Wario way. With its S30 price tag, the game is perfect for pinchpennies, but there mightve been more: more hilarity, more reflex testers, and more ways to tap Nintendos rich history. I wouldve liked to have seen snippets of Nintendo 64 classics imagine minute-long GoldenEye 007 deathmatches but, hey, maybe Im just being greedy.
7
I wanted to love this, but alas, the console Ware isnt quite the breath of fresh air its portable sibling was. The biggest letdown: no new singleplayer minigames. If you played the crap outta the GBA game like I did, why even bother? It also lacks the setup and some of the unlockable games that made the portable title so much fun, so people new to Ware's insanity wont get a formal introduction. One area where Ware succeeds in a big way is its handful of enjoyable multiplayer modes, but theyre not newbie friendly. Someone who never played the GBA Ware isnt gonna do well in Outta My Way mode, where other players block your view. Its still good fun, but not the perfect excuse to stay home on a Friday night.
7
Wha happen? Im all for mul tiplayer WarioWare on the big screen, but whose idea was it to half-ass the single player? Adding exactly no new minigames is bad enough; making it even easier to unlock nearly everything just does not compute. Of course, playing with a bunch of friends is a blast, and there are a few (all-new) multiplayer modes to mix things up. But fun as it is, I cant help wishing for even more Ware would really benefit from some kind of metagame to tie all the craziness together (like the board game part of Mario Party). I may sound like a complainer, but I was hoping for perfection. Ware's still a must-buy if you really love the party games or dont have the GBA ver-sion...just a maybe-buy otherwise.
Download Warioware Inc Mega Party Games