Atomega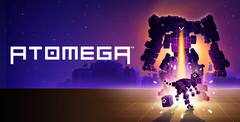 Click the "Install Game" button to initiate the free file download and get compact download launcher. Locate the executable file in your local folder and begin the launcher to install your desired game.
Atomega is a unique, yet simple concept. Developed by Ubisoft Reflections, the studio that previously released Grow Up and Grow Home, Atomega is an eight-player shooter, which requires each player to evolve in order to become more powerful, and survive the arena.
Each player starts out as an Atom, but each Atom needs to evolve. Players evolve by collecting purple cubes that are scattered throughout the map, or by killing other players and stealing their cubes. These cubes attach to your Atom, which then helps your character evolve through the seven playable stages, which include the more powerful Cel, Zoa, Saur, Prime, Superior, and eventually the OMEGA.
So as an interesting concept, how does Atomega hold up?
Gameplay
Players only have one weapon of choice, a laser gun. Shooting down your opponents will score you points, and killing your enemies while in Omega mode will increase your points significantly. The weapon operates on a cooldown though, so you need to be a little more savvy in combat. Players win by having the largest amount of points at the end of each 10 minute match.
Your damage increases as you make your way to becoming an Omega, but your speed becomes increasingly slower. The slower speed of Omega characters helps Atoms regain their mass as they can move more quickly through the arena, but at the start of each game, it's a level playing field.
If you manage to kill your opponent however, they are reduced back into the form of an Atom, having to start over again by collecting more Mass in order to re-evolve. It's awesome to be an Omega, the feeling of ultimate power is highly satisfying, but if you get stuck as an Atom, and you keep getting killed, it quickly feels like a drag.
Players can also find power-ups, which carry attributes such as damage bonuses, shields and teleportation, to weapon mods which can knock opponents back, or reduce their mass.
In Comparison
Arena shooters are extremely popular these days, but in comparison with others, Atomega just doesn't have the legs to keep up. There's no real incentive to keep playing, and the enjoyment seems to fade quickly. After 30 minutes of gameplay, you'll feel like you've experienced everything the game has to offer. The only reward you get as you become a more experienced player, are character shaders. With five maps, and one game mode, the game is no doubt worth the initial experience, but you won't be in it for the long haul.
If you're into block-style shooters, Ace of Spades and Blockstorm are viable options. These games allow you to create your own battlegrounds, and destroy them again as you hunt down your opponents. The creativity level of these games is unique to what each player designs, making each game more interesting. Atomega is unique in its concept to other block-style shooters, but it's also incredibly limiting. Rather than each character evolving through seven set stages, Ace of Spades and Blockstorm create battlefields that lead to arena-shooter chaos, which sees matches themselves evolving, creating a better playing experience overall.
6
With that said, the art style of Atomega is unmatched by any other block-style shooters that I've played. Unfortunately, the vibrant aesthetics of the game are not enough to maintain interest. It's an interesting concept, but it's hard not to think about what it could have been.
Pros
Unique gameplay concept
Great art style
Game more than reasonably priced on release
Downloadable map content – better than the one map that was available on release
Cons
Enjoyment fades fast, it becomes quite tedious
Only one weapon and one game mode
Download Atomega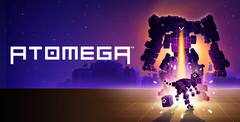 System requirements:
PC compatible
Operating systems: Windows 10/Windows 8/Windows 7/2000/Vista/WinXP
See Also
Viewing games 1 to 9