Aurelia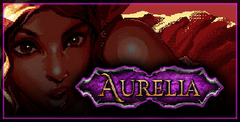 Download Aurelia and venture into a mesmerizing world of magic and intrigue! Solve puzzles, overcome challenges, and unravel the mysteries of this enchanting adventure game. Are you ready to experience the magic of Aurelia? Play now!
I loved the style that Aurelia was going for before I even played the game! I love point and click/visual novel style games and this one here is a real throwback to those Lucas Arts point and click games, but with a ton of lewdness thrown in if you know what I am saying. This is the standard version of the game that I am looking at today, but there is a special edition that is currently listed on STEAM for pre order.
Thanks For The House Pops
The story of the game is one that I did like. You have inherited an old house from your grandpa and you have headed to your hometown to try and see what it is all about.
As you are looking around the house you come across a strange amulet that summons this smoking hot magical chick to your house who will teach you a thing or two. Aurelia has a few twists and turns and for the most part, the writing is pretty good.
It Is Like 1995 All Over Again
I was surprised at just how much gameplay there was to this game. It would be a massive injustice to refer to this game as a visual novel as it is so much more than that. You do have to chat to a lot of people in the game and make various choices when it comes to how to respond to them and so on. It is all the other stuff that you have to do that makes Aurelia such an interesting game to me. To start with you have to find items and use them in the right place or with the right person. However, you also have a few different mini-games that you have to do as well. These range from being in a bar where you make money serving drinks. You can shoot these targets in a bow and arrow game and even the combat has a real old school 2D vibe to it which is cool too. All these gameplay styles work very well together and I liked how the game would give you something a little different to keep things fresh.
If Bob Ross Did Lewd's
The presentation was what initially grabbed my attention with Aurelia. The game has a great sense of style and it has a 90s vibe all through it. The art looks great and I love the old school way that it looks. While it is so easy to just say that it looks old school, the art is very well drawn and it is something that I found very appealing. The lewd stuff in the game is also done in this same style and it looks great. I was impressed that some of the sex scenes had animation which I thought was really cool. As well as being a game that has a great sense of style, I also liked the soundtrack. It may not be the kind of music that you would listen to on your phone or anything like that.
However, it fits the game very well. There is no fully voiced dialogue, but the strange kind of speech that there is here is a nice substitute.
9
I had a great time with Aurelia and it is a lewd game that is very easy to recommend. It is more than just a visual novel game, it does have a great story, but it is the gameplay that I fund great. Well, this and the fantastic art that the game has. The point and click style puzzles and the various mini-games that it has you do all make for a fun and interesting game.
Pros:
The retro kind of style to the graphics is very well done
The sex scenes do have some animation
The whole game has a real retro vibe to it which I like
Plenty of mini-games to keep you entertained
The whole game has a lot of variety to it
Cons:
The story is not the strongest
Some might not like the retro style of the presentation
Download Aurelia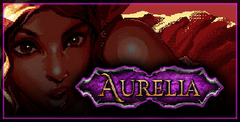 System requirements:
PC compatible
Operating systems: Windows 10/Windows 8/Windows 7/2000/Vista/WinXP
See Also
Viewing games 1 to 8