Bio Inc. Redemption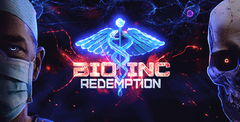 Bio Inc. Redemption is a simulation and strategy game where one can make decisions to either save or destroy lives. You can either play as someone who will save people, or become a deadly virus that wipes out humanity. Whichever side you're on, you will have to make decisions that influence the outcome of your game. Certain decisions may give you the upper hand while others may lead to your downfall based on your route.
Gameplay
The player can choose from one of two game modes, one that involves life and one that involves death. In the life mode, one can choose difficulties from easy, moderate, severe to lethal. In this mode, the player must make a number of decisions to save the patient's life. In contrast, the death mode the player can choose a similar difficulty from easy, moderate, severe, and lethal. The player must make certain choices from a variety of diseases and occurrences that are lethal to the character. The player must also attempt to prevent the character from receiving treatment through various effects from the diseases. With over 600 different diseases, every single run is filled with endless opportunities and combinations. In the life mode, certain cases can become highly complex and will leave casual players in the dust. Advanced players will likely find the challenge of curing their patients rewarding and satisfying after defeating a challenging case.
Graphics
Since Bio Inc. Redemption was built from the ground up from its predecessor Bio Inc, the game features stunning graphics from its previous form. The rustic look of the icons and character gives you a sense of realism yet seriousness. Each decision you make either helps or hurts the character. When the character is hurt spouts of blood are seen spewing out of the character. It makes each decision feel vital and important to the life of the character. This in conjunction with the seriousness gives a sense of realism, which the graphics accomplish very well.
Game Comparisons
As stated before, Redemption is built upon its previous game Bio Inc. and is a complete redo of the game entirely. Plague Inc., another disease strategy creation game is similar to the death mode in Bio Inc. In Plague Inc, the player must create a disease that will hopefully wipe out humanity, and make the entire world virtually empty. This is similar to death mode in that both games accomplish and act of destruction through viral disease. However instead of creating a disease, in Bio Inc Redemption the player must insert many different diseases in order to defeat the patient. While both games are similar in their viral mechanic, Bio Inc. Redemption focuses more on a singular patient instead of a worldly civilization.
Conclusion
The realistic, educational aspect of the disease, life, and death make Bio Inc. Redemption a unique video game. The graphics fill in for the overall mood of the game as it invokes serious, urgency, and robustness. Furthermore, the game gives you a sense of accomplishment once defeated. As each case becomes more intricate, you'll have to increase your abilities and understanding of the disease, Bio Inc. Redemption will keep you busy coming back for more.
Download Bio Inc. Redemption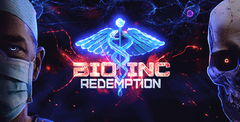 System requirements:
PC compatible
Operating systems: Windows 10/Windows 8/Windows 7/2000/Vista/WinXP
Similar Games
Viewing games 1 to 5