Grey's Anatomy: The Video Game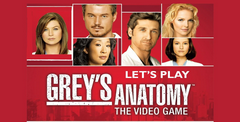 Click the "Install Game" button to initiate the free file download and get compact download launcher. Locate the executable file in your local folder and begin the launcher to install your desired game.
It used to be common to see games based on movies and even some cartoons, games based on TV dramas it's a much smaller list. That's why a game called Grey's Anatomy: The Video Game was something no one was expecting. Longtail Studios had the tough task to adapt a TV show about a non-fantasy, non-sci fi drama into a video game. Not only because of the theme of the series but also for how acclaimed the series is, being so popular and receiving good scores. So, let's see if they were able to fulfill that task.
About the game
The game itself attempts to simulate that narrative style of an episode in the series. Divided into five episodes. In these episodes, we'll play some medical procedures and most of all, a ton of minigames. Choosing from different dialogue and completing scenes is pretty much all there is to this title.
As for the story, it could be full of spoilers if you've never watched the show, so it's better to leave it out of this article. But It does center strongly in the human drama, rather than the medical procedures.
An emergency call
Probably when you hear there's a game coming up based in a medical drama you think they're going to just rip off Trauma Center gameplay and add the drama. And that would likely be the best course of action.
Atlus's medical game series is based on going through these operations carefully and facing unexpected hardships. The operations sometimes tend to be a bit exaggerated of course, and there are superhuman abilities involved. But the medical part is fun and rewarding.
In Grey's Anatomy: The video game, the medical procedures are over-exaggerated, and way too simple. Not only that but they also represent the smallest part of the game experience. This odd title about doctors plays as many medical operations as kids playing doctor.
Review
Grey's Anatomy: The Video Game is lazy, all the way around. It's tough to find something good to say about it or to even understand who this game is aimed at. It certainly isn't directed to gamers, and it doesn't seem to be directed for the fans of the show. The whole game seems meant to be played by a person who both casually plays games and casually watches the show.
This is a clear example of a game that, if released in modern times, would be directly launched only in smartphones and tablets. It's short, overly simple, boring, and full of annoying minigames. The only things that are missing here are some ads and microtransactions and there you go.
Graphics and visuals: This game looks super weird. It's not that the characters don't resemble their real-life counterparts. They look very similar, but they look as if you cut their faces out and pasted them into a mannequin. The animations look terrible, and the non-existent art direction makes for a completely dull and boring experience.

Gameplay: The game is way too easy to be entertaining. It's mostly made out of dumb minigames that come as annoying in the middle of the story. Not to say that the story is good either, but when in the middle of a dialogue you have to tear a picture out to choose the dialogue option you want, it's annoying. It's easy, boring and short.

Sound: Sound… What sound? Aside from the acting and the usual background music that fills the air, there really isn't anything to say about the sound in this game. No interesting, emotional or exciting soundtrack, no nice sound designs, no nothing here.
Download Grey's Anatomy: The Video Game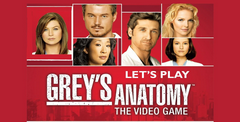 System requirements:
PC compatible
Operating systems: Windows 10/Windows 8/Windows 7/2000/Vista/WinXP
Game Reviews
I've Never Been more insulted by a game in my entire life. Does something even count as a mini-game if all you have to do is click the mouse and hold the button down for two seconds? If this is what 'casual gaming' means, please shoot me in the head right now so I can avoid having to play the things for all eternity. If you haven't seen an episode of Grey's Anatomy then you'll either be charmed by its shiny, sterilised view of US hospitals or you'll feel physically sick within a few seconds of the vomit-inducing bullshit it serves up as entertainment. (If you must watch bad TV, make it Hollyoaks - at least that doesn't pretend it's a quality drama.)
The game itself - and I'm using the word 'game' very loosely - involves choosing the direction of the episode by finishing various mini-games. That's it. These little gaming vignettes come thick and fast, interrupting what flow there is every couple of seconds. There are a few different types, but they are all beyond atrocious. In the surgery mini-games, one of your difficult tasks is to inject the patient. You do this by clicking and holding for two seconds. Success! Even the Little Britain game was more challenging.
Still, it is better than that pile because of two things: the cartoon graphics aren't too offensive and the paper-tearing mini-game has a nice ripping sound in it.
Grey's Anatomy is unadulterated shite of almost the lowest possible order. And yet Ubisoft have the gall to charge 20 fucking quid for it!
Similar Games
Viewing games 1 to 5