Banned from Equestria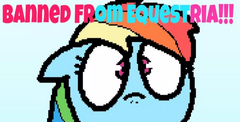 Click the "Install Game" button to initiate the file download and get compact download launcher. Locate the executable file in your local folder and begin the launcher to install your desired game.
So, over the weekend I played Banned from Equestria and I am pretty sure I am going to hell for it. This is a lewd game that is set in the universe of My Little Pony and I found myself laughing my ass off at some of the stuff that these ponies would say and then being kind of grossed out over what these ponies were getting up to. Still, it is such a weird and interesting game that you have to at the very least check this out to see what it is all about.
Is This A Dream Or A Nightmare?
The story of the game is freaking nuts and as I type this, I know that most of you guys reading this will probably have your jaw on the floor while you do. So, the main character (the person we play as) is visited one night by a Pony called Trixie and he is transported to the land of the My Little Ponies.
You may be thinking that this sounds cute, but the ultimate goal of Banned from Equestria is that you are trying to have sex with as many of the ponies as you possibly can. It goes without saying that if My Little Pony holds a special place in your heart, this game very well could ruin that for you.
Pony By Paint
The art style that was chosen for this is kind of nuts. The whole of Banned from Equestria looks like it was made with Microsoft Paint and I kind of mean that in a positive way. It has such a rough and fast look to the whole thing, but it also has a sense of style that makes it very different from many other games.
The animation is pretty good, but what I feel is going to be a deal-breaker for you guys is the lewd content. I am probably the least shockable guy around, but this game shocked me. If you ever wanted to see what a My Little Pony has going on downstairs this is the game for you. The sex scenes in this game do not hold back and I found myself saying what the hell over and over again.
Didn't I Play This At School?
The art style along with the gameplay of Banned from Equestria makes it seem like the kind of games that we would play at school when we would get "computer time". This is best described as a point and click style of game. You have various things that you can click on to interact with characters, the scenery, items, and so on. Some screens will also have arrows that will let you go to a new area.
As is the case with any game of this style, figuring out what you need to do is what it is all about. The gameplay is fairly strong I guess, but it all boils down to if you can get over the subject matter or not.
8
I know that Banned from Equestria is the kind of game that is quite shocking, but I would liken it to a car wreck where you simply cannot turn away, and even if you are kind of disgusted by seeing My Little Pony characters bang, you cannot stop playing. I am sure if you are a Brony or have an interest in the series, you may get more of a kick out of it as you know the characters. Of course, on the flip side of this, it could be what turns you off from it all.
Pros:
The game as a unique art style
It does not hold back that is for sure
Plenty of things for you to do
I guess the game is pretty well made
It answers the question of how do MLP characters get it on
Cons:
The art style may be a turn off for some
Do we really need to see MLP characters having graphic sex?
Download Banned from Equestria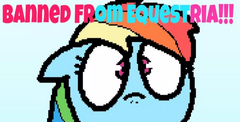 System requirements:
PC compatible
Operating systems: Windows 10/Windows 8/Windows 7/2000/Vista/WinXP
Similar Games
Viewing games 1 to 7