Five Nights At Pinkies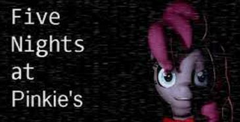 Download Five Nights At Pinkies and enter a world of eerie surprises and lurking danger! Survive the night shift, keep an eye on the animatronics, and unravel the dark secrets. Are you brave enough to play now?
Here we have Five Nights At Pinkie's, the horror parody game that you never knew you wanted. This was a lot of fun and while it is very clear what this is a reworking of, it is one of the better ones out there. While I am not what you would call a brony, I still got a chuckle and even a scare or two out of this game. I did end up actually playing all the way through it and I had a fun time in the process.
Welcome To Pinkie's Cupcake Corner!
The plot of the game is basically the same kind of thing that you have in Five Nights At Freddy's, just with a My Little Pony twist. Five Nights At Pinkie's sees you being hired to become the new night security guard of the cupcake restaurant. At night the four animatronic ponies roam the halls and they want you dead. Do you have what it takes to survive the night? Like FNAF there is a story about a murderer at play here too and you will find out more about the story with each night that passes, if you can survive until 6 AM of course!
You Kind Of Have The Power!
Have you played Five Nights At Freddy's before? Well if you have, you have pretty much already played Five Nights At Pinkie's. This is made after the fourth game if you want to get specific about it. The gameplay sees you in the security office monitoring the restraint via the security system. You have to survive the night and the way that you do this is by locating the animatronics and keeping them locked away by closing the doors. The thing is, you only have a limited amount of power so you have to make decisions on when to leave the ponies bee or when to shut them in a room!
Get Back To Your Hay!
In Five Nights At Pinkie's, there are different animatronic ponies that want you dead. If you know about the My Little Pony show, you will get a kick out of their representation here. We have the main one which is Pinkie Fazpie and she is joined by three friends, Twibonnie, Flutterchica, and Foxydash. This is not all you have to watch out for, but I will not spoil the surprise. I thought the twist of My Little Pony with Five Nights At Freddy's was done very well and it was a lot of fun. The game has a very FNAF look about it, but to be fair that is to be expected. These ponies are creepy as hell and the same kind of jump scares that you get in FNAF are present here and they are just as much fun!
7.5
If you enjoy Five Nights At Freddy's and like or at the very least know what My Little Pony is, Nights At Pinkie's is a game that is sure to make you smile and also jump too. It takes the classic FNAF formula that we all know and loves and puts the characters from My Little Pony into it and it makes for a fun and memorable time. I have had a lot of fun watching other people play this on YouTube which is something I highly recommend that you do as it is hilarious when people get scared!
Pros:
The scary and creepy looking My Little Pony characters are a lot of fun
There are still quite a lot of jump scares in this game
It follows the same formula as the FNAF series
There are some awesome videos of people getting scared playing this game
Cons:
At the end of the day, it is just another FNAF game and if you do not like those, you will not like this
I am not sure there is anything that would make me want to play through this game again
Download Five Nights At Pinkies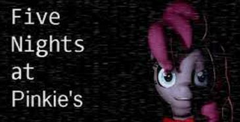 System requirements:
PC compatible
Operating systems: Windows 10/Windows 8/Windows 7/2000/Vista/WinXP
Similar Games
Viewing games 1 to 8