Sally Face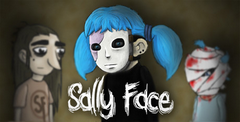 Click the "Install Game" button to initiate the free file download and get compact download launcher. Locate the executable file in your local folder and begin the launcher to install your desired game.
To this day, gamers are still trying to figure out exactly what Sally Face is as a game. It doesn't fit into any real genre. It's not a roleplaying game, first-person shooter, or adventure game, so what exactly is it? The creator of Sally Face came up with the idea around 2006 but did not fully develop the project until 2015. The concept behind the game was to make it a playable internet cartoon. Sally Face was finally released in 2016 and has been coming out in new episodes every year since then.
It Is Creative
Sally Face is a creative game, we'll give the developers that. The game starts by watching a dream about a boy covered in bandages walking through a hallway until he stumbles upon a human corpse. The game then moves on to the character Sal in his therapist's office talking about some disturbing topics. That's when we move on to Sal's childhood as a boy, a horribly disfigured boy.
It's An Unsettling Horror Title
If there's any genre Sally Face can fit into, then it could be a horror mystery game. You're following a boy who has a fake face on as he navigates his way through his life. You solve puzzles, play mini-games, and move around a nightmare through the mind of a young boy. Unfortunately, the game is relatively short. Sometimes it can get a little weird as you move from room to room solving puzzles that have no obvious ways of solving them. This is not a good game to play for those who have to keep tabbing out to look up guides. The vibrant world in Sally Face is brought to life through the visual artwork that lets you know the developers behind the game really put a lot of thought into the animation. The animation is brought to life by the immersive and beautiful soundtrack that makes you wonder what is around the corner. However, the unsettling part is how graphic the game is at times from cannibalism to suicide. This is not a game for children.
A Lot Of Hidden Content
One of the best parts about Sally Face is the developer really put a lot into fleshing out the plot so that there is a lot to discover in everything from optional areas to explore to unlockable minigames. There are also videotapes you can find and diary entries to read. Unfortunately, a lot of content that seems like it's optional is rather important to the story. That means you're going to end up very confused down the line if you're not exploring everything.
You'll end up running into characters wondering why their stories have changed which makes the store get convoluted if you're not paying attention. That means you have to pay attention to everything. Look through each and every object through each and every room, oftentimes with no rationale at all, just to make sure you didn't miss anything.
Pros
Very unique artwork
Great soundtrack
A lot of content to discover
Simple controls
Vibrant world
Beautiful soundtrack
Cons
Extra content is important to the story
Adventure is not consistent
The game is short
Very graphic game with dark themes
7
Sally Field is short and filled with some uncomfortable topics but it's definitely something to pick up if you want a change of pace from other video games.
Download Sally Face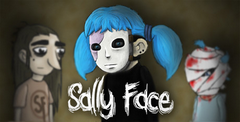 System requirements:
PC compatible
Operating systems: Windows 10/Windows 8/Windows 7/2000/Vista/WinXP
Game Reviews
Sally Face is a truly unique and interesting experience, even if it can be exceptionally dark at times. Follow protagonist Sal Fisher as he traverses a frightening world filled with ghosts, frustrating puzzles, demons and more. Sal's life is never straightforward and this story really brings out the worst of what a world filled with evil can muster. Sally Face is a game that will stick with you for years after you complete it, so if you think you are ready, lets get into it.
Gameplay
A simple and straightforward point-and-click adventure, Sally Face has you, for the most part, control Sal as he interacts with the world around him. You pick where you want to go, what you want Sal to look at or interact with, and it will tell you something about it. There are so many layers to this game that a good piece of advice is to never take anything at face value.
There is a significant amount to this game so I would recommend taking a couple of swings at it. Run through multiple times and you'll start to see more than you did the first time. This game is heavily narratively based and it is important that you pay attention from start to finish to catch it all.
The Story
The story here is, in my opinion, nothing short of incredible. From start to finish, I was thoroughly gripped as I felt my way through a world, I knew from the start I couldn't fully understand. If you are looking for a game that takes everything you know and twists it on its head, you are going to adore this masterpiece. I will be honest, there are a lot of adult and pretty brutal themes throughout this game. Things happen that you can't control, and choices you must make for the betterment of humanity, even if they don't know it.
This story will take some shocking twists and it will reveal some things you couldn't imagine were in store for you. Yet, at the end, when it is all finished, you will be able to say "Hot damn, that was amazing."
Atmosphere
Functioning in a similar vein as games like Fran Bow, Little Misfortune, or Among the Sleep, this game is surreal at the best of times and damn well frightening at the worst. You will be strolling around in the apartment complex that this game takes place in and you will constatnyl be wondering about what terrible thing will jump out at you, or what you'll open a door to reveal. That, my friends, is called 'theming' and this game does it perfectly.
The art style plays well into the hands of the atmosphere. Everything looks a little… "off" … and you have to just deal with that. Please, do not get it twisted. Just because the graphics look like they were all drawn in MS Paint does not mean the game doesn't absolutely rule, because it does. You'll be surprised at how quickly the aesthetics stop bothering you and pull you in further.
10
Easily one of the most impressive games I have ever played. This is a perfect example of "Less is more" and "Indie games do it better." If you want a story that you'll still be thinking about a year from now; play this game.
Pros:
Incredible story
Great gameplay
Fantastic characters
Cons:
Can sometimes feel like too much is being shown
Similar Games
Viewing games 1 to 6