Five Nights at Freddy's: Security Breach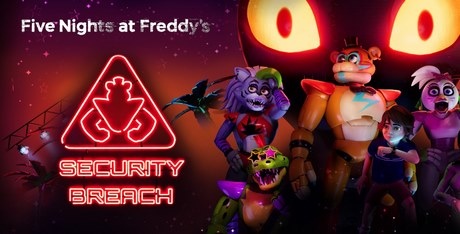 Download Five Nights at Freddy's: Security Breach and prepare for a terrifying night of animatronic horror! Unravel the dark secrets of Freddy Fazbear's Mega Pizzaplex and survive the night. Are you ready to face your fears? Play now!
a game by
Steel Wool Games, Inc.
Platform:
PC
Mode
Single-player
Setting
Freddy Fazbear's Mega Pizzaplex
Gameplay
Players navigate the location while avoiding animatronics and solving puzzles
Graphics
3D graphics
Soundtrack
Original soundtrack composed by Leon Riskin
Editor Rating:

8.5

/

10

, based on

4

reviews,

2

reviews are shown
User Rating:

6.7

/

10

-

599

votes
Rate this game:
See also:
Horror Games, Five Nights At Freddy's Games
After two years, fans of the Five Night at Freddy's are finally getting a new game. It may not seem like a long time, but for the Five Night's franchise, waiting more than a year for a game is something that never happened before.
But now, after its announcement, we can see the reason for the wait. Five Night At Freddy's: Security Breach was announced and it looks amazing. The game will now take place in a place that seems like a mall, and you must once again survive the night shift, as you escape the animatronics that come to life at night.
The Evolution of the Five Night franchise.
Seeing how much the game evolved over the years has been an amazing experience, Scott Cawthon, creator of the game, has come a long way since the release of the original game. Not only adding new mechanics to the game, different and creepier animatronics, but also developing an augmented reality game to further enhance the gaming experience.
For fans of the game, this new title is an amazing surprise. The game now seems to be on a much larger scale, with amazing graphics, and gameplay that was never seen before in previous games. Instead of sitting in an office and only being able to interact with certain objects around you, this time players will be able to actually explore this mall-like building, and come face to face with the animatronics.
Gameplay
So far we've only seen a small video showcasing the game and how it will be played. Even being only two minutes long, it was made clear to recognize certain gameplay mechanics. Like mentioned previously, players will now be able to walk around the map. With this, stealth and chasing elements also seem to be in the game. There will be plenty of space to explore, and different ways to flee the animatronics, as the game takes place in a three story mall-like place.
The good old camera feed is now accessible through a smart-watch the player has, that also gives you access to a map, inventory and logs. There are certain other new and exciting mechanics in the game that weren't introduced in the trailer, so expect to find them while playing the game.
Five Night at Freddy's: Security Breach still retains its horror elements, and this time it looks like they are making it even more horrifying. A new cast of animatronics appears in this title, and there seems to be an even scarier one, that wasn't fully shown.
Freddy's Back
After 2 years without any game releases, which for the Five Night's franchise was unusual, as they usually release one to two titles a year, we now finally know the reason why. Steel Wool Studios were working on this new and amazing game. Security Breach will be a totally new addition to the franchise, and might just introduce how the future sequels will be like.
8
Sadly, there is still no definite release date for the game, all we know is that it is set to come out later this year. Announced only for the PS4, PS5 and PC for now. If you are a fan of the Five Night at Freddy's games, be sure to play this one.
Pros:
Updated visuals
New engaging gameplay
Huge map
Cons:
Only available for sony consoles and PC
No set release date
Download Five Nights at Freddy's: Security Breach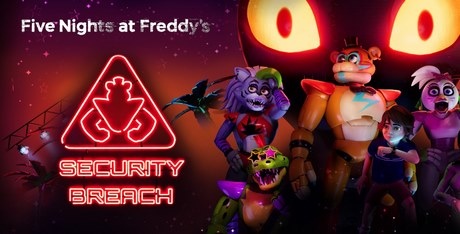 Minimal System Requirements:
OS: Windows 8 (64 bit)
CPU: AMD Ryzen 5 3600, Core i5 6600K
RAM: 8 GB
Graphics: Nvidia GeForce GTX 1050 Ti
DirectX: 12
HDD: 80 GB free
System Requirements:
OS: Windows 10 (64 bit)
CPU: AMD Ryzen 7 2700X, Intel Core i7 4790
RAM: 16 GB
Graphics: Nvidia GeForce GTX 1050 Ti
DirectX: 12
HDD: 80 GB free
Game Reviews
I have to say that I think Five Nights at Freddy's: Security Breach was a real step in the right direction for the franchise. I know that the game launched with some very annoying bugs, but I still believe that this is the right way for this series to progress. This is the ninth main game in the series and they had to change it up. To be fair, some of the issues that were present at the launch of the game have been addressed with updates.
Star Court Mall
Five Nights at Freddy's: Security Breach takes place in a large shopping mall where our protagonist, a kid called Gregory has found himself locked inside. He is being stalked by the murderous animatronics, but the twist here is that Freddy is actually there to help the kid. As well as having to deal with the animatronics, a serial killer is loose in the mall as well. Gregory needs to try and survive the night and find out the secrets of what is really going on. This is the best looking and most cinematic of all the FNAF games so far and the improved presentation adds a great deal to the overall experience.
The Freedom Of Movement
Rather than being stuck in one location like in past games, Five Nights at Freddy's: Security Breach allows you to move around the mall as you see fit. This new gameplay style is the most fleshed out we have had in a mainline FNAF game before ad it breathes new life into the franchise. Gregory is being hunted by the animatronics, but also a security guard and the creepy as hell killer Vanny who dresses in a bunny suit.
"Outlasting" The Night!
Gregory can run and hide from the enemies; he can also use things as distractions to get them to go someplace so he can run away. He does have a couple of weapons that he can use to stun them as well. It is pretty tense stuff and you always feel like you are just one move away from being caught and killed. The "technical" issues that the game had at launch made things more frustrating than they needed to be, but I never once felt that they made the game unplayable.
My Pal Freddy
Of course, the big twist here is that in Five Nights at Freddy's: Security Breach, Freddy is trying to help Gregory. I thought this was pretty neat, you can crawl inside Freddy and use him to get around past the other animatronics. However, using Freddy comes with its own set of dangers, if you are still inside him when his battery dies, you will be crushed! So while it is a cool mechanic, it is not one that you can overuse.
8
Look, I get why when Five Nights at Freddy's: Security Breach was first released people were not happy with it. The game felt like it needed another month or so to iron out the bugs. I think now though that they have managed to fix some of the major ones and this is a fun and scary experience. I am very excited to see what they do with the next game in the series as I am sure it will be a follow on from this.
Pros:
I loved the setting and the story
It was cool how Freddy was there to help
The game is pretty tense and will make you jump many times
The presentation is the best the series has seen so far
Cons:
The game still does have a few bugs here and there
The save system is very frustrating to deal with
See Also
Viewing games 1 to 8