Demon's Sperm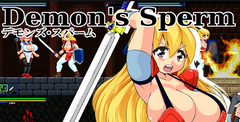 Today I had a great time with Demon's Sperm is a massive understatement. As the name implies, this game is a bit of a parody of the Demon Souls games all wrapped up in a MetroidVania style of gameplay. It works well, actually, it works very well and it is a lewd game that I had an absolute blast playing through.
Sperm Is Key
Ok, so I am trying to figure out the best way to describe the story to you guys. This is not exactly what you would call a story-driven masterpiece, but it is not supposed to be. The game is made to be a bit of parody and in that regard, it more than achieves what it is going for.
The game stars a busy warrior in a land that is ruled by sperm (kind of like how souls are a big deal in Demon Souls) and she is going to save the land by getting all the sperm that she can so she can be an even more powerful warrior. Yes, it is weird, but this story is not supposed to be taken seriously.
Attack And Drain
This is like a lite version of a MetroidVania game and that is a good thing. Demon's Sperm has you control your badass and busty warrior. I would highly recommend using a controller (I used an Xbox 360 controller) as the way the keys are mapped are very weird. Anyway, you need to explore areas, fight monsters, and get sperm. The more sperm you get the better stuff you can buy as sperm is what everything in this world revolves around.
The core gameplay is very melee-based and that is awesome. Also seeing your busty warrior role while nude is awesome. Some enemies have hearts above their heads (a few in each level) and these are the enemies that will try and bang you if you fail to defeat them in combat.
Do You Have A Sega CD?
I love the way that this game looks. The animation and the games graphics when you are playing Demon's Sperm have a very sleek and stylish look to them. The way things are slightly pixelated in the gameplay and especially the sex scenes really did remind me of the way that games on the Sega CD looked and I mean that as a massive compliment.
Our heroine starts fully dressed, but you will lose clothing as you go, and seeing her boobs bounce as she fights is pretty damn awesome. There is not as much sex in this game as you would think, but what is here I really did enjoy.
9
For me personally, Demon's Sperm is a game that ticked all of the boxes of what I want in a lewd action game. The fact that it is based around the Souls series and plays like a MetroidVania game was something that I thought was really, really cool. It is a game I spent quite a lot of time with and I had no problems at all and have a great time beating it!
Pros:
I loved the main character
The way the game is inspired by the Souls series is cool
I had a great deal of fun with the combat
You can use a controller if you like
The presentation has a rather interesting and unique look to it
Cons:
Using a keyboard to play this is not that great
There may not be enough variety when it comes to the sex for some people
Download Demon's Sperm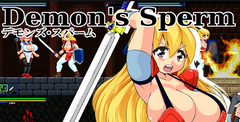 System requirements:
PC compatible
Operating systems: Windows 10/Windows 8/Windows 7/2000/Vista/WinXP
Similar Games
Viewing games 1 to 8