Elemental Master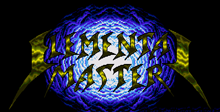 a game by
Technosoft
Genres:
Action, Shooting Games
Platform:
Genesis
Editor Rating:

8

/

10

, based on

2

reviews
Rate this game:
Over the past several years, Renovation's specialized in top-quality shoot-em-ups for the Genesis. Their latest crop of games includes Elemental Master, a game that made a splash several years back on the Mega Drive in Japan. Although the game seems a little old, it still packs enough firepower to scratch the itchiest of trigger fingers.
That Old Black Magic
An evil sorcerer, Gyra, is loose in the land of Lorelei. With your help, Laden (a young warrior of the land) must call on the powers of the elements to vanquish the necromancer's evil horde and restore peace.
Elemental Master's overhead-view, vertically-scrolling shooting action begins with this familiar tale. The eight levels have similar layouts, each highlighted with elementally appropriate obstacles! For example, flames ripple through cracks in the ground in the Fire Level. Although the graphics are clean and vivid, they don't pack the same punch found in other shooters, such as Gaiares or Whip Rush. Lending to the explosive atmosphere, cool sounds include crackles, snaps, and pops.
Elements to Master
Begin on any of the four elemental levels (Fire, Wind, Water, or Earth). Laden must earn the four elemental powers by defeating the large, well-drawn boss monsters who wait at the end of each stage. Once Laden has earned a power, he can use it at any time. Each power has unique elemental characteristics and an ultimate power punch.
ProTip: Begin at the beginning. Although you can choose any of the levels, it's tough to get through any level, but the Fire level, without the other elemental powers.
Once Laden's earned all four elements, he takes on the last three levels of the game, which culminate in a sizzling battle with Gyra and his cruel assistants. To have what it takes to survive these final encounters, Laden must grab the power-ups that lie in treasure chests found throughout each level. These include shields, extra health crystals, and extra firepower.
When you discover the Mysterious Medicine power-up that gives you extra life bars, grab it before you grab the health crystal. Your restored life will then include the additional extra lives.
Elemental's controls are straightforward and easy to master. Swapping between powers is smooth, even though the action's fast and furious. Laden can fire forward and backward, but not simultaneously. It takes some practice to maximize your multidirectional firing, and a rapid-fire controller doesn't really help, because your weapons fire in pulses.
Experienced gunners may find the first several levels somewhat underwhelming, but the difficulty ramps up rapidly, particularly in the last three levels.
Similarly, the first few bosses are easy to annihilate, but the monsters you face later on are a real challenge.
To avoid nasty surprises from behind; continue to rapidly swap between front and rear firing.
Incinerating the first boss is a snap. Just dodge left and right to avoid his fire, and then sizzle him.
You can only damage the second boss when his jaws are open.
Shooting, Plain and Simple
Hopefully, Elemental Master won't get lost in the shuffle of shooters blazing away on the Genesis. What it lacks in flash and glamour, it more than makes up for with good, decent shootability. It's elementary.
Download Elemental Master
Game Reviews
The Elements are beckoning and you better listen. As Laden, a powerful sorcerer, you must dethrone the evil King Gyra in six levels of overhead-view action.
Neena, the princess of fairies, accompanies you in this adventure, where you fight with four special elemental weapons. After you complete a level, you'll receive a magic spell that you can add to your arsenal. It's Elementary, so pick it up.
Sega Genesis/Mega Drive Screenshots