FIFA Soccer 64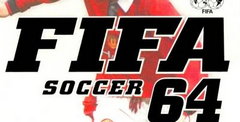 Click the "Install Game" button to initiate the free file download and get compact download launcher. Locate the executable file in your local folder and begin the launcher to install your desired game.
With such an auspicious lineage of topnotch soccer action behind it, FIFA's sure to provide welcome relief to sports-starved N64 gamers.
Graphics & Sounds
Even though all these pix are from the Japanese version of FIFA, the graphics already seem headed for a solid outing. EA plans to tune the overall visual look to more closely match the customary FIFA look in the U.S., and every player will wear a color-correct, real-life uniform. As for sounds, the N64 doesn't support all the rich play-by-play and crowd noise that you'll find on CD versions of the game, but EA says that using onscreen text to announce player names will enable the game to be as current as possible in assembling the rosters.
Features
FIFA's primed for "football" fury. Up to four players can hit the field with more than 200 FIFA-licensed teams in three outdoor stadiums. The usual array of strategy options enables you to run formations from the sweeper to all-out offense, though there's no word yet on whether indoor action will make this version. On the control side, strikers can bust out rainbow kicks, bicycle kicks, headers, diving headers, several tackles, and flying volleys. FIFA supports both the directional pad and the joystick, but EA reports that the stick will provide finer control over player momentum and aftertouch on the ball.
Download FIFA Soccer 64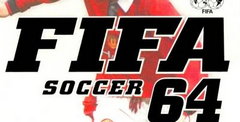 System requirements:
PC compatible
Operating systems: Windows 10/Windows 8/Windows 7/2000/Vista/WinXP
Game Reviews
Competing with only arcade-style sports games on the N64, FIFA Soccer 64 immerses sports fans in a fine round of intense, realistic soccer. That said, it lacks the pizzazz and originality of a runaway N64 hit like Wave Race. FIFA's an undeniably strong title, but most gamers will expect more from the first U.S. N64 soccer game.
Teams Galore
As always, FIFA dishes out the largest list of teams and players in soccer gaming. Play in international circles with a huge list of teams from countries that range from Argentina to Zambia, or hit the local circuits in England, the U.S., Italy, France, and Gennany. With a great lineup of Exhibition and Tournament modes, as well as arcade- and sim-style action, FIFA packs in huge replayability.
Of course, you'll also find team strategy and formations, as well as two tackles, rainbow kicks, bicycle kicks, headers, and the like. But these have been standard FIFA features on 32-bit plat-fonns for a while now. Where are the innovations--cool new kicks and moves, a create-a-player option, indoor action, and so on--that would help it shine as 64-bit soccer? Those questions aside, FIFA still puts on a solid match, offering gripping games and fun action.
Rainbow Kick
On the control side, FIFA generally responds smoothly. Passing and shooting handle fine, though the quirky player switching can be frustrating as it occasionally leaves you out of the play.
Graphically, FIFA boots one in with gorgeous stadiums and fluid, realistic player movements. But the players are too small in the playable views, and the game speed is definitely sluggish at times. As for sounds. FIFA's trademark crowd chants and on-the-ball commentary keep the stadium rockin'. More lively onfield effects would've added a lot, though.
Bottom Line
When the ref's whistle blows, FIFA ranks as a strong but unremarkable first effort with plenty of room to improve. If you're jonesin' for some hardcore soccer (or sports, for that matter) on your N64, snap it up. But if you want to wait to be dazzled by 64-bit soccer, Konami's International Superstar Soccer (see review of Perfect Striker in "Sports Pages," this issue) has more promise.
ProTips:
Always angle your one-on-one shots; straight-on kicks rarely score.
Whenever you have a corner kick, lob the ball into the crowd in front of the net and try for a high-percentage header or bicycle kick.
Challenge your opponents fiercely if they move the ball into the far corners at your end. Otherwise, they'll lob it in for a shot that's tough to defend.
When facing a penalty kick, it's best to change your formation to Sweeper and your strategy to All-Out Defense for maximum protection.
Team management provides that key edge in tight matches. Play on All-Out Offense or Attack until you earn a lead, then use a strong defense to ensure victory .
Ise long clearing kicks only when you're relatively close to your own net. From midfield, opponents almost always recover such kicks.
How in the wide, wide world of sport did this get through Nintendo's quality control department? We can only wonder.
Hhhhuurkhhh-phtuii! Footballers are well known for their gobbing - the chances are they're thrutching their phlegm at this. FIFA 64 is a truly horrible football game, as thrilling as the Chelsea Pensioners' Sunday League and as realistic as William Shatner's hair. Even wholesale price cutting couldn't help it. Luckily, the sequel is a drastically better proposition.
Abysmal travesty of a football game with jerky animation, moronic players and graphics so blurry they're singing Parklife.
Nintendo 64/N64 Screenshots
Similar Games
Viewing games 1 to 6