Championship Manager 93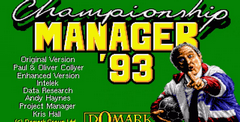 Click the "Install Game" button to initiate the free file download and get compact download launcher. Locate the executable file in your local folder and begin the launcher to install your desired game.
Unlike in Premier Manager, also reviewed in this issue, in Championship Manager 93 you don't, as a complete newcomer, have to start with a team from the Vauxhall Conference and prove your managerial skills before hopefully hitting the big time. CM93 club chairmen are all too ready to entrust their multi-million pound squads to incompetent, bumbling buffoons -which, of course, is far more realistic. In addition to being able to jump straight in as the manager of the likes of Liverpool. Manchester United or Sheffield Wednesday, you can opt to have computer-generated fictional players or use the real 1993 squads of players, all individually rated. Setting either of these up takes some time (about half an hour on an average machine) as the computer generates every team in the league, along with a collection of johnny-foreigners for you to dip into willy-nilly in the transfer market. (Of course, they're all very skilful and all that. but...) There's also a quick start option for the mtv generation who can't be bothered to waste half an hour to do things properly. As a new manager, the first thing you have to decide is what your personality is. I really can't quite see the point of that and unfortunately there's no 'stupid' option.
It's one of the more in-depth of the countless football management games around, but largely concerns itself with the football side of things buying and selling players, negotiating contracts and transfer fees, fining them if you don't like their haircuts, and so on. Unlike in Premier Manager, you don't have to spend half your time pasting up advertising hoardings, and can devote yourself to the real priority tasks for a manager: drinking vodka, lying on sunbeds and having an affair with Miss Wycombe.
The pre-game tactics screen is more specific than most. You can choose your team formation and playing style, and position players with some refinement, being able to push certain ones up. have others playing anchor roles, and so on. You can even draw up an order for penalty-takers in the event of shoot-outs. You're not able to mark opponents man-to-man. unfortunately, and there's also no hit-man option, enabling you to 'do a Vinny' on potential enemy match-winners. The downside to all this sophistication is that, with so many variables, it's more difficult to decide the right combination for your team. But then working this out is part of the fun. (Allegedly - having one of the best teams in the country and being stuck in the bottom three can wear a little thin after a while. But then there's always alcohol to dull the pain.)
Each player is given a performance rating out of ten after every game, and both their season and career averages are kept by the computer. As soon as players start under-performing on a regular basis, of course, any manager worth his salt will dive into the transfer market and blow the club's money on an overpriced, over-rated donkey to replace him.
The transfer market is well catered for. As well as simply looking at all the players listed for transfer, you can get your scouts to seek out specific player types for your squad. You can specify their required age. whether they must be left or right-sided, and how much you'll spend. Where CM93 then scores over Premier Manager is that you can keep a record of any players you like the look of by storing them in a shortlist for future reference. If they're based in Britain, you can get a scout to watch them and provide you with weekly reports. There's little feedback when you put someone on the transfer list, though - you can wait for weeks with absolutely no offers at all. which may be realistic, but doesn't have the instant gratification given by immediately dumping someone who has annoyed you.
Sometimes the game is reassuringly realistic - Manchester Utd wouldn't even consider letting me purchase Ryan Giggs or Peter Schmeichel for my own benighted team. This is probably a good thing, because I already had too many unhappy players. Yes. you actually get unhappy players - usually because they feel they should be getting regular first-team games, but sometimes because they went out with Miss Wycombe before your superior tan won her over. On the unrealistic side. Tottenham are leading the Premier League and Chris Waddle has been called up to the England squad.
The game's not without its annoyances, though. The worst is the Latest Results service: after each match you have to sit through a pretend videprinter service. Results come ticking across the screen slower than the forward progress of a magazine editor who finds himself first through a pub door. No amount of button-clicking, keyboard bashing or monitor head butting will speed it up or quit out of it. On a slow pc it takes an absolute age. What makes it worse is they also appear after midweek European cup ties. Anglo-Italian Cup ties, and so on. that you aren't even involved in. After four of these in a row I was on the verge of monitorcide. Rather than adding atmosphere, as it's presumably intended to do. all it does is slow the game down. Never has my hard disk worked so hard to so little effect.
Taken overall. CM93 has enough to get you interested, even though, like most management games, the depiction of the match itself is its weak point. Unfortunately its most visual element is that team names are in team colours, and the football-speak messages used to describe incidents in the game soon pall. Ideally, these games should have a proper arcade football game of Sensible Soccer quality with which to play the match yourself. You could always switch it off if you wanted, and it could then be used to show highlights of the game like in us Gold's The Manager. I can dream.
Download Championship Manager 93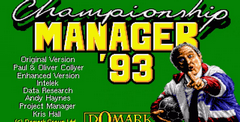 System requirements:
PC compatible
Operating systems: Windows 10/Windows 8/Windows 7/2000/Vista/WinXP
See Also
Viewing games 1 to 10