Jane's Combat Simulations: Fighters - Anthology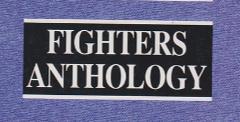 Click the "Install Game" button to initiate the free file download and get compact download launcher. Locate the executable file in your local folder and begin the launcher to install your desired game.
a game by
Jane's Combat Simulations
Platform:
PC
Editor Rating:

7

/

10

, based on

1

review
User Rating:

8.9

/

10

-

7

votes
Rate this game:
See also:
Airplane Games
Overview
Fighters Anthology combines three previous Jane's titles into one air combat extravaganza. All the goods from Advanced Tactical Fighters, NATO Fighters and U.S. Navy Fighters '97 classics are included. The sheer volume of planes and missions, along with the game's flexible customization features, are enough to overwhelm the most learned of flight simerati.
If you're like me, you will want to become acquainted with the aircraft before suiting up for battle. Over 100 planes await the pilot on the runway, many of which you will not see in other sims: the Harrier, B-52, F117 Stealth, the Aurora spy plane and lots of exotic planes from around the world. You will also see unmanned attack and recon drones and anti-stealth blimps. A slick user interface allows you to select a plane and access 3D views, photos, videos, and text details. Jane's truly excels in educating gamers.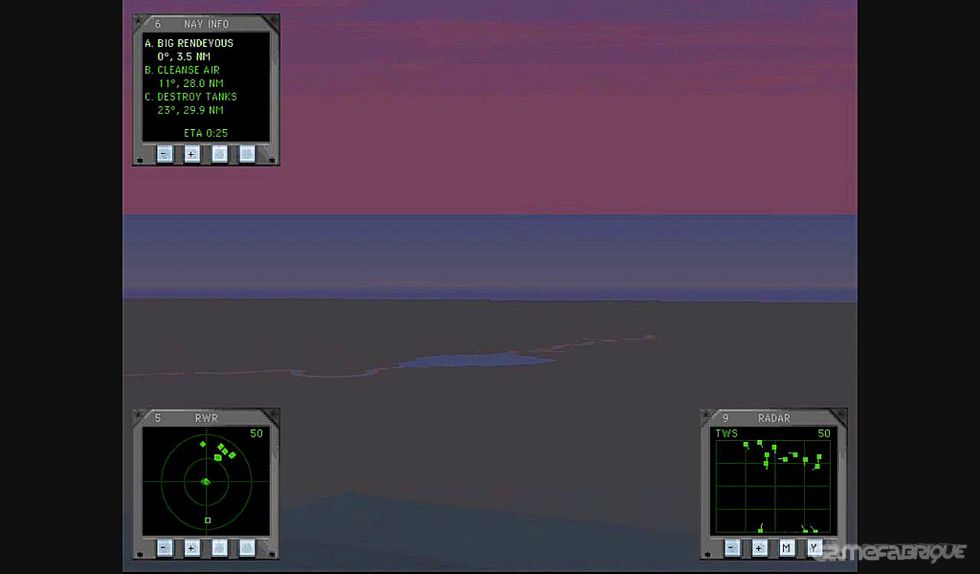 Over 100 challenging single missions are included. Several training missions from the basic take-off and landing to advanced flight maneuvers are also available. The player can choose to create a Quick Mission or a more comprehensive Pro Mission in which both sides' wingmen, weapons, targets and defenses are selected. Finally, there are six extensive campaigns to fight through in Egypt, Russia, the Baltics, the Kuril Islands, the Ukraine and historical Vietnam.
Gameplay
Just choosing the weapons to arm a plane was fun. I spent almost as much time drooling over the vast arsenal of missiles and bombs as playing the missions. I recognized the raw mechanics of a solid game: a satisfying in-flight feel, reasonable weapons and flight controls, tough AI, and a variety of damage effects that impacted flight. I found the game generally amusing. The planes were easy to fly, but the missions were tough. Luckily, five pages of post-mission stats allowed me to correct my mistakes the next time around.
All the aircraft look unique from the outside. The vertical takeoff and prop planes stood out, but I found the cockpit views, performance and sounds fairly generic among most jet fighters. I often couldn't detect the subtle characteristics that distinguish this global panoply of planes from among one another. Sometimes I forgot what jet I was flying, and it didn't seem to matter. I believe one aircraft that models real behavior beats 100 that come close.
My favorite planes were the Mirage and Rafale because I could pack them full of weapons and still get reasonable performance. But enemy fighters seemed always to lock first, even when my radar was off and I was low. Sometimes I never was able to obtain a lock, no matter what I did. I guess that's why I tended to enjoy attacking ground targets rather than dogfighting. I appreciated the B2 Bomber's stealthy night missions. I don't believe that there is another B2 sim on the market.
Jane's has designed some really interesting missions and politically charged scenarios. In The Great Plane Robbery, the pilot has gone undercover and stolen a high-tech plane which he must get home despite his pursuers. In Blackop, the pilot must destroy a downed B2 before the Chinese get their hands on the valuable stealth technology. The politically disgruntled can create a Quick Mission to attack Air Force One. You can even make it French! If you're an avid Democrat, you can pilot Air Force One and evade enemy fighters Harrison Ford-style. The purely sadistic can practice downing 747s or Airbuses. The mission possibilities are unlimited.
Graphics
Hold the pixels, please! If aesthetics is a priority, you may want to think hard before reaching for your wallet. The graphics in this classic do not meet the current standard of realism for new sims. Shards of metal and debris fall from the sky after aircraft explode, but they lack detail and hue. Trees appear as big, fat, green diamonds, then instantly sprout leaves upon approach. This, with the cheesy gun flash, countable engine flame colors, and exaggerated missile smoke, was too much for my eyes, spoiled on EF2000G+ and Comanche 3. These graphic elements gave the game an arcade look which it did not deserve. Is this the same company that concurrently released the eye-dazzling Longbow 2?
Ah, but is there an advantage to trim graphics? The reality is that the average gamer cannot always afford the hardware to run the latest games. Let's say you have a bare-bones P90 and want a fast game with decent AI. Fighters Anthology needs no Pentium 2 processor, no MMX capability, and no fancy graphics accelerator.
Audio
In general, the sounds were not on par with the quality being released today. If they were stereo, I didn't know it. Several of the same sounds, such as engine noise and missile launches, were used for more than one aircraft. Other sounds seemed out of place. The air brakes on every plane roared like a dirt bike engine. Whether flying a European, Chinese or Russian aircraft, I still heard the same American accents using U.S. terminology. After giving my wingman a command, he often asserted, "We've got 'em now," even if no one was around.
Documentation
Jane's will soon reach its 100th anniversary as the leading global defense publisher. Their reputation for acquiring accurate information on current military hardware is unmatched. It's no surprise that 60 Minutes referred to them as "the closest thing to a civilian intelligence agency." The abundance of credible information authenticates and energizes their games.
A voluminous, 340-page, wire-bound manual eclipses anything I have ever seen from a sim maker. Jane's makes available all the specifications a pilot could want. The reader can enjoy learning not only the practical, but theoretical aspects of flight control and physics, combat tactics and maneuvers, and the evolution of fighter technology. Also, the political and military backgrounds of the campaign scenarios are outlined from start to (sometimes hypothetical) finish.
Jane's has offered a thorough course in past and present air warfare. Every scrap of information a pilot could possibly want is available. If you are not a voracious reader, don't forget the extra CD which includes tons of reference media accessible through a sexy user interface.
System Requirements
Windows 95, minimum Pentium 90 processor, 101 MB hard drive space for minimal installation, 144MB hard drive space for full installation, 16 MB RAM, 4X CD-ROM drive, 50 MB Windows 95 swap file after installation, SVGA (640X480) PCI local bus video card that supports Microsoft DirectX, Microsoft DirectX compatible sound card, CD required during play.
Fighters Anthology supports Thrustmaster FLCS F-16, Logitech Wingman Extreme, Microsoft SideWinder 3D Pro and Gamepad, and Gravis Gamepad Pro.
Bottom Line
An "Anthology" is exactly what this prolific work of air warfare turns out to be. The game might be a good first sim for a cadet undertaking a long flight sim career. In such cases, this interactive study will provide a foundation for graduating to more specialized flight sims.
The value of Fighters Anthology lies in gameplay, reference data, diversity of aircraft, and interesting missions. Jane's delivers a vast treasure of military data in a variety of media. Such a well-packaged wealth of information outclasses all the competition. For that reason, it pains me to write that the game itself lacks the overall edge needed to fly with today's sims. I didn't see flashy pyrotechnics or immaculate terrain and sky, but I sure learned a lot. That certainly counts after the dust has settled.
Download Jane's Combat Simulations: Fighters - Anthology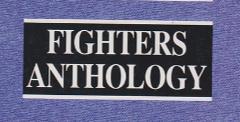 System requirements:
PC compatible
Operating systems: Windows 10/Windows 8/Windows 7/2000/Vista/WinXP
Other Games by Jane's Combat Simulations