NCAA Final Four 99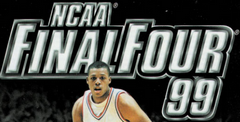 Click the "Install Game" button to initiate the file download and get compact download launcher. Locate the executable file in your local folder and begin the launcher to install your desired game.
a game by
989 Sports
Platforms:

Playstation,

PSX

Editor Rating:

7.4

/

10

, based on

5

reviews
User Rating:

9.0

/

10

-

2

votes
Rate this game:
See also:
NBA Games
Overview
If you thought March Madness only came around once a year, you are in for a surprise. The team at 989 Sports has brought one of the most authentic college basketball games home to your Sony PlayStation. You can choose to play on one of over 250 Division 1 teams, with graphics and gameplay that are a cut above most console basketball games to date. The game is built around a TV-style format, with play-by-play announcing by basketball announcer Quinn Buckner. You have the choice of playing a regular season or an exhibition game, and can even qualify for the NCAA Division 1 64-team tournament.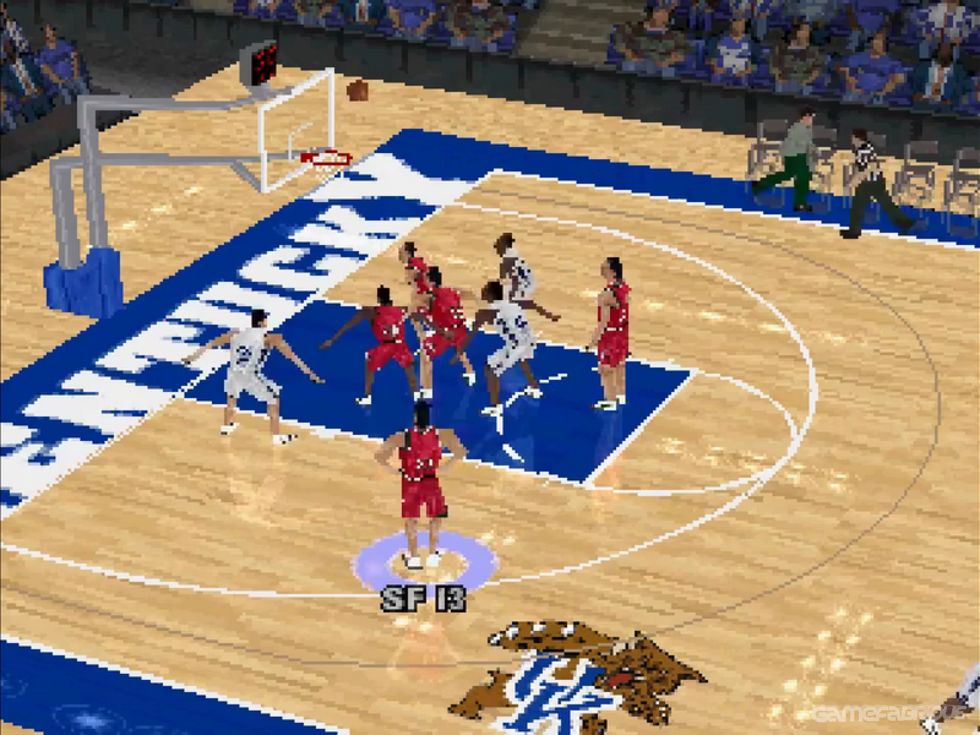 Gameplay
With a bit of practice, the controls are fairly easy to use and the game really makes you feel as though you are part of the action. You call the shots and can devise your own plays with the trademarked features of Icon Passing, Icon Cutting, and Icon Switching. Icon Passing gives you the control to pass the ball to any teammate at will. You simply select the Icon Passing feature, which will mark each player with an icon that corresponds to the four main buttons on the right side of the keypad. When you hit the corresponding button, the ball is passed to that player, who is hopefully in position to make the play. This can be facilitated even better through the use of the Icon Cutting feature, which directs the player of your choice to cut to the basket. Once he does, you can pass the ball to him for the slam dunk home! Icon Switching is used on defense, which allows you to switch to controlling the defensive player of your choice. You can also hit a button that automatically switches you to controlling the defensive player closest to the ball.
The commentary of Quinn Buckner is just as you'd hear him on TV, and pretty funny too. He will make fun of the players when they make a mistake or throw up a horrible shot. You can even get the crowd into the game with a special command that will get them screaming. I am very surprised at how many true-to-life features are incorporated into this game. All statistics are compiled for your review during and after the game, and many of them will pop-up on the screen just as they do on TV. You can substitute fresh players off the bench, as they will actually become tired as the game progresses. You have the power to turn the fatigue feature off if you would like, in addition to controlling almost every conceivable aspect of the game. There is even an injury report that allows you to view the players who have been injured over the course of a season, tells you what their injuries are, and how long they will be out of commission. One thing I was surprised to find missing is that the players on each team are not named, but I guess they probably could not incorporate that much detail into the game since there are over 250 teams represented here. That would be a lot of additional work that they probably did not have time for, I guess.
The game allows you to choose the camera angle the game is viewed from, but I found that the default settings are by far the best. You can even view the most recent scoring play in the instant replay mode, which allows you to view it at the camera angle of choice, the zoom distance, and even watch it in both forwards and reverse modes.
I found this game quite fun to play, and it's even more so when you play against human opponents rather than alone against the computer. With the use of a multi-tap adapter, you can play with up to seven other people, which is quite entertaining. The sound effects are really quite good, with realistic dribbling sounds and crowd noise. You will also hear the players' shoes squeaking as they run across the floor. If you close your eyes, you can almost believe you are actually sitting in the stands, especially if you have the sound running through your stereo speakers. The refs are even there, running around the court and watching your every move. Don't try to get away with a foul, because there are very few times that you can foul without getting caught in the act. The fouls are tracked, too, so you'd better be careful not to have one of your good players foul out of the game.
Graphics
The team you choose to play on will compete in both home and away games, wearing their home and away jerseys with the actual home team auditoriums duplicated quite well. The team's logo and colors are painted on the floor, just like the real thing. The makers of this game really worked hard making the game look as authentic as possible. They even went to the trouble of showing the reflections of the players and the overhead lights on the shiny, polished courts. At halftime, the players and coaches will huddle on the sidelines, and you can even see individual people sitting in the stands. The coaches will even pace the sidelines.
A next generation player model is combined with 989 Sports' 3D motion capture technology to produce the best college basketball graphics ever to grace the Sony PlayStation game console. Former University of Kansas All-American Paul Pierce was used for motion capture to deliver as realistic moves as possible.
Bottom Line
If you are into college hoops, NCAA Final Four 99 is a good choice. It allows you to play the actual season schedules of your favorite teams, keeps all the statistics and is a blast to play against your friends. It is one of the best basketball games I have seen yet, as far as having realistic player actions and easy-to-use controls. There are a few moves and commands to learn, but once you practice them for a while you will be playing in the starting lineup with the best of them. Who knows? Your team just might make it to the finals and you could have a chance to win it all!
Download NCAA Final Four 99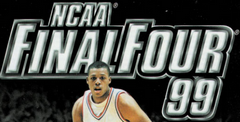 System requirements:
PC compatible
Operating systems: Windows 10/Windows 8/Windows 7/2000/Vista/WinXP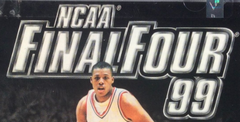 System requirements:
PC compatible
Operating systems: Windows 10/Windows 8/Windows 7/2000/Vista/WinXP
Game Reviews
As 989 Sports' first foray into college basketball, Final Four '99 will emphasize realistic player models, "nuance animation," TV-style presentation and 305 NCAA 1-A teams. With Killer Game behind it (creators of Face Off '99), locking in these features and many more shouldn't be a problem.
TV-style presentation has been quite a trend in hoops games this year. Don't expect Final Four to stop the fad. Innovative things such as black-and-white replays, multiple camera angles, authentic announcing and commentary by Quinn Buckner, all contribute to the broadcast feel. In addition, nuance animation such as booing crowds (they wave too), nervous coaches and animated referees contribute as well. As for player mo-cap, University of Kansas' Paul Pierce provides all the moves including subtle stuff--from free-throw line stretching to Rodman-like horizontal dives.
While most collegiate basketball sims have traditionally been tamer than their pro counterpart, Final Four is a bit wilder. Aggressive jam animation along with cool releases--the fade-away jumper and the forward lunge look and feel authentic.
At this point in the game's development it's evident the gameplay won't be a problem. Cruising around the court guarding, shooting, stealing, etc., is a breeze. Another innovative feature can be found when defending players. Hold down the triangle button and you'll automatically guard and follow the Al player of your choice. It takes some of the guessing out of defense but it's still nice. Another cool feature is the shot meter. This small, red to green meter appears as you wind up for a shot. Hold it down for just the right amount of time and your shots are more likely to go in.
With all the bells and whistles in place: a 64-team tournament, tons of stats and a solid 3D game engine, Final Four will most likely be a successful game. It looks like the battle between EA Sports and 989 Sports rages.
People say:
7
I found myself getting totally engrossed in this title. The strange thing is, Final Four 99 has its share of problems but still manages to be fun to play. Problems: Some of the shots you can get away with are just plain stupid. Sometimes players will throw the ball over their head while running away from the hoop and make the shot. Other times shots can be sunk from far behind the glass. And finally, the computer gets too many offensive rebounds. Still, the game can generate a fair amount of excitement. Beyond the cookin' frame-rate (actually a bit too fast), the maneuvers you have at your disposal are really nice. The auto-guard option is fantastic. It allows you to shadow an offensive player as long as you have the Triangle button held down. It makes playing defense a whole lot easier. The fake shot is also a nice move. When used, about half the defenders will jump, leaving you with the open shot. For varied gameplay the difficulty levels are balanced very well. On Freshman you can practically sink every shot. Try Senior and quickly come back to earth. Multiplayer is OK but it moves so fast it prevents you from using real strategy. Bottom line--if you can take the mediocre graphics and the other faults, Final Four 99 is fun to play. It's not anything to go nuts about but it gets the job done.
6
Even though Final Four isn't quite as "smart" as EA's March Madness (the Al isn't as good, the gameplay isn't as balanced and there aren't as many sim-style options), it looks a lot better and it moves quicker, which ultimately makes it more fun to play. The Turbo button is way too effective, though, and it's actually difficult to miss shots, so if you're looking for a sim, don't look here. If you want fast-paced fun, however, this is it.
7
989 Studios is good at working with its developers to provide sports titles that have an arcade-like feel. Yeah, maybe these games have minor flaws in the technical areas but they're easy to play--and more fun for a guy like me. Final Four is no different. The graphics aren't exceptional but the speed is up to snuff, and the overall experience is more fun and fluid than March Madness--and that's what really matters.
7
Final Four is quite a surprise. I thought I'd get a watered-down version of Shoot Out, but this is something else. Customizable game speed and smooth action give it a big edge over March Madness. It's too bad 989 couldn't incorporate a lot of cool coaching options (they really matter in college hoops), because sometimes it all feels like a dunking contest. That brings down my score, but it still gets the nod by a small margin.
989 Sports is stepping onto the hardwood with NCAA Final Four '99, the most fast-paced collegiate hoops game around. While EA's NCAA March Madness may be loaded with all the features a bailer could want, Final Four delivers the gameplay goods that ultimately secure the national championship.
Bluegrass Bomb
Final Four laces up the Chucks for play in three standard game modes and four difficulty levels...with a lineup of over 290 Division I teams! Yep, you read correctly. Powerhouses like the SECs UK Wildcats and the PAC 10's Stanford Cardinals can now mix it up with the likes of the OVC's a. Tennessee State Tigers and the Big Sky's Sacramento State Hornets. With such a wealth of teams available, there's almost no end to the Cinderella stories that can be created on these courts. Unfortunately, while Final Four overpowers March Madness with such a huge selection of teams, it doesn't eclipse MM's features. For starters, Final Four is devoid of any kind of Dynasty mode (which means no recruiting). You also won't find an end-of-year conference tournament a Practice mode, or a three-point shootout And, disappointing as Mr it seems, there are no women's or historical teams. Lastly, Final Four is missing create-a-player feature (although you can tweak the names and numbers of the players on yvour squad).
The Heart of a Champ
Fortunately for Final Four, whatever it lacks in features, it more than makes up for with killer gameplay, awesome graphics, and straightforward controls. Final Four jumps out the gym with its bomb-ass player models--dangerously fast point guards and hulked-out power forwards run these courts with lethal quickness, delivering ankle-breaking crossovers and in-your-face rim-rockin' slams. Final Four's motion-capture is second to none--you'll be amazed at how fast and lifelike these virtual athletes move.
The games controls are solid and easy to get used to--the analog stick is a dream, and the juke moves work great--but they contain one major shortcoming: You can't perform a jump-pass. This is extremely frustrating, especially if your opponent's small forward flies through the lane at the last minute to block your seemingly uncontested shot Once you get used to this control quirk, though, you'll find that Final Four's awesome gameplay compensates for it
Last-Shot Heroics
When the final buzzer sounds. Final Four's fast action outlasts March Madness's features to take the ode. If you must decide on one game this season, you can't go wrong with NCAA Final Four '99--it's a diaper-dandy, baby!
ProTips:
Penetrate Into the paint with your point guard, then kkk the rock out to your shooting guard for an open jumper when the defense collapses on the ball handler.
When grabbing rebounds, wait F until the ball rims out and is on its way ii down before you start to lump.
Get behind a 2-3 zone by calling for a cutter to the hoop.
Graphics
Without a doubt, NCAA Final Four '99 is the fastest-playing hoops game on the RayStation so far--the frame rate sizzles, and there's never, ever a hint of slowdown. Furthermore, the player models and motion-capture animations are simply "fan-tastic."
Sound
You'll find that all the right bells and whistles are here--from the energetic crowd to the snapping of the twine when you bury a three-point bomb. However, Quinn Buckners commentary is less than inspiring. Good thing it can be turned off.
Control
Final Four's control is tight and straightforward (except that you can't perform a jump-pass). The Dual Shock controller works great, and FF's juke moves are definitely more effective than March Madness's. If you can ace the in-game Shot Meter feature, you'll dominate any fool who wants a game.
Fun Factor
While the depth of features is missing from Final Four, the gameplay isn't--and that's what counts. If you can live without a Dynasty mode, a three-point shootout, and the womens teams, NCAA Final Four '99 is the game for you.
NCAA Final Four '99 steps onto the court to challenge March Madness '99 for the PlayStation college-hoops crown.
Shootin' the Lights Out
NCAA March Madness '99 isn't the only college hoops game in town this year. 989 Sports and KillerGame, the developers who brought you NHL Face Off '99. are hitting the courts with NCAA Final Four '99. And even though it's only in its freshman year, Final Four's already very impressive.
FF99 contains an awe-inspiring lineup of over 290 Division I-A teams. If you do the math, that's 183 more teams than in March Madness. On the gameplay side, bailers will be able to accurately control their shots via a shot meter and hoop it up in three play modes. Plus, former Hoosier and popular television analyst Quinn Buckner takes the mic to call the action. Unfortunately, Final Four '99 won't pack the depth of features of March Madness without any sort of Dynasty mode (recruiting new players is out), season-ending conference tournaments, or historical teams.
PTPer, Baby
Final Four '99 already sports the graphics of a championship contender with smooth gameplay, hulked-out athletes, and bomb-ass motion-captured animations courtesy of Kansas Jayhawk All-American, Paul Pierce. Even in the preview version we played, FF99 provided extremely solid, fast gameplay--which could definitely spell trouble for Madness's continued reign at the top.
As for sound, Final Four's ready to start the season with accurate in-game effects. The control, however, still needs to be tweaked a bit You can't pass off to another teammate while taking a shot, and the CPUs shot accuracy is beyond belief. If 989 strengthens up the game's shortcomings, there's no doubt that NCAA Final Four '99 will meet the March Madness challenge for the PlayStation college-hoops title.
Other Games by 989 Sports