NHL Breakaway '98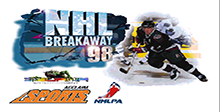 Click the "Install Game" button to initiate the free file download and get compact download launcher. Locate the executable file in your local folder and begin the launcher to install your desired game.
Acclaim tries to slice up the ice with its first hockey title, NHL Breakaway '98. Unfortunately, because of wacky control and stiff-looking players, Breakaway crashes recklessly into the boards.
Five-Minute Major
Yeah, all the NHL teams, players, and rinks are present, along with Exhibition. Season, and Playoff modes. You can also trade and create players, as well as drop the gloves for a little fisticuffs soiree. These options. however, are standard nowadays. What Breakaway gives you that no one else does is total-control team management. Puck-heads can actually accrue points by winning games that can be put toward signing new coaches, rehabilitating injured players, and training up-and-com-ing prospects. In the end. though, it's the gameplay that counts, and compared to what's on the horizon, Breakaway gets deked out of its skates.
The graphics and control could stand some improvement. The players hit the ice in polygonal splendor, but they move very stiffly when compared to the fluid motions of Power-play '98. And even though Breakaway has incorporated icon passing into the game, the unruly movements of your players make controlling them very frustrating. The sound is standard, yet adequate, and comes complete with an announcer, organ music, and on-ice effects.
Sim Puck
If you want Theme Park set to a hockey beat, then Breakaway is for you.
If you want quality action and gameplay, wait for a Stanley Cup contender like Face Off'98 or NHL'98.
ProTips:
Use icon passing to set up the perfect one-timer.
Don't get too stick-happy during a face-off, otherwise the ref will yank your center and call in another player.
If you have a mail streaking toward the opponent's blue line, dump the puck in ahead of him to set up a scoring opportunity.
Download NHL Breakaway '98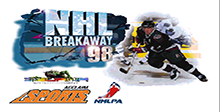 System requirements:
PC compatible
Operating systems: Windows 10/Windows 8/Windows 7/2000/Vista/WinXP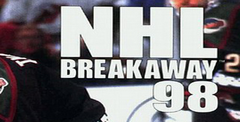 System requirements:
PC compatible
Operating systems: Windows 10/Windows 8/Windows 7/2000/Vista/WinXP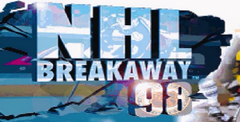 System requirements:
PC compatible
Operating systems: Windows 10/Windows 8/Windows 7/2000/Vista/WinXP
Game Reviews
Acclaim is looking to slice the ice this fall on the PlayStation with its first hockey title, NHL Breakaway '98. Puck-nuts will find all the NHL teams and players skating out of the tunnel, as well as East and West All-Star teams and 16 international squads. The standard list of play options includes Exhibition, Season, and Playoff modes, as well as Practice and Shoot-Out action.
The features side of Breakaway is quite extensive when compared to existing titles. Not only can you trade and create players, fight, and choose from a list of realistic hockey strategies, you can also take control over your entire team through a Team Management option. While playing through your season, you earn points through victories which you then apply to hiring coaches, rehabilitating injured players, and developing minor-league talent to build your team into a winner.
As far as the gameplay in this unfinished preview version, the action didn't move as smoothly as Powerplay '98's, and controlling the players also proved cumbersome. And even though the players were fleshed out in polygonal splendor, they skated very stiffly. If Acclaim manages to bolster these areas by game time, it may have a playoff contender.
Hockey is one of the few major sports that Acclaim hasn't made a game for. This hole in their lineup will be filled in September by NHL Breakaway '98.
Acclaim touts their new hockey game as being the most realistic hockey simulation ever created. We'll judge that in September, but right now we can tell you some of its features that they hope will push it to the top.
Breakaway will feature an Icon Passing system which is something that NBA Shoot Out has demonstrated to be a very good addition to sports games. In addition, another feature will allow you to control offensive players that don't have the puck. Good thing the PlayStation has lots of buttons!
Graphically, these pictures tell most of the story. High-resolution, 3-D graphics will power the game. The players' animation will be drawn from motion-capture, promising some real moves. Most interesting is the computer general manager that promises to make and offer realistic trades during the season.
One thing for certain, Breakaway has many impressive features. The big challenge will be meshing them together to make a good quality game.
MANUFACTURER - Acclaim
THEME - Sport
NUMBER OF PLAYERS - 1 - 8
People say:
7.5
NHL Breakaway '98 for the N64 may not be the perfect hockey game, but it's light-years ahead of its PlayStation counterpart in nearly every aspect. Breakaway is heavy on the simulation side of hockey. You've got players that act like their real-life counterparts. You've got a complex coaching system that lets you earn and use points toward improving various aspects of your team. You've got numerous systems like "Momentum-Based Checking" and "Total Team Management." Now, I am a huge hockey fan and I respect all this emphasis on detail and all--but frankly, it's not my main concern. What concerns me more are the gameplay issues. Once you've got that down, then go after the finer details. Fortunately, Breakaway is almost there (the PS version wasn't even close). The Al is very nice--the CPU-controlled players know what to do and when to do it. The graphics and sounds are excellent too (nice animation!), though the crowd is way too tame for a hockey game. On the downside, the puck is a little floaty, which can get annoying, and the player control is a bit sluggish. More action in front of and around the net would've been nice. Still. Breakaway IS (currently) the best N64 hockey game, and aside from a few minor flaws, it's got what it takes to be a serious contender. Hockey fans check it out.
7.0
This is the best N64 hockey game I've played yet. Granted there are only three others (Midway's Gretzky triplets), but Breakaway offers the most realistic and entertaining play. On the downside, the "medium" res graphics don't quite live up to the QB Club standard but certainly aren't bad. Also, the goalie Al is a little weak (some of my games got out of hand). Still, Breakaway is solid enough to take the number-one spot.
8.0
What a difference a system has made for the Nintendo 64 version of NHL Breakaway '98. Whatever this title lacks in realism and Al, it easily makes up for in playability. The Season Mode of the game is cool, because in a way it's a sports RPG. You can take points earned from wins and then improve your team by hiring (and firing) new coaches and making stadium improvements. Nite to see a unique and fun hockey game come along.
6.5
This game looks good. It has all the players and teams. It even has FOX's signature puck shadow and tracking streak. So, what's the problem? The game, like many others before it, just doesn't feel enough like hockey. The rendered players look great, but they have a hollow feel to them when you're knocking them down. While it may not be the champion of hockey games, it is a strong addition to the sparse N64 sports line Cip.
Following the success of their popular N64 football game, NFL Quarterback Club '98, Acclaim hopes to accomplish the same feat on ice with NHL Breakaway '98. Consequently, you'll see some similarities between the two games, namely the 3-D hi-res graphics that garnered so much praise for the aforementioned pigskin game.
Aesthetics aside, Breakaway is a little different from the average hockey title. Players can win points during the season that allow them to improve coaching, play er development and injury therapies in addition to just having the requisite season options. Kinda makes it sound like a sports RPG in a way, doesn't it?
Even though it has these eccentricities, Breakaway still strives to be a realistic hockey simulation. Teams play their respective strategic styles, you can use different coaching strategies, and player weights and sizes are factored into checking. Also, Breakaway is the only N64 hockey game to allow you to use Olympic teams in addition to the usual NHL suspects (unlike Midway who broke these teams into two separate games).
Although the PlayStation version of Breakaway wasn't too impressive, it is entirely possible that this one could spark a turnaround for the series by taking advantage of the N64's hardware as well as more development time.
MANUFACTURER - Iguana West
THEME - Sports
NUMBER OF PLAYERS - 1-4
Overview
The new hockey season is upon us, which means only one thing: new hockey games. I have never been a big fan of the sport of hockey, but for some reason, I really enjoy hockey video games and the power and excitement they offer. It seems like year after year, the games are getting better and better. It looks like this year will be the best yet for hockey fans.
The first title I got my grubby paws on was NHL Breakaway 98. This baby packed all 26 teams and over 600 players, boasted serious artificial intelligence, 5 gameplay modes, a season mode that awards bonus points to help pay for physical therapy for your injured players. Finally, and most cool, is the "create a player" option that actually has your name showing up on the back of the jersey, and on the player icon. There is nothing as cool as watching yourself slam Gretsky into the glass, shattering and spraying the first three rows. YYYYEEEESS!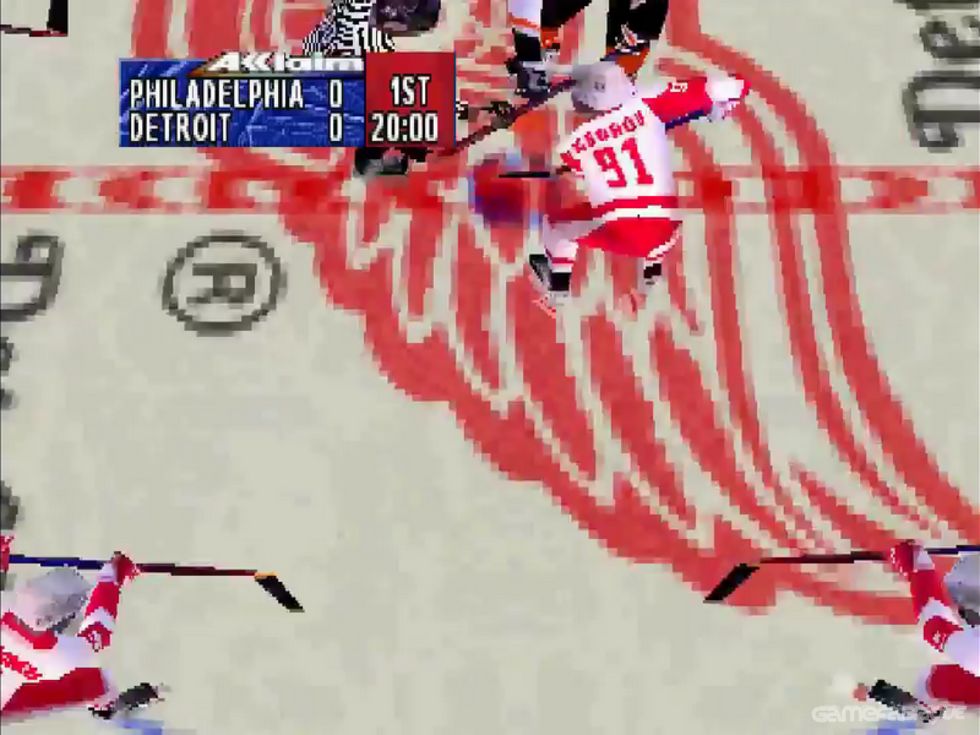 Gameplay
I am going to make a bold statement that may be a bit out on a limb... but hell, why not? NHL Breakaway has all of the ingredients to make it one of the coolest hockey games ever, but has a few nagging flaws that will get magnified by the press. I guess technically I am the press, so later in the review I will do my best at pointing out these flaws, but I feel they are not too terrible.
Strengths first, though: I can say that you will find no disappointment in the gameplay. NHL Breakaway is a blast and best of all, it is easy to play. Some games out there have the glitter, but just don't have gameplay that keeps you coming back for more. The best compliment I can give the longevity of NHL Breakaway is that, unlike most other sports games, I have not abandoned my season yet. After 7-10 games, I am still totally into the season mode. The gameplay has kept me going, but also the create a player option.
You're able to create a player, give him a name, number, and distribute skills ranging from aggressiveness to shot power. I know, many games give you this option. Why is this so cool? Because the player you create is accurate in size, and has the correct jersey number and name on the back. Also, like in popular football games, the player with the puck has his name next to him so you know who it is. It was so cool to see "yourself" slam people into the Plexiglas, shoot the game-winning goal in overtime, or kick the crap out of someone in a fight. Now, maybe if you have no life, you would make a team of yourself and all of your buddies, throw in Happy Gilmore as your badass, and play a season. Okay, so I have no life... but it was still cool.
Another impressive feature is the scoring. It is not too difficult and it is not too easy. It is simple to get the hang of shooting, but it takes some skill to knock it past the goalie. You can vary the speed of the shot as well as aim the shot high or low. After a game or two, you will be firing shots with the best of them.
Now it is necessary evil time. After reading the above, you are probably wondering why I didn't give the game a higher score. Because of slowdown, that's why. The game is plagued with annoying slowdown right before a goal is scored and when the announcer calls over the PA that there is one minute left in the game. Occasionally, the slowdowns happen in the middle of the game for no apparent reason. This was very annoying, although you always knew your shot was going in before it actually hit the net: the game seemed like it was loading up the strobe light which caused part of the slowdown. Sure, that does not affect gameplay, but it's still disappointing to see. The slowdown at the one minute mark did affect the gameplay occasionally, and the more I played the game, the more it started to bother me.
One more little thing: The manual has a glaring omission in the controls section. The chart that outlines the control configuration shows the commands for the X button and the square but just has two black circles that should have had the circle and triangle actions. I know this is minor and you can find them farther back in the manual, but this was still an oversight.
I almost forgot another cool thing in the game. You can turn on the glow and fire puck. These give the game the feel of a game broadcast by Fox. If you have never seen a hockey game broadcast by Fox, they had the great idea of putting something in the puck that only the TV cameras could see. This leaves a red tracer behind the puck when it is hit. This was so the new hockey fans could always follow the puck. Anyway, you can have this option turned on in the game, and it looks quite cool.
Graphics
The graphics are top-notch. The various camera angles range from up close to far away. Each of the angles is detailed and looks good. I found the medium camera to work best. This gave the players all a good size and you could read the jerseys but still see down the ice far enough to pass the puck. Also cool was body-checking an opposing player into the Plexiglas and shattering it all over the crowd. I think they did a great job on the graphics.
Bottom Line
If it was not for the slowdown problems, NHL Breakaway 98 would be great. I know that this is only one thing, but it should have been addressed. I would have rather had no announcement that there was 1 minute left, than to have the slowdown. The gameplay kicks ass and you will keep coming back for more. The glow puck is also a great idea. With other games that aren't as strong as NHL Breakaway 98, I usually find myself saying that I wish I could take bits and pieces from other games to create the perfect game. Aside from the slowdown, NHL Breakaway 98 seems to have done that.
Acclaim's venture into N64 ice hockey, and it ices the Wayne Gretzky games with its hi-res graphics and supersmooth gameplay.
Little excitement and a dearth of originality. There's nothing here that hasn't been done better in Wayne Gretzky.
Skating onto the N64 as the first real hockey sim for the system, NHL Breakaway hopes to score with the puck nuts who think that Gretzky sports all flash and no cash. Bashing the boards with a cool list of features, Breakaway includes not only the stars of the NHL like Tkachuk and Roy, but also authentic NHL team strategies like the dump & chase and trap. You can sign and release players, trade up to six players per transaction, and even improve your player development and injury treatments by winning more games. Icon passing, momentum-based checking, and player creation round out Breakaway's impressive roster of game options. We still haven't hit the ice with a playable version yet, but when we do, we'll update you on how Breakaway stacks up to its competition.
Acclaim is finally going to shake its rep for lackluster sports titles with this port of last year's NHL Breakaway '98 for the PlayStation. Unlike its predecessor, Breakaway for the Nintendo 64 features a more polished look, better control, and better gameplay. And while Gretzky may match it in the fun department, Breakaway easily bums down the net as the best hockey sim on the system.
Scratch My Back with a Hacksaw!
Breakaway hits the ice in near-championship form with all the standard features an ice-head could want, including play in Exhibition, Season, Playoff, and International Playoff modes. And it's only natural that the rosters are stacked with today's NHL players. But if you would like to bring Mario out of retirement, Breakaway also offers a create-a-player feature, along with trades, stats, and the ever-important fighting option. If you prefer a more sim-ori-ented experience, Breakaway's gameplay really outshines that of Gretzky's. For one, Breakaway contains actual hockey strategies for multiple situations, from penalty killing to power plays. The most innovative gameplay feature, however, is its Team Management system. As you compile victories, you will be awarded points to apply toward rehabilitating injured players, hiring coaches, and developing your team's hottest prospects. This, coupled with its already super hockey action, really solidifies Breakaway's replay value.
Get in the Fast Lane, Grandma
The graphics, control, and sound in Breakaway i do an excellent job of bringing the hockey experience into your living room. If you've checked out the PlayStation game, you may notice that this version is pretty similar in terms of its overall appearance. Don't let that fool you, however--the N64's more powerful game engine enables the players to look a lot better and to move much more fluidly, and the action flies by at a noticeably smoother clip.
As for control, using the N64's analog stick enables you to race your players up and down ice with ease, and with icon passing, you can get the puck to the correct guy at anytime. The overall in-game effects, from the hard-hitting cross-checks to the sound of the skates on the ice (which was tastefully kept to a minimum), work nicely.
The Red Light Goes On
Breakaway offers a solid sim-hockey experience that, until now, has been missing on the N64. So if you're looking for something a little more like the real thing, you'd do well to hit the ice with this title.
ProTips:
Protect the puck by spinning away from a defender when you're making an offensive charge.
To avoid a costly turnover, aim toward the boards when making a pass out of your zone.
Be sure to pass to your forwards when you race up ice. If you use a defenseman on the offensive charge, your scoring machine may be the one who is left to protect your goal.
Nintendo 64/N64 Screenshots
See Also
Viewing games 1 to 4