Olympic Hockey Nagano '98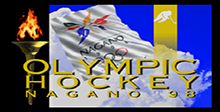 Click the "Install Game" button to initiate the file download and get compact download launcher. Locate the executable file in your local folder and begin the launcher to install your desired game.
a game by
Treyarch Invention
Genre:
Sports
Platform:
Nintendo 64
Editor Rating:

6.4

/

10

, based on

4

reviews,

6

reviews are shown
User Rating:

7.3

/

10

-

3

votes
Rate this game:
See also:
Hockey Games, Olympic Games
People say:
5.0
Now that the Olympics are rounding the corner again, we're seeing the first batch of hastily packaged theme titles. Olympic Hockey '98 is a classic example of a game that does nothing for the genre other than borrow from every other hockey game available. Besides being a near replica of Wayne Gretzky Hockey '98--but with different teams--Olympic Hockey doesn't even make slight improvements to graphics or gameplay in the transition. The hockey players are very blocky for such a high-profile game, with very low polygonal counts. The action is fast though, and you'll be hard-pressed to keep up with the puck at times. Typical options like penalty toggles, player swapping and so forth are becoming standard fare in all sports titles, so 1 wasn't very impressed. Perhaps the worst blasphemy of Olympic Hockey is the incredibly stupid goalie Al. Don't worry about losing this game too much, Money plays are everywhere, and it won't take much game time to find them. I know that high scores are supposed to be rare in hockey, but apparently not in the universe this one hails from. As it is, the best feature of all is the multiplayer ability and party game factor. The Arcade Mode is fun for all players, from novice to expert. I wouldn't recommend this one for hardcore hockey fans though.
5.0
I don't know if it's me, but it seems like this game is Wayne Gretzky Hockey with an Olympic facelift. Whatever the case, I'll stick with Gretzky. I'm not a huge fan of real hockey, but I do enjoy playing a game or two with a controller. I guess that's why I'd rather use players I've actually heard of. No offense to other countries, but I don't really care about Nimsky Vokolsky and how he's a national hero in the Soviet States.
5.5
Weil whoopee, if it isn't the second time in six months that Midway has used and repackaged their year-old Wayne Gretzky Hockey game engine. Just about everything here is identical to every other Midway hockey game, except the rosters and team names are changed. Ideally, these teams and rosters would have been integrated in Wayne Gretzky '98 instead of trying to force gamers to buy a whole new game just for the Olympic teams.
3.0
Oh, come on now. This kind of shameless rehashing of the same game over and over makes me sick. Did you buy Wayne Gretzky's 3D Hockey or its incredibly unoriginal sequel with the '98 slapped on the box? If so, stay away from this baby, 'cause it's (once again) the same game. The ONLY way I could possibly recommend this is if you've never owned either Gretzky game. Enough is enough, let's try something new already.
Download Olympic Hockey Nagano '98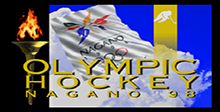 System requirements:
PC compatible
Operating systems: Windows 10/Windows 8/Windows 7/2000/Vista/WinXP
Game Reviews
Yet another tepid reworking of the Wayne Gretzky engine, this time with an Olympic flavour. If you like ice hockey, get NHL '99.
Cheap, cynical cash-in on an event that generates only total indifference in the UK. The proper Gretzky games are much better.
Wintery action from the Land of the Constantly Extinguishing Olympic Torch. Konami's attempt to simulate the Olympiad is a brave effort, but let down by a couple of sub-par events. The variety on sports on offer (from downhill skiing to - yes! - curling, which is more fun than it sounds) does help out, and it's a hell of a lot more realistic than the 'robots on ice' PlayStation version!
Midway has dazzled us with some of the fastest, most exciting N64 sports titles to date. NBA Hang Time as well as Wayne Gretzky's 3-D Hockey have shown us that arcade hits can be ported to the N64 while keeping all the necessary elements of good gameplay and graphical splendor under the hood. Now Midway is taking one of its best game engines from Wayne Gretzky's 3-D Hockey and making yet another hockey game just in time for the '98 Winter Olympics.
Olympic Hockey '98 will take everything that is good about Gretzky 3-6 Hockey and mix it up with an international lineup of hockey hopefuls to create one "beast" of an Olympic hockey game. Most of the same maneuvers as well as the glow-puck should be included. It's safe to say that if you are good at Gretzky 3-D you'll be good at this game as well.
Alt that fast gameplay coupled with such a large selection of teams will create quite a few interesting match-ups. We're looking forward to the France/Sweden clash but we also understand that not every team has been confirmed for use in the game, so we won't get our hopes up too high. It's also unclear as to exactly how many teams and if all the players involved will be actual licensed players (amateur or pro all the way?). We do know one thing for sure, if it plays as well as Wayne Gretzky 3-D Hockey, it should be another competent title from the folks at Midway.
Midway's looking to bring the excitement and thrills of Olympic hockey to the Nintendo 64. If you loved the original Gretzky game but haven't purchased the '98 version, you may want to grab Olympic Hockey Nagano '98 instead.
Blood, Sweat, and Gold
While OHN is mostly identical to Gretzky '98, the feature that separates the two is OHN's toumament-style setup. Aside from Arcade, Practice, and single-match play, OHN contains an Olympics mode that enables you to skate for the gold in your own hockey contest. However, you can also compete in a Qualify mode and play as one of the teams that hasn't made it in the tournament yet (like Germany) and take'em the distance.. .or you can slap the puck around in a Playoff mode.
The only other additions are the Olympic rosters (instead of NHL) and the ability to access an in-game summary of goals scored and penalty infractions. The option to make trades, however, was removed, since this game is aimed at re-creating the Olympic experience.
Ignite the Red Light
The graphics, control, and sound in OHN are identical to those in Gretzky '98. Each polygonal player looks splendid and moves fluidly, while the celebrations and looks of disgust after goals still let you rub in your superiority with authority.
As for control, you'll find the button configuration mimics Gretzky '98, with the on-ice controls responding decently. OHN also retains the option that enables you to select J manual or automatic player-switching during the game. The sound is the same as Gretzky, featuring solid in-game effects, such as pucks rapping against the boards and the sound of the hom after a goal is scored. On the downside, the same cheesy announcer is back with the same calls, and the scratching of the skates on the ice becomes irritating after a while.
The Puck Stops Here
Like Gretzky, Olympic Hockey Nagano is more of an arcade-style game with sim-style aspects. So if you absolutely love the Gretzky series and can't live without a game that features Olympic hockey, this title is the perfect addition to your N64 library. But if you aren't into the Olympic hype and prefer NHL rosters, you'll be satisfied with just a single night's rental.
ProTips:
Circulate the puck in your opponent's zone with smart passes to set up a good scoring opportunity.
If you find one of your players surrounded near your goal, make an outlet pass to a winger and clear the zone.
Let your center carry the puck up the ice, then dish it to a wingman once you're in your opponent's zone.
Look to score a majority of your goals with one-timers--this works more effectively than taking a slapshot from the blue line.
Always hassle your opponent's forward when he's in the slot--if you don't, it could lead to a goal.
Nintendo 64/N64 Screenshots
Similar Games
Viewing games 1 to 4