Wayne Gretzky's 3D Hockey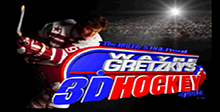 The N64's gets a sports game, but is it to everyone's tastes?
The first n64 sports game out of the gate is ice hockey, and who better to slap his chiselled features on the packaging than Wayne Gretzky, probably the most famous hockey player of them all?
Like all games of this ilk, Gretsky is packed to the gills with options such as multiple views, rule changes, line adjustments and team logos, but what sets it apart from the many ice hockey games already available on 16 and 32-bit systems is the sheer quality of the graphics and the speed at which it shifts the polygon players around. Slowdown is a distant memory.
The big plus with this game though is that you can player with not one, not two, but three additional players at once, and that means major multi-player mayhem. You can have two players each on competing teams, or even go up against the computer with all four of you controlling the front line players.
Wayne Gretsky is fantastic fun, especially as there's a viewpoint included for everyone, but from the import copy we played, the computer goalies are far too easy to beat, something which could be addressed in time for the UK copy. A must for ice hockey fans.
Prospects: A solid sports title on which to build, but not everyone will be interested.
Download Wayne Gretzky's 3D Hockey
Game Reviews
Nintendo's last hockey game was done by Sculptured, and it was entitled NHL Stanley Cup Hockey. The game used a breakthrough rotoscoping technology and it was fairly well received. This time around Williams has acquired Time Warner Interactive and the rights to the hockey name of our time. The player animations for this Nintendo 64 game were motion-captured using real NHL Players and a few stand-ins. Even the Great One himself Wayne Gretzky donned the motion sensors and his skating style was re-created using the patented process.
The N64 game will take hockey to the next level in terms of realtime 3-D. The game currently has an NHL Player's Association license. The game will utilize the N64's one- to four-player built-in capabilities.
MANUFACTURER - Williams
THEME - Sport
NUMBER OF PLAYERS - 1-4
For sheer whizz-bang, puck-zipping magic. Gretzky is hard to beat, the one thing that lets it down is the fact that it's only ice hockey.
Nintendo 64/N64 Screenshots
Similar Games
Viewing games 1 to 4