Phantom 2040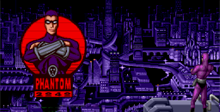 Click the "Install Game" button to initiate the free file download and get compact download launcher. Locate the executable file in your local folder and begin the launcher to install your desired game.
Metropia is a city under siege. Every day crime escalates to new heights and the good people are under attack. As the Phantom, it's your job to stop this crime spree and restore justice. You will need to work your way thereby taking on some of tbe smaller troubles of tTie city. Don't worry though, action and danger are everywhere, and there won't be a waking moment that you are not being pursued or fired upon. Fight to win!
Warehouses and docks
The warehouse is a dangerous place filled with robots and wall climbers, dead ends and electronic doors. All these obstacles must be overcome so that you may find the necessary clues to continue with the mystery. Luckily, it isn't always dangerous. There is a good supply of power-ups and short cuts throughout the level. This is a good level to learn how to develop your wall climb--a skill that will definitely be necessary in later levels. Also, take the time to learn some of the robots' patterns so that you will be able to kill them in later levels.
INDUSTRIAL ZONE
In the Industrial Zone, you will have to fight the same robots as the warehouse. This level is quite confusing and you will probably find yourself saying, "Where do I go now?" Be sure to search for any and all door switch boxes. They will make your trip a lot easier and will help you find your way out of this industrial maze.
FIRST IMPRESSION
This game is pretty good, considering the virtual sea of games that are similar to it. The graphics are not much to see, but the conversations were a pretty good addition and kept me interested in the game the whole time.
BEST FEATURE
The fact that if you run into the enemies you don't get hurt.
WHAT'S MISSING
One thing that I noticed missing was the clear and helpful guidance of a companion. This is not necessarily a bad thing, just something that was missing from the current examples of action games.
WILL YOU LIKE IT?
It is a good possibility that if you like the action/adventure-type games, then you will be attracted to this title. With a good plot and interesting cinemas, the game will keep you jumping, shooting and ducking for your life. Being able to wander around is a good feature also.
MANUFACTURER - Viacom New Media
DIFFICULTY - MODERATE
THEME - Action
NUMBER OF PLAYERS - 1
Download Phantom 2040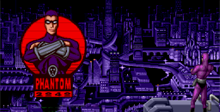 System requirements:
PC compatible
Operating systems: Windows 10/Windows 8/Windows 7/2000/Vista/WinXP
Game modes: Single game mode
Player controls:
Up, Down, Left, Right - Arrow keys
Start - Enter (Pause, Menu select, Skip intro, Inventory)
"A" Gamepad button - Ctrl (usually Jump or Change weapon)
"B" button - Space (Jump, Fire, Menu select)
"C" button - Left Shift (Item select)
Use the F12 key to toggle mouse capture / release when using the mouse as a controller.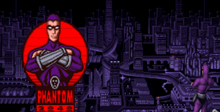 System requirements:
PC compatible
Operating systems: Windows 10/Windows 8/Windows 7/2000/Vista/WinXP
Pentium II (or equivalent) 266MHz (500MHz recommended), RAM: 64MB (128MB recommended), DirectX v8.0a or later must be installed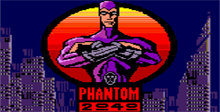 System requirements:
PC compatible
Operating systems: Windows 10/Windows 8/Windows 7/2000/Vista/WinXP
Game Reviews
Phantom 2040 makes a great 16-bit game, but on the Game Gear the rumble gets lost in the jungle. The beat-em-up game-play's feisty; however, mediocre graphics and sounds make the Ghost Who Walks a ghost of his former self.
Maximum Troubles
This cart's based on the Phantom 2040 cartoon that pits the Earth-first Phantom against the environmentally incorrect bio-robotic forces of Maximum Inc. Things start to stumble from there.
The graphics make this jungle a difficult place to live. Although some close-up screens are outstanding, the game's downfall is the tough-to-see primary action. The Phantom and some of his foes are so small you almost lose them completely against harshly colored backgrounds. Too bad, because the character sprites have great detail and plenty of cool animations.
The miniscule visuals also make it tough to appreciate the slick moves. The Phantom climbs by jumping and pulling himself up a la Prince of Persia. He can also dash, shoulder roll, climb hand over hand, and hurdle bad 'bots.
The scratchy sounds won't soothe savage beasts. The-effects try hard but lack clarity. While the music's catchy, the rattling snare-drum effect grates on your nerves.
The controls generally work well. Phantom easily commands useful items with a simple-to-use inventory screen. There's a slight hitch, however, in the fighting because an important crouching kick is too slow.
Fathoming Phantom
Even for Game Gear gurus, this game's strictly survival of the fittest. Phantom's a cool game waiting to be seen.
ProTips:
Check the wrist communicator as you moire through areas. Garan will clue you In to the locations of key Items.
If walking's too slow and dashing's too fast, fry the shoulder roll. It moves at medium speed and protects you from some enemies.
Shots are limited, so use the Phantom punch until you need a weapon.
It's rumble-in-the-jungle time! For 40 years the Phantom has cleansed Africa of crime in newspaper comics. Now he arrives to save the day for action-hungry SNES players.
The Ghost That Walks
Phantom 2040 is based on the TV cartoon, which is based on the classic cartoon strip. The Phantom here is 24th in a century-long lineage of jungle crime fighters.
He stars in a rip-roaring action/adventure game that pumps the best elements of the genre: fast-moving, side- view, beat-em-up action; multiple selectable weapons; and hordes of enemies. The blast- to-the-last battle takes place in futuristic Metropia City, which sits atop the Phantom's legendary Ghost Jungle.
ProTips:
The Inductance Rope enables you to reach the unreachable. Learn to swing and Jump from the sides of walls.
Vehicles protect you from everything but an attack from directly overhead.
Check the upper reaches of the screen for 1-ups and other heavy-duty power-ups.
Jungle Fever
The challenge is a real finger breaker, not suitable for low- attention-span intermediate players. Adversaries attack on the ground and from the air with weapons that track you as you move. They make each level a murderous maze, while the mind-melting search for exits can make you freak. Moreover, you can pursue multiple pathways through the game to uncover 20 endings!
The brain-scorching challenge requires that the controls be excellent, and they are. The P-man adroitly busts punches, kicks (jumping and crouching), a running dash, and slick somersaults. He also fights with either hand, which you arm from a high-tech arsenal that holds 36 limited-ammo weapons-if you find them.
The control highlight is the sweet Inductance Rope. It sticks with precision to any surface, so you can develop impressive skill at scaling walls or swinging along overhead structures (a la Spider-Man).
Conserve weapon energy by battering Biots with punches and kicks. Low kicks are safe and deadly.
Phantom Pix
The graphics are a blast. The cool visual look is straight from the TV 'toon, featuring sharp, sinewy character sprites and weird backgrounds. The game also flashes slick cinematic transitions between levels.
Phantom's easy on the ears, too. The sound is skimpy on the effects, but the tunes rock steady with variety and flair.
Phantom 2040 is a welcome arrival for the game-starved SNES faithful; this game is an excellently crafted action/adventure. As the Phantom says, "Someone has to care!" Viacom apparently does.
Once you complete an area, return there later. You may find newly opened areas with power-ups or 1-ups.
Viacom New Media for Super NES
If you like side-scrollers where the music is the high point, and the graphics all have this dull purple/grey cast to them, then this game is for you. Otherwise, you'd be better off leaving the Phantom to an early retirement.
Manufacturer: Viacom New Media
Machine: Super NES
If you like side-scrollers where the music is the high point, and the graphics all have this dull purple/grey cast to them, then this game is for you. Otherwise, you'd be better off leaving the Phantom to an early retirement.
Machine: Super NES
Genre: action
Players: 1
Publisher: Viacom New Media
Developer: Viacom New Media
There's a constant rush in our culture to invent something new, but instead we always seem to wind up recycling what's old. Phantom 2040 is based on a syndicated cartoon series, which is based on a '90's version of one of the oldest superheroes ever to grace a comic panel.
To start with, the graphics don't look quite like anything else I've ever seen, although that doesn't mean it looks that good - the characters are kind of thin and spidery, and most of the game has an odd gray/purple monotone look to it.
It controls kind of funny too. I'm all for fluid motion, but this is almost too fluid - it's kind of hard to figure out when you're stopping and starting. At the same time though, the animation is kind of jerky and weird. This is a pain, because most of the levels are huge mazes, and sometimes it's pure hell trying to get around, even when you can actually figure out where you need to go.
On the plus side, the game is pretty big and very open ended. The storyline is relatively non-linear - there are times you can go pretty much anywhere, and you get much a choice every now and then to affect which way the game goes.
But when all is said and done, Phantom 2040comes up in the middle of the 'mostly harmless' category. GP
Manufacturer: Viacom New Media
Machine: Super NES
Anybody remember this guy? Possibly the skinniest hero to hit the world of video gaming since, well, since I dunno who. The year is 2040, and yet another madman is bent on taking over the world - or rather, madwoman. Rebecca Madison, her husband and son are reaching out from their criminal corporation, Maximum Securities, in a bid for control of Metropia city and the rest of the planet.
Yep, the Phantom, one of the earliest superheroes ever created, is coming, and he's bringing his wall grabbing 'inductance rope' with him. It's got twelve stages, some pretty cool animation, and a whole plethora of strangely anorexic characters. So give this oldest of heroes a try!
Manufacturer: Viacom New Media
Machine: Super NES
If you like side-scrollers where the music is the high point, and the graphics all have this dull purple/grey cast to them, then this game is for you. Otherwise, you'd be better off leaving the Phantom to an early retirement.
The Phantom has been a comic-strip hero for decades. Now he's called upon to save the world's last surviving black panther...and foil a plot to rule the world. In the process, he also saves the day for action- starved Genesis players.
Phantom's Punch
If you hunger for a 16-bit challenge, Phantom 2040 is a feast made even more satisfying by lengthy replay value. The game is organized into seven nonlinear chapters with 60 stages and 20 endings.
The Phantom himself sports a healthy replayability factor. Weapons masters will have a field day: The Phantom's inventory screen holds 19 weapons and power-up items, and you can arm both hands.
A Biot Riot
Evil is out in force, primarily in the form of pugnacious Phantom-pursuing cyborgs called Biots. You must punch or blast through the challenging Biot hordes, whose weapons track you everywhere. You also run up against feisty mechanical bosses, but they don't vex you as much as the regular troops. When the going gets really tough, you can sometimes get going with vehicular Bioticide. Weird craft like the Phantom Walker spice up the action. The crisp controls generally save your purple behind with aplomb. The Inductance Rope, which you shoot to stick to almost any surface, enables the P-man to do some mean climbing and swinging.
See No Evil, Hear No Evil
Phantom's graphics are typical side-scrolling stuff, but they're solidly crafted. The sprites are sharp, and the animation moves them like wild. The dark, urban backgrounds create a surreal atmosphere.
The sounds are a real jungle boogie. The effects are minimal but high volume, and the music rocks big time.
With the time between new Genesis games growing steadily longer, a solid action/adventure game like Phantom 2040 is a sight for sore eyes and a great workout for idle hands. Go rumble in the jungle with "The Ghost Who Walks."
ProTips:
Swing and kick to bust open some electronic doors.
When you find yourself jumping Into major trouble, hit Start to swap weapons in midair.
You're Invulnerable in any vehicle.
When you're trapped by Tracker's electric net, you cant move, but you won't take too much damage...at first
The inventory holds 19 weapons. Some are nice toys, some are critical.
Although they may look alike, some Biots are tougher than others.
Crossing these cars may require a leap of faith.
Use the Inductance Rope to investigate overhead structures for useful items like this 1-up.
Sega Genesis/Mega Drive Screenshots
SNES/Super Nintendo/Super Famicom Screenshots