Viewing games 1 to 2 (of 2 games)

Rolling Thunder 2 is an arcade game. It is the sequel to 1986's Rolling Thunder and retains the same run and gun gameplay of its predecessor, adding cooperative gameplay for 2-Players and improved graphics.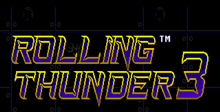 Rolling Thunder 3 is a Shoot-'Em-Up game, developed by Now Production and published by Namco, which was released in 1993.