Sports Car GT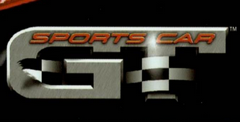 Click the "Install Game" button to initiate the free file download and get compact download launcher. Locate the executable file in your local folder and begin the launcher to install your desired game.
Sports Car GT revs its engines to take on the king of PlayStation racers, Gran Turismo. Unfortunately, Sports Cars car selection and gameplay fall way behind the leaders.
Sports Car rolls to the starting line sporting three standard modes and a moderate selection of cars ranging from sturdy Mustangs to awesome Vector M-12s. The vehicle variety, however, isn't nearly as impressive as Gran Turismo's kick-ass lineup. As for tracks, Sports Car delivers popular raceways such as Laguna Seca Raceway and Sebring International.
Graphically, Sports Car's rides and environments aren't as smooth or detailed as Gran Turismo's, and the frame rate's also a few paces slow. The game control is pretty tight, but the cars handle too similarly--unlike Gran Turismo where each model handles like its real-life counterpart Sports Cars sound is also your basic racing fare, including pumping techno beats and standard race-car effects. All told, this game is rental material all the way.
ProTips:
Don't overcompensate white taking a tight turn or you'll spin out.
You can take turnsfaster if you bump into your opponents who already occupy the inside line.
Download Sports Car GT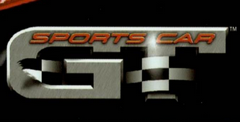 System requirements:
PC compatible
Operating systems: Windows 10/Windows 8/Windows 7/2000/Vista/WinXP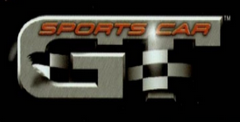 System requirements:
PC compatible
Operating systems: Windows 10/Windows 8/Windows 7/2000/Vista/WinXP
Game Reviews
Overview
I've been waiting for this title to come out for a while now. With the thought of Gran Turismo II due to be released soon, I knew that they'd have to take the racing genre to new heights if they wanted this title to become a household name. What EA came up with is a sports car simulation with arcade aspects, creating a mixture of features that on a whole is pretty good.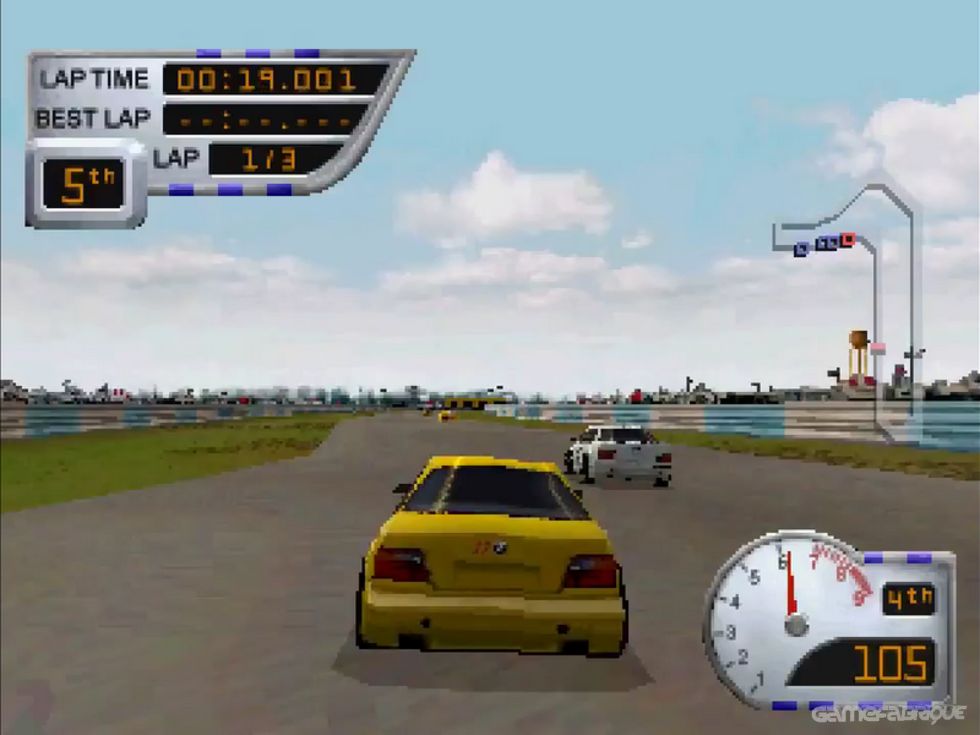 Gameplay
To me, this is by far the most important aspect of a game and Sports Car GT doesn't disappoint. The game has a better than average physics engine and decent realism, with cars slipping in the sand and on grass, or sometimes losing control when banging into an opponent. I enjoyed using the Dual Shock control a lot more than the normal gamepad because it made me feel more into the game with the pad vibrating when I hit another car or the wall, and melded in nicely with the sound effects that occurred. On the flip side however, I often got better track times using the normal game pad, which is set up decently.
The game features 45 licensed cars and seven tracks that include two fantasy courses. Although the selection of cars is nothing to sneer at, it still doesn't have the smorgasbord of choices that Gran Turismo offers and it's a little hard not to compare the two and feel that Sports Car GT comes up short. Although the selection isn't as varied, they did license some winners, like the BMW M3, Porsche 911-GT1, Panoz GTR-1, Panoz Esperante, Callaway C12, Lister Storm, Mosler Raptor and Saleen SR. Unfortunately you're stuck with the stock colors of the cars, which is a shame because it would have been a bit more polished to allow users to change them to whatever color strikes their fancy. The game also isn't real friendly to first timers when selecting the tracks, because instead of showing an outline of what turns they'll have to traverse, they instead just show a small part of it so that you can see the surrounding environment.
The game offers an Arcade mode for one or two players, with the cars already tuned up and ready to roar. If playing alone, you can select from four different classes with varying difficulties due to how much the cars have been modified and tuned. If playing against a friend, you can select head to head, pace car or pink slip. Head to head is pretty self explanatory, and the pace car is the same thing except the computer gets to join into the fun. You can split the screen vertically or horizontally. I found the vertical split to be horrible because often you couldn't see the curve ahead and often ran off the road. Pink slip is another option you don't see in most racing sims, in that friends can race cars saved on their memory cards and the winner gets both while the loser gets his deleted. This is a cool feature, although one I won't use often. For the night owls there is a 24-hour mode so that you can race to your heart's content.
In the full season mode you start off with just enough money to buy a car and maybe make an upgrade. From there you have to win races to get more dough and further improve your car or ditch it and buy a new one. The game offers almost complete control over just about every aspect of fine-tuning your car and I'm sure some car buffs will be in heaven, spending countless hours trying to tweak ever last thing they can. The reason it is so time consuming is that instead of immediately getting see how the changes will affect your car's stats, you instead have to go out and race and then compare how it was running before the change. Maybe my arcade roots are starting to show, but I found this a little too time consuming for me and I'd rather just go out and race.
Graphics & Music
The graphics is this game's Achilles heel. They look like something you'd expect in a first generation game and the game is just not up to par when compared with its racing comrades. The environment isn't as detailed or as sharp as I'd like to see and the cars could have benefited from a little more time from the artist. They did a good job on the smoke and the tire tracks if you spin out on take off, but these don't make up for the other shortcomings. I wasn't overly impressed with the music or the sound effects, although they weren't horrible either.
Bottom Line
This might be an interesting rental for racing fans, although I wouldn't recommend buying it unless you've worn out your other racing games. EA did an above average job in the gameplay, but the graphics, music and lack of car selection puts it into a lower class when compared to the competition.
Overview
Every once in a while, a game will come along that focuses on a niche that you knew little about and creates such great interest that you become an enthusiast on the subject. Sports Car GT (SCGT) is just one of those games. Before SCGT, I knew very little about the Grand Touring racing circuit that competes in Europe and North America. They race various classes of modified sports cars on winding road courses such as Sebring, Lime Rock, Mosport Park, Road Atlanta, Donington, Hockenheim, and Laguna Seca Raceway, driving GT cars such as the Porsche 911 RSR, Saleen Mustang, Mercedes CLK, McLaren F1 GTR, and the Panoz Q9, to name a few. SCGT is a racing simulation that reminded me a lot of Viper Racing. A word of warning: if you are fond of arcade driving games such as The Need for Speed and Test Drive series you may find the cars difficult to control at first, but once you get the hang of it you are in for some fun.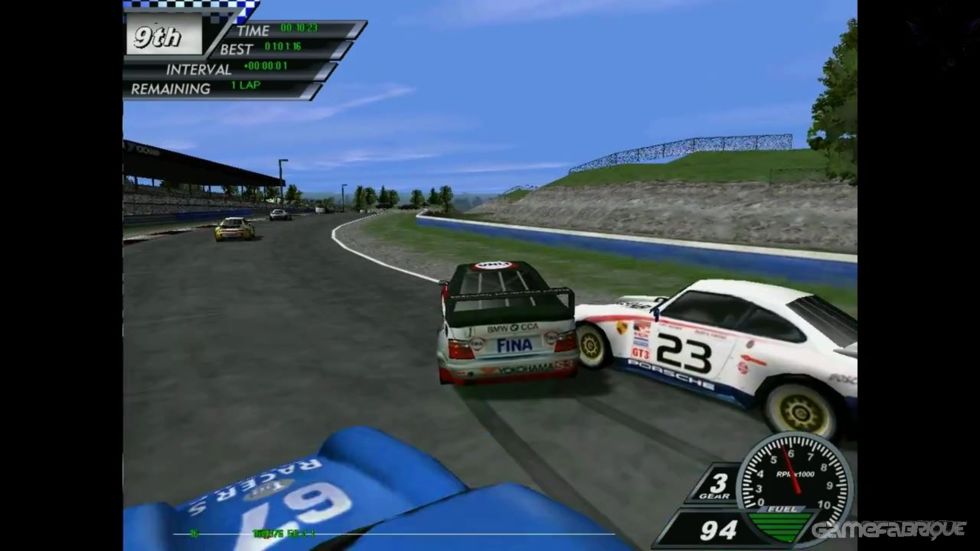 Gameplay, Controls, Interface
You have the option of starting with a quick race, where you can select options such as the car, track, time of day, and weather conditions, or you can start a career. In the career mode, you will begin at the lowest level with 100,000 credits which just happens to be enough to purchase any one of the three available GTQ class cars. Over the course of the season, you can win more credits by finishing in the top three positions of each race and earn big bonuses if you do well for the whole season. If you finish the season with a high enough ranking, you have the option of moving up to the next class. There are five classes altogether. For each class you move up, new faster cars and different tracks become "unlocked" and are not only playable within your season, but also can then be driven in the quick race option. Overall, there are 21 different types of cars and 12 different tracks. Once a new car becomes unlocked, you have the option of selling your current car to purchase a faster, more expensive car. A great selection of upgrade parts is also available to give you that extra needed push on race day; anti-lock brakes, better tires, turbo charger, and suspension upgrades are just a few. There is also a garage feature that allows the player to monkey with the many different settings such as front & rear tire pressure and adjusting the angle of the front air dam.
Vehicle damage is modeled, but the cars do not show the damage graphically. Excessive damage will cause the performance and handling to be affected. This simulation is very customizable. You can turn off damage, race at night or during rainy conditions, set the fuel tank capacity, fuel & tire wear rates, front & rear tire compound, brake balance, and front & rear weight distribution and more. Also, you can set the length of the race to last anywhere between 1 to 9999 laps or a timed race for as long as 72 hours! This is not as unrealistic as it sounds, because during a pit stop you can change the driver to a computer AI driver who will continue to race for you (and race well, I might add) while you sleep! One complaint I do have is that when you go in for a pit stop, the computer takes over control of your car until you exit the pits. When you pit, you can select what is to be done with your car; you can select the amount of fuel you need, change the tires, make any adjustments to your rear wing, and fix any damage you may have caused. The more things you have done in the pits, the longer it will take. Unfortunately, the pit crew is invisible. You can see the vehicle raise and hear the tires being changed, but there is no pit crew to be seen!
The computer opponent AI is excellent. It does a good job of avoiding collisions, but it is not superhuman either. The cars will collide with other computer-controlled vehicles from time to time. There are four difficulty levels that offer very competitive racing, regardless of your driving skill.
Multiplayer
SCGT supports TCP/IP and IPX protocols for up to six players but does not officially support Internet play. EA says it may be possible to connect over the Internet with high speed connections (T1, T3, ADSL, cable modem, etc.), but it is unlikely that a good connection can be established with a standard 56K modem. However, there have been reports of some gamers making a playable connection on 56K modems.
Graphics
The races can take place during the day or at night. Weather conditions can be clear and dry or wet and stormy. During rainy night races, the reflection of taillights off of the pavement is astounding. There is a trail of spray following each vehicle which can cut down your visibility while lightning flashes off in the distance as you fight to stay on the slippery track. Racing on a clear day, the green grass median and trees at Lime Rock or Donington offer a spectacular view. Sometimes you will see a cloud of dust rise up in the distance which is a telltale sign that one of your opponents has spun off the track. The graphics are not quite up to the level of the recent Need for Speed games, mainly because these tracks are modeled after real road race courses, not fantasy courses where you are driving through giant aquariums and futuristic cities.
Audio
The engine sounds are a bit questionable when it comes to authenticity. Although all the cars have a very distinctive engine noise, they don't seem to sound quite right. For example, the Vector M12, which has the Lamborghini V-12 power plant, sounds like an F-15 Eagle taxiing on the runway to me. The music, if you can call it that, is a never-ending guitar riff that almost seems to repeat every 10 seconds. The designers must have agreed it was awful, because it is turned off by default! All the other sounds in the game are good, and I'm no former GT circuit driver, so I can't be too critical of the engine whine.
Documentation
The 25-page manual is not up to the same standard as the game, however. Many things are not explained such as how many credits you get for winning a race or coming in second, or how the bonus credits are computed.
System Requirements
Required: Windows 95/98, P166, 40 MB hard drive space, 32 MB RAM, 4X CD-ROM drive, 2 MB SVGA video card, DirectX sound card
Recommended: P200+, 320 MB hard drive space, 64 MB RAM, 8X+ CD-ROM drive, 3Dfx or Direct 3D graphics accelerator (both Glide and Direct 3D APIs are supported), Windows compatible steering device
Bottom Line
Sports Car GT is one heck of a racing game. Customizability, competitiveness, excellent graphics, and just plain pure fun make for all the right ingredients of a great game that should keep its place on your hard drive for many months to come. If you are looking for a new racing game to get your speed fix, this is the one for you.
Other Games by Electronic Arts